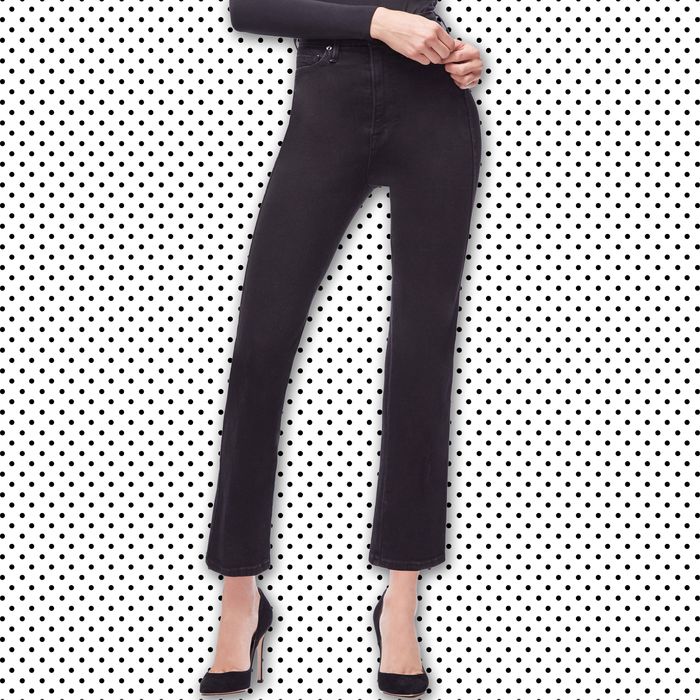 Photo: Courtesy of Nordstrom
High-waisted jeans look cool when you're standing up but they're a nightmare to wear once you sit down. After slumping in a desk chair for more than 15 minutes, you'll get that tell-tale angry red line across the belly. And after big meals, you find yourself popping a button or two for relief. But it doesn't have to be that way. Comfortable high-waisted pants do exist, and they're made by Khloé Kardashian.
The Good Curve jeans, from Khloé's denim label Good American, hit just above the belly button, but unlike other brands, they feature enough stretch to act like compression leggings. The jeans hold you in to create a seamless line, but because of the fabric's elasticity, they'll expand as needed when you sit down or stuff your face.
I brought the jeans on a whim with me to Tokyo and wore them on my first day. Over the span of eight hours, I consumed an egg salad sandwich, a fried chicken cutlet, 12 pieces of sushi, some jiggly cheesecake, and a gigantic bowl of anchovy ramen, plus a large quantity of whiskey hi-balls galore, and yet the jeans caused me no discomfort. Plus they held their shape — you won't need to throw them into the dryer after a few wears like other stretchy jeans.
The Good Curves come in several washes but the faded black is my favorite because they go with everything and make me feel pulled together. Unlike other black jeans, you won't have to go to extreme measures like washing them only in cold water or freezing them to keep your pants looking like new. And the best part? Sizing is inclusive, with a range from 00 to 24.
If you buy something through our links, New York may earn an affiliate commission.