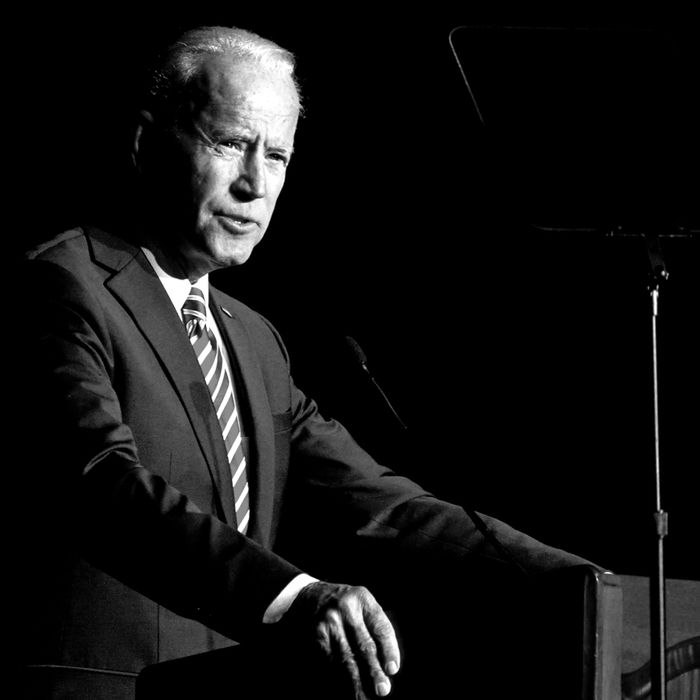 Joe Biden.
Photo: Bastiaan Slabbers/NurPhoto via Getty Images
On Friday, Lucy Flores, a democratic politician from Nevada, wrote an essay for the Cut about a 2014 encounter she had with Joe Biden that forever changed her perspective on the former vice-president. She described an unwanted touch and kiss that left her feeling embarrassed and unsettled, as well as how she felt after, seeing photos of Biden with other women and girls, often with Biden touching or kissing women who looked uncomfortable. On Sunday morning, Biden issued a response to Flores's essay.
"In many years on the campaign trail and in public life, I have offered countless handshakes, hugs, expressions of affection, support and comfort," the statement read. "And not once — never — did I believe I acted inappropriately. If it is suggested that I did so I will listen respectfully. But it was never my intention."
"I may not recall these moments the same way, and I may be surprised at what I hear. But we have arrived at an important time when women feel that they can and should relate their experiences, and men should pay attention, and I will," the statement continued.
Flores's account of her experience with Biden followed other critiques about Biden's treatment of women — especially Anita Hill. Biden has given weak and underwhelming apologies to Hill in public, never taking personal responsibility for the Senate Judiciary Committee hearings she endured, despite his own involvement in them.
Biden's statement ended with an allusion to his history in politics and his work on women's issues, and affirming his commitment to fight for women.
"I will also remain the strongest advocate I can be for the rights of women. I will fight to build on the work I've done in my career to end violence against women and ensure women are treated with the equality they deserve. I will continue to surround myself with trusted women advisors who challenge me to see different perspectives than my own," the statement continued. "And I will continue to speak out on these vitally-important issues where there is much more progress to be made and crucial fights that must be waged and won."
On Saturday, Biden's spokesperson Bill Russo released a statement which seemed to cast doubt on Flores's account. Russo said that "neither then, nor in the years since, did [Biden] or the staff with him at the time have an inkling that Ms. Flores had been at any time uncomfortable, nor do they recall what she describes."
Also on Saturday, the organizer of the 2014 rally in question, Latino Victory Project's Henry Munoz, issued his own statement insisting that Flores and Biden were never alone, and claiming that he and other event staff and attendees "do not believe that circumstances support allegations that such an event took place."
Flores later dismissed that characterization in comments to the Atlantic and responded to some implied criticism of her attending a Beto O'Rourke rally on Saturday:
"My piece does not say I was alone with him. It clearly says Eva [Longoria] was in front of me, Biden was behind me, as we were lined up and waiting to be called on stage. Of course no one says I was alone with him because I never was alone with him and I have never claimed to have been alone with him," she said, adding, "I have also stated many times on the record that I am not supporting any candidate right now and I am listening and evaluating all the candidates just like everyone else. I'm allowed to go to a candidate rally."