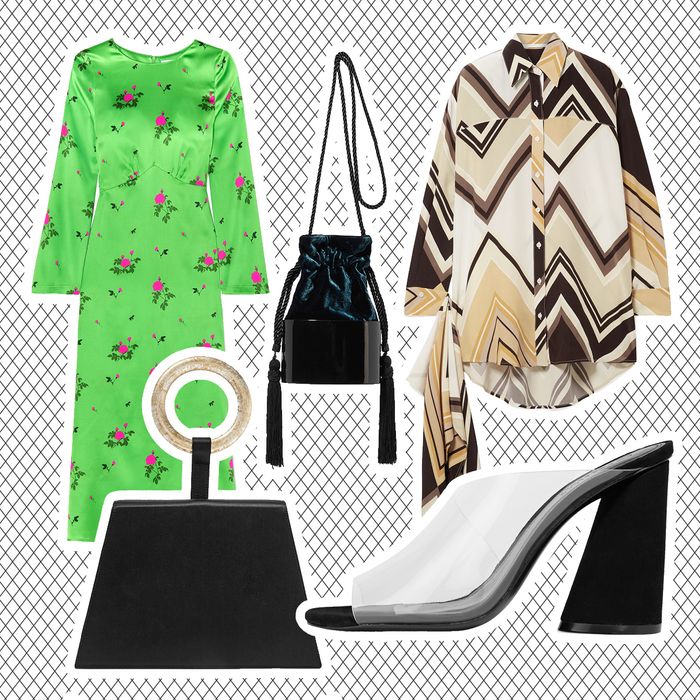 Photo: Courtesy of the Retailers
It's still cold out, it's occasionally slushy, and that tired jeans-and-sweater look you keep resorting to isn't winning any style awards. If you're struggling to recall what ingredients go into a creative, exciting outfit, know that fashion pros, too, struggle with the pre-spring stretch. "Winter is my least favorite time of year, and my wardrobe suffers because of it — it practically has SAD," says fashion-and-culture writer and editor Marjon Carlos.
How she's bringing her look back to life: "I've been trying to invest in more playful and conceptual pieces that are still seasonally appropriate." She's also leaning into younger brands with "something to say" over obvious trend plays and ubiquitous labels. "If you know who I'm wearing, you know," she says. Below, Carlos handpicks a few standout NET-A-PORTER pieces she's shopping now, including several from the site's Vanguard collection, a selection focusing on emerging design talent.
She's serving me English rose but with an edge. Am I a duchess yet?
With an oversized, chunky knit and a sturdy boot, this skirt just oozes wintertime romance.
This is the perfect bag for going out and dancing — you don't feel like you have to babysit it all evening. And the velvet against the acrylic is so glamorous, especially with that jewel tone!
Loving the featherweight fabric and modern, oversized silhouette. It's cool, sexy, and feminine without trying too hard. I'd wear this on a second date with a guy that I'm trying to impress but he can't know that.
Talk about a go-to shoe! The PVC makes it work for bodega runs or out to parties. And paired with hot shorts, I'd be ready for those summer nights.
As a freelancer, I'm always trying to strike a balance between being professional but not buttoned-up. This dress is just that. I'd layer it with my slightly belled leather pants and some major boots to toughen it up.
This acrylic clutch is another one that's perfect for going out. I love a fun bag that catches people's attention, holds all my stuff, and isn't too big that I can't dance.
I'm always woefully unprepared in the raincoat department — most likely because they never look as cool as this option. It's dark and incognito, yet demands to be seen.
I love statement jewelry when you're too busy to make the effort, but don't want to look like you're over it. With a sleek white turtleneck, jeans, boots, and slicked-back hair, these can just be the focal point.
This print reminds me of this artist's painting — major '70s vibes. Maybe your favorite auntie wore this in her heyday and it's now getting a modern update. I'd tuck this into high-waisted, straight-leg white jeans.
How impractically glorious are these? I'd save them for warmer times and let them inspire my spring/summer wardrobe.
A good slouchy trouser is a great way of showing you mean business but not taking yourself too seriously. I'd wear them to a meeting I was nervous about.
The print adds a funky twist to this sweet, feminine frock — a staple once spring weather hits — with platforms for the club and sneakers for daytime.
I've really been responding to these sculptural-inspired accessories as of late. It's like art for your wrist.
All product images courtesy of Net-a-Porter.
This is paid content produced for an advertiser by New York Stories. The editorial staff of The Cut did not play a role in its creation.