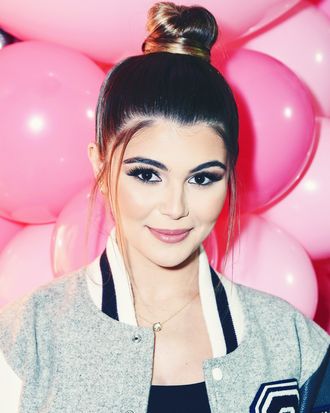 Olivia Jade, at the release of her Sephora collection.
Photo: Presley Ann/Getty Images
In a turn of events probably most surprising to Lori Loughlin and her daughter Olivia Jade, there are a lot of consequences from their alleged participation in the nationwide college admissions scandal.
After your mom pays a $500,000 bribe for your admission into a private university, she might end up as the subject of an FBI investigation, and you — well you might not get to peddle dorm-room furnishings on your Instagram account anymore.
According to Variety, HP distanced itself from Jade on Tuesday (she once did a campaign for one of the company's printers). In a statement to the Cut, the company stressed that they do not have an ongoing relationship with the teen or her mother.
Then, on Thursday, Sephora dropped Jade. In a statement to BuzzFeed News, the company announced that "after careful review of recent developments, [it] made the decision to end the Sephora Collection partnership with Olivia Jade." Later in the day, TRESemmé followed suit.
The most recent brand to cut ties with Jade was Estée Lauder Companies, which made their announcement on Friday. (Jade had partnerships with Smashbox and Too Faced, which are owned by Estée Lauder Companies.)
According to Variety, Jade has brand partnerships with six additional companies — Amazon, Dolce & Gabbana, Lulus, Marc Jacobs Beauty, Smile Direct Club, and Boohoo — which have not yet stated whether they plan to continue their business relationships with the Instagram influencer.
Olivia Jade is also facing another issue for her burgeoning social media empire: Teens are furious about the admissions scheme, and filling her comment sections with their unfiltered opinion. When the dust settles, Olivia Jade might not have her brand relationships or her fans — essential components for an influencer.
Olivia has not yet commented on her mother's alleged involvement in the college admissions version of the Bling Ring, but she was spotted departing a yacht in the Bahamas on Wednesday, after Lori Loughlin turned herself in to authorities.