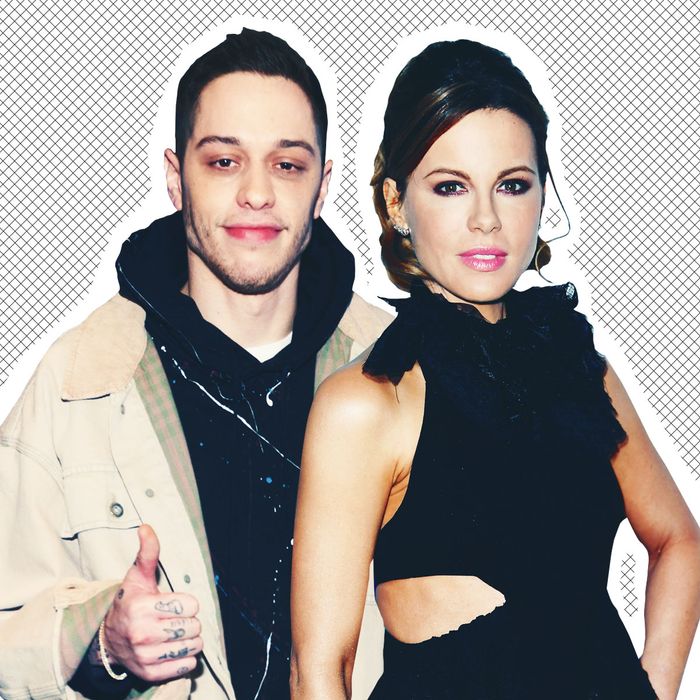 Pete Davidson and Kate Beckinsale.
Photo: Getty Images
Things appear to be heating up for Saturday Night Live comedian Pete Davidson, 25, and actress Kate Beckinsale, 45 — as in, it might be time to bestow upon them their celebrity couple name. (Does Beckinson work? Sure.)
After months of the pair doing very little to conceal whatever it is that's going on between them, Davidson finally addressed his relationship with Beckinsale on the most recent episode of Saturday Night Live, on which he mocked the public's "crazy fascination" with the 20-year age difference between the two.
"It doesn't really bother us," he told Colin Jost. "But then again, I'm new to this. So if you have questions about a relationship with a big age difference, just ask Leonardo DiCaprio, Jason Statham, Michael Douglas, Richard Gere, Jeff Goldblum, Scott Disick, Bruce Willis, Harrison Ford, Alec Baldwin, Sean Penn, whoever the president of France is, Mel Gibson, Jagger…"
Since the couple was first seen "being very flirty together" at a Golden Globes after-party, a source told "Page Six," the pair spent time together at one of Davidson's stand-up sets in Los Angeles in early February, where they were photographed holding hands as they left the club. On February 28, a Cut staffer spotted Kate Beckinsale dining at West Village restaurant Waverly Inn with her arm over the shoulder of someone she initially struggled to identify. And, most recently, they were photographed Frenching with a very copious amount of tongue at a New York City hockey game.
While Beckinsale has not yet addressed the dating rumors, she's done little to squash them — in fact, she's been directly responding to comments from Instagram users lamenting her taste in men.
"Disappointed in your dating choices," one user commented on one of her Instagram selfies, to which she responded, "Fairly let down by your wonky beard but thought rude to say."
And, per a source who spoke to Us Weekly, "Kate is into Pete and he's exactly her type … she likes young guys who make her laugh."
Just think — in Gravidson years, this couple is already engaged!
This post has been updated with additional information.