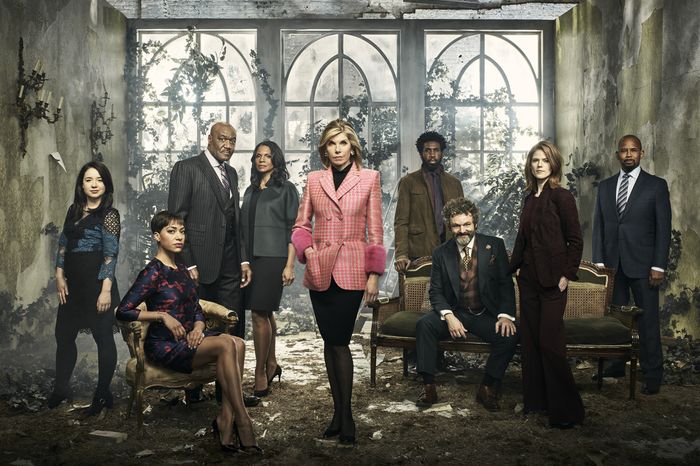 Photo: Justin Stephens/CBS© 2019 CBS Interactive, Inc. All Rights Reserved.
On TV, lawyers always look incredibly glamorous – impeccably tailored pantsuits, gorgeous brocade cocktail dresses, nary a coffee stain or wrinkle in sight. Perfect corporate looks all over the screen. And the best looks are from The Good Fight, the CBS All Access drama starring Christine Baranski as Diane Lockhart. The show returns for season 3 on March 14, and to get us in the mood, we called costume designer Dan Lawson to see how he makes boardroom-approved outfits look incredibly stylish.
"Color, shapes, and line have really been my friends," says Lawson, who's predictably a huge fan of tailoring. "My enemies are black and gray because business wear is all black and gray." When The Good Fight debuted, Lawson says, he heard strong reactions from women who were excited to see corporate-office clothing that wasn't boring. "There was this revolution, and people were coming up to Christine Baranski and saying, 'I'm so excited to see this kind of clothing as business wear'," he notes. Read on to see how you can get six looks inspired by characters Lockhart (Baranski), Lucca Quinn (Cush Jumbo), and Adrian Boseman (Delroy Lindo).
Diane
Lockhart's
Power
Suit
With all the women on the show, Lawson aims to "celebrate the femininity." Baranski's original statement suit by Osmond London, shown here with a Max Mara knit, is a great example of balancing masculine and feminine style elements. For your day to day, balance out a bright color like this one with a neutral shirt.
Diane
Lockhart's
Brocade
Dress
"For Diane, we've really gone into metallics," Lawson says. "If you roll your eyes I'll hear it through the phone, but I was channelling 16th-century Spanish royalty." (No eye rolling here!) While this Michael Kors gold and black dress might be a bit much for most people's offices, the style could play well for a nice work event.
Lucca
Quinn's
Pink
Power
Coat
Lawson's approach to Lucca's wardrobe is unconventional. "If it looks like a business suit, we don't want it," he explains. "The way Cush plays the part, I'm able to go out on a limb a bit with her clothing and use things that are not at all traditional business wear." The pink coat by Theory is the star in this outfit, with a simple all-black look underneath. Recreate her style with this suede version.
Lucca
Quinn's
Studded
Suit
A matching dress and jacket set, like this one from St. John Couture, is a great riff on a suit but can be hard to find. For office life outside a television set, pair a studded dress that has a hint of punk with a cropped jacket. It looks professional, but shows off a little rebellious side.
Adrian
Boseman's
Dapper
Pink
Suit
Look, as monotonous as women's workwear can get, menswear is undoubtedly worse. But Lindo manages to look like a man who's not only fashionable, but also in charge of his own sense of style. "I was looking at 18th-century dandies and really trying to play up that decadent era," Lawson says. Not every man can pull off a three-piece suit, but every man should try. Lindo's lucky enough to have Lawson custom-designing suits for him (accessorized with a Brooks Brothers tie here) but you can get the look for much less.
Adrian
Boseman's
Accessorized
Blue
Suit
Men's accessories are few and far between, but a suggestion for any men reading this: try a pocket square. Don't laugh. Just try it. Delroy's matching tie and pocket square is just interesting enough to communicate the vibe of: "I am a man who cares. About how I dress and about what I do."
Watch the Season 3 Trailer
Tune in to The Good Fight on CBS All Access starting March 14 for more fashion inspiration.
This is paid content produced for an advertiser by New York Stories. The editorial staff of The Cut did not play a role in its creation.