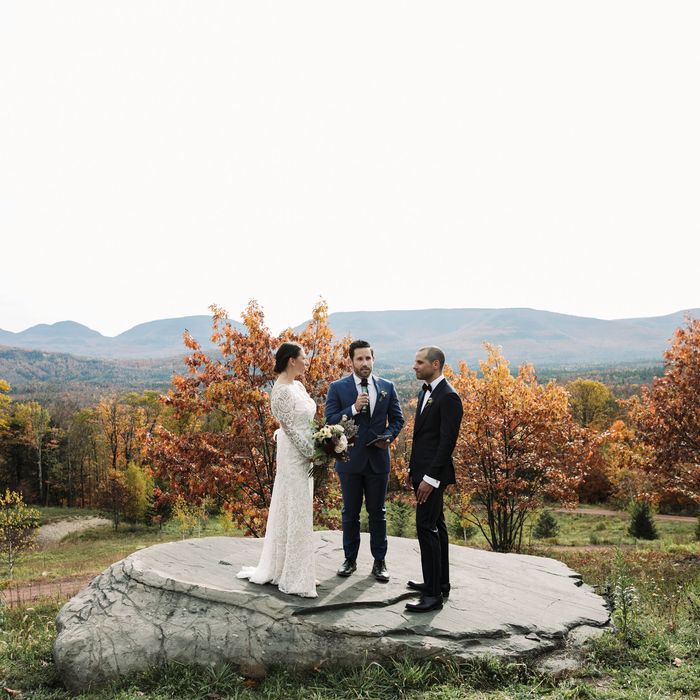 Since most guests were traveling, the couple planned a full weekend in the country, including a group trip to Storm King Art Center.
Photo: Unique Lapin Photography
Channeling "that moment of calm" that comes when you exit the city for fresher air, Jessica Beck, 35, "knew we had to do something upstate," she says. Her fiancé, Charlie Flexon, 40, had previously rock climbed in the Catskills and was partial to the area in late October for the foliage, so their location and timing fell into place. The couple, who work in environmental graphic design — they met at the Gensler firm and tried, and failed, to fight the impulse to date a co-worker — found their perfect venue in the cozy Deer Mountain Inn, up a long road with "old, scraggly trees, like in a storybook," says Charlie. They married on the mountainside, surrounded by dazzling leaves; their guests, many of whom had traveled from the bride's and groom's respective hometowns in Ohio and Virginia, were greeted with cups of apple cider. The couple wanted their loved ones to know that "New York is not just New York City," says Jessica. "You can have the best of both worlds."
Jessica Beck & Charlie Flexon
Deer Mountain Inn, Catskills
Married: October 21, 2017
The Details
Dress: Schone Bride
Suit: J.Crew
Shoes: Stuart Weitzman
Musicians: Kandy Harris and Michael Bernier
DJ: Damian Genuardi
Flowers: Hops Petunia
Hair: Jewels Simko
Makeup: Lindsay Keam
Planner: Jenny Oz LeRoy
Photographs by: Unique Lapin Photography
*This article appears in the winter 2019 issue of New York Weddings.