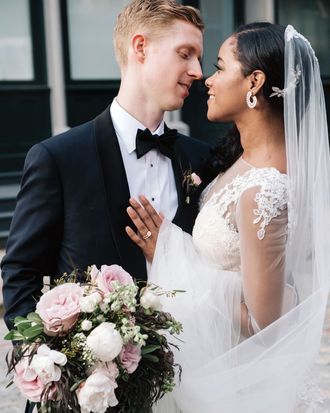 Jessica Douglas and Lawrence Florio.
Photo: The Hons Studio
If you consider their time lines, Prince Harry and Meghan Markle have been emulating Jessica Douglas and Lawrence Florio for a while now. For one, the couples happened to end up at the same Jamaican resort last year within days of each other — which was when Jessica, 32, and Lawrence, 34, realized that, well, they sort of looked like the future Sussexes. "We noticed the resemblance," says Jessica, who works in business support. They would also share a wedding date: Jessica and Lawrence married in front of their 200-plus guests on May 19, a year to the day before the ceremony at Windsor. For the reception, they created blowups of themselves, initially intended to decorate the photo booth, but they migrated around the venue at the hands of their partygoers. "I turned around on the dance floor," says Lawrence, a lawyer, "and was suddenly staring at my own face." It's a face that, with Jessica's, has since been noted as very royal-couple-like on Instagram.
Jessica Douglas & Lawrence Florio
Tribeca Rooftop
Married: May 19, 2017
The Details
Dress: Pnina Tornai
Jumpsuit: AQ/AQ
Suit: Alan David Custom
Band: Starlight Music
Flowers: Gardenia Organic
Hair: Drybar
Makeup: Cassandra Suarez
Rings: Verstolo
Planner: Runway Events
Photographs by: The Hans Studio
*This article appears in the winter 2019 issue of New York Weddings.