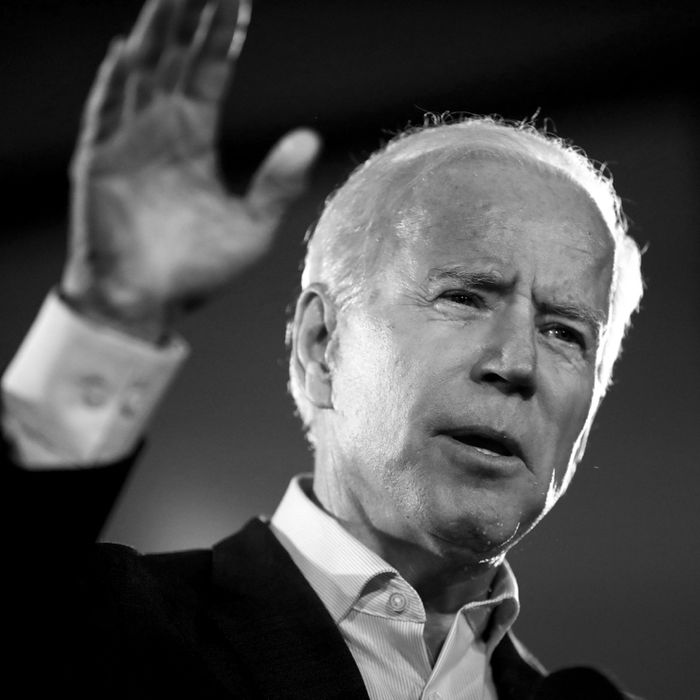 Joe Biden.
Photo: Scott Olson/Getty Images
On Monday — less than a month after she accused former vice-president Joe Biden of touching her inappropriately, and a week after he announced he was running for president for the third time — former Nevada lieutenant-governor candidate Lucy Flores wrote an op-ed for the New York Times about Biden's inability to meaningfully apologize.
Biden is "not a villain. Not an unlikable person. Not a sexual harasser or assaulter," she wrote. "But also, as Anita Hill recently found out, not exactly sorry, either."
Biden has fumbled his way around taking accountability for the past few years for his behavior during the Senate hearings in which Hill accused now–Supreme Court justice Clarence Thomas of sexual harassment. Biden said that he didn't feel like he did anything wrong during an appearance on The View, and most recently, he said he takes "responsibility that she did not get treated well," but stopped short of actually saying sorry. (In his first 2020 campaign event, he told a crowd he had apologized privately to Hill, though she declined to characterize their conversation as one that contained an apology.) It's been a similar situation with Flores and the other seven women who say he touched them in a way that made them uncomfortable, as with numerous other missteps he's made over the course of his career.
Last month, Rebecca Traister wrote that Biden "is the gaffe-master, the affable fuck-up, and also, oddly, the politician who's supposed to make us feel safe." As his campaign progresses, it is likely that Biden will have to address some or all of these issues. Here's a running list of things Biden has expressed regret over, but hasn't really apologized for.
He spent years refusing to apologize to Anita Hill.
Joe Biden's treatment of Anita Hill has followed him for much of his career. During Hill's 1991 testimony at the Senate Judiciary Committee hearings about the alleged sexual harassment she endured from Clarence Thomas, Biden allowed his colleagues to subject her to vicious questioning. In October, as questions about his behavior during the hearings resurfaced amid Brett Kavanaugh's Supreme Court confirmation process, Biden reportedly privately groused that it was "unfair" of Hill to continue holding him responsible.
Now that we've entered the lead-up to the 2020 campaign, the Clarence Thomas hearings are getting revisited, and Biden still hasn't genuinely apologized — at least not according to Hill. Weeks before he announced his bid for president, Biden reportedly reached out to her, but the law professor told the New York Times she felt "deeply unsatisfied" by the conversation.
"The focus on apology to me is one thing," Hill said. "But he needs to give an apology to the other women and to the American public because we know now how deeply disappointed Americans around the country were about what they saw."
On Monday, April 29, Biden sat down with Good Morning America and said that he believed Anita Hill from "the very beginning." "I take responsibility that she did not get treated well," he said.
"I apologize again because look, here's the deal," Biden told Robin Roberts. "She just did not get treated fair across the board. The system did not work."
He has been accused of inappropriately touching multiple women.
After Lucy Flores wrote about an uncomfortable experience with Joe Biden in an essay for the Cut — saying he grabbed her, smelled her hair, and kissed the back of her head in a way that left her embarrassed and unnerved — seven additional women came forward with similar accounts.
Biden responded by issuing a statement insisting that he never believed he had acted inappropriately on the campaign trail, but that he would do better and "listen respectfully." Within days of making that promise, however, he seemed to make light of the women who came forward by joking about inappropriately touching a child during a public appearance.
"I'm sorry I didn't understand more," Biden told reporters after the event. "I'm not sorry for any of my intentions. I'm not sorry for anything that I've ever done. I've never been disrespectful intentionally to a man or a woman."
During Biden's Monday appearance on Good Morning America, he also told Robin Roberts that it was his "responsibility" to be more sensitive.
"I've always thought that part of leadership, part of politics was listening to people, hearing them, making them feel comfortable," Biden said. "It's my responsibility to be more sensitive to whether or not someone wants me to reassure them or wants to say hello or wants to show affection and support. And that's my responsibility."
He had an important role in writing the 1994 crime bill.
Biden was one of the key legislators responsible for crafting what ultimately became the 1994 crime bill, which was signed into law by Bill Clinton. The bill has been widely criticized because of its role in expanding mass incarceration; it dramatically increased the number of people incarcerated for drug offenses and lengthened the sentences of nonviolent drug offenders.
The Appeal reported that Biden came the "the closest to apologizing" for his role in mass incarceration on April 25, 2019, when he said that he hasn't "always been right" about certain policies, during a luncheon honoring Martin Luther King Jr.
"I know we haven't always gotten things right, but I've always tried," Biden said." Addressing a highly criticized policy he was involved in creating, which legislated huge sentencing disparities for crack versus powder cocaine offenses, Biden said, "It was a big mistake when it was made."
He used Heather Heyer's murder in his announcement speech — but didn't tell Heyer's mother.
The way he privately handled reaching out to Anita Hill wasn't the only misstep Biden made in the first week of his campaign. In the video announcing his plan to run, he invoked the murder of Heather Heyer, who was killed by a white supremacist in Charlottesville in 2017.
"Charlottesville is also home to a defining moment for this nation in the last few years. It was there on August of 2017 we saw Klansmen and white supremacists and neo-Nazis come out in the open, their crazed faces illuminated by torches, veins bulging, and bearing the fangs of racism … And they were met by a courageous group of Americans, and a violent clash ensued and a brave young woman lost her life," Biden said in his announcement video, referring to the Unite the Right rally at which Heyer was murdered.
"The core values of this nation, our standing in the world, our very democracy, everything that has made America, America, is at stake," he continued. "That's why today I'm announcing my candidacy for president of the United States."
According to Heyer's mother, Susan Bro, Biden never reached out to her about his plans. But Bro said that she was used to people using her daughter's death for their own gain.
"I wasn't surprised," Bro told the Daily Beast. "Most people do that sort of thing. They capitalize on whatever situation is handy. He didn't reach out to me, and didn't mention her by name specifically, and he probably knew we don't endorse candidates."
Biden is now running against 19 candidates in the Democratic primaries. Upon announcing, he's cemented his position as the front-runner, but it's unclear if his inability to apologize will hinder his campaign in the future. Even Lucy Flores said that she would be willing to forgive Biden, but "evolution can't come without a genuine effort to seek atonement." And so far, Biden doesn't seem to be genuinely making that effort.