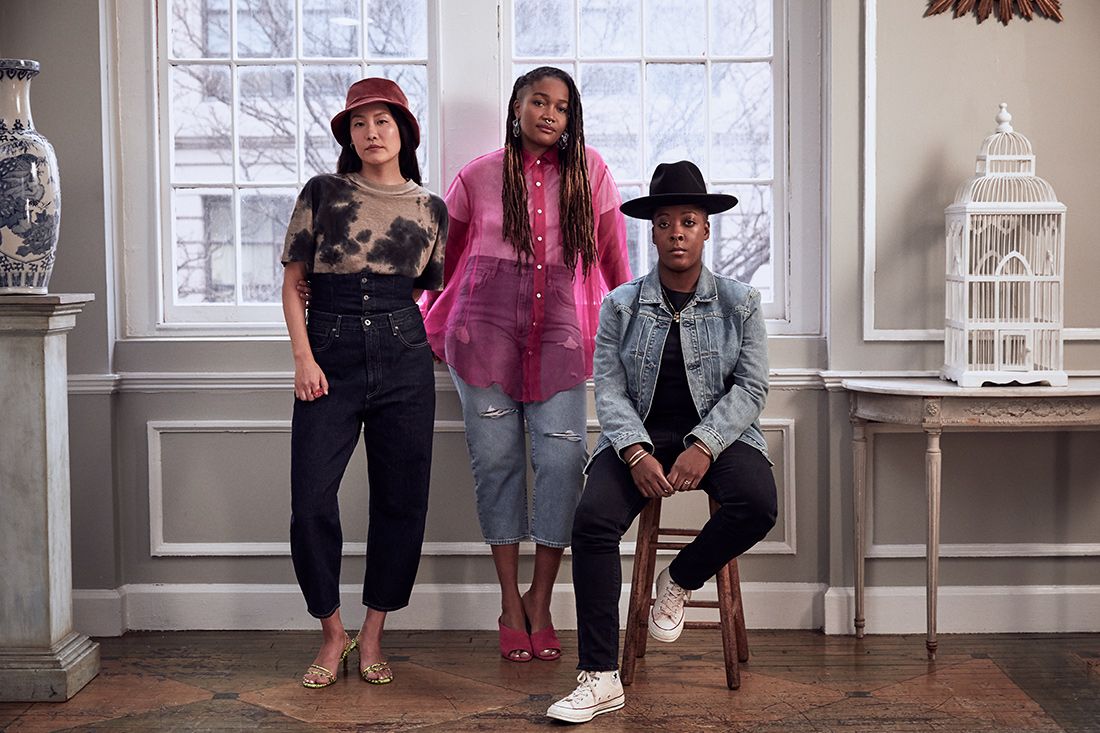 On Maia, left:
Cinch Barrel Trousers
, $228.
On Kimberly, center:
Boy Tee
, $68, and
Barrel Jeans
, $168.
On Nina, right:
Type 2 Worn Trucker
, $198;
510™Skinny Fit Stretch Jeans
, $148; and
Boy Tee
, $68. All available at
Levi's® Made & Crafted®
.
Photo: Kathy Lo
Fashion enthusiasts love to argue that fashion is art. Whether or not you subscribe to that claim, there's a clear correlation between the art world and inventive, boundary-pushing style. Whether calculated or not, artists' looks have long been the subject of public infatuation, and today maybe even more so.
To pull back the curtain on how some of today's popular figures in art achieve their magnetic style, and what else their "unconventional" lives entail beyond their public image, we spoke to writer and curator Kimberly Drew, nonprofit director and artist Maia Ruth Lee, and artist Nina Chanel Abney. Read on for their answers on building community (hint: it's hard work), using fashion as practical social currency, and how social media can both distort reality and facilitate connection. Plus, how they really get dressed, from relying on Levi's® Made & Crafted® denim to "not thinking too hard" about it.
Kimberly Drew
Kimberly Drew is a curator, writer, and public speaker. She founded the blog Black Contemporary Art, was formerly the social media manager of The Metropolitan Museum of Art, and is co-editing a book anthology called Black Futures with Jenna Wortham.
What is your usual daily workflow like? 
Some days start with writing in the morning, other days start with boarding a plane somewhere. It's really all over the place at this particular stage, which is exciting. But most of my productivity practices begin with music, whether that be dancing or singing. The other night I ended up at karaoke with friends and got home so energized that I wrote through the evening. For me it's really about an externalization that happens on a physical, bodily level before I can do some of the brain work.
You've received a ton of media attention over the past few years. How has that affected your life and how you operate in the world?
One of my early strategies in my career was to say yes to interviews and opportunities where people wanted to share my story, or work in collaboration to build new stories. A lot of the beginning of my interest in art and creativity came from being inspired by specific individuals. Learning about Thelma Golden, and Naomi Beckwith, and Lowery Stokes Sims was a real motivating factor for me, and I could see myself in the world that I wanted to be in more clearly.
Now, I experience opportunities [to serve as that example] where it's so random. Last week, in Raleigh, North Carolina, of all places, a young woman comes up to me and says, "Hi, you're Kimberly, aren't you?" And we had this great dialogue. Those moments when the world feels a little bit smaller, that's really intriguing to me, as a representative of an industry that doesn't feel very familiar to everyone, doesn't feel super-homey. I really try to ground it for people, and to make sure I'm as human as possible. I've also tried to commit to making the most out of every conversation, not just talking about the weather, but really trying to connect with people.
Audiences today are increasingly responsive to more authentic public figures, such as art and social activists like yourself. What do you think has given rise to that?
We're in a moment when people are imagining grander possibilities for themselves. Young people really can better visualize the future they want to be a part of with many, many more answers to that question than we've been readily able to see in the past. This moment of social media and representation is right on time to satiate that hunger — you just get more examples of people that you're inspired to be like, which is thrilling. When I was a little girl, there were so many cookie-cutter model types, and "oh, I want to be like them" required losing so much of myself. But there don't have to be as many amendments now; it can be more of an emboldening practice as opposed to being about subtraction.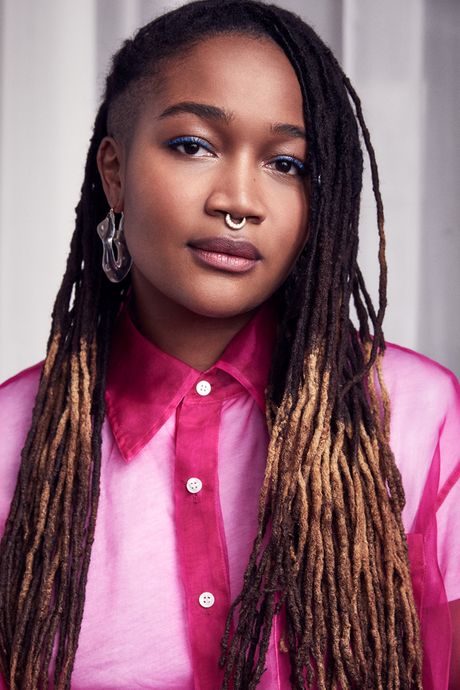 As a cultural thought leader, you're constantly sharing content that is new to your audience. Do you ever get stuck in an ideas rut? How do you break out of that?
We're in a moment where people are being algorithmically fed things — it's like what social platforms think you like. I always try to break out of that algorithmic think and ask friends what's new and exciting to them. I also have challenges for myself to try to keep my research muscles healthy and happy: finding a new artist every day, or going to an exhibition that may not be the thing I'm traditionally interested in. I try to keep research and curiosity as central parts of my day-to-day.
How do you approach fashion as a medium?
Fashion grants us so many opportunities to enter into spaces where we may not traditionally find ourselves. If I'm intimidated by an opportunity, audience, location, or venue, I really focus on what I'm wearing, because I know that confidence will radiate out. There's such a high value on that boot that starts a conversation with someone you wouldn't have spoken to. So self-styling can be a really empowering tool in terms of how we navigate through the world. [For example] denim is a fabric with an abundance of meanings. Depending on who wears it and how, it can be a symbol for hard work, leisure, expert craftsmanship, or total anarchy.
Additionally, in some ways, the way fashion operates in pop culture is more accessible to larger publics than perhaps art can be. So fashion can be a leading tool for folks who may be curious about art. Maybe you know this mall retailer, but you don't know this museum. So I'll ask, how can I bring this audience into a new space in a way that's really interesting, and meet them exactly where they're at?
When you're not working solo it seems like you have a lot of really creative people around you. How is that a source of inspiration or support?
I have the great gift of living within a really powerful creative community. Every conversation seems to lean towards some way someone's trying to take over the world, which is exciting. [How I meet people is that] I'm a serial dinner-party guest. I love being able to share conversation that way, especially in New York, where there's so many great people and chefs. Two of my favorites are Kia Damon, who is executive chef at Lalito, and my very good friend Angela Dimayuga. They are people who, when food is involved, everyone — a writer, a podcaster, an oceanographer — comes together, and there's a real comfort. I really like the robustness those gatherings can provide, especially in a city where we're constantly in motion. It's always really welcome to sit still for a few hours at a time.
Maia Ruth Lee
Maia Ruth Lee is a visual artist based in Chinatown and director of Wide Rainbow, a nonprofit afterschool art program on the Lower East Side that she calls her "pride and joy." Her work is included in this year's Whitney Biennial.
Describe a week in your shoes and how you find time to devote to your artwork.
I don't think I've ever quite figured that out. Some weeks are terrible and some are great, you know? I don't adhere to routine so much, nor is that the nature of the jobs I do. A day might be spending time with my son, lugging art materials to one of the community centers or schools we work with, and executing a workshop with an artist we've invited. I come home, make dinner for my son, and literally the day ends. Once or twice a week I'm able to fit in studio hours, which are my favorite days. I get to treat myself to some thinking or production time, which doesn't happen as often as I'd like.
You regularly share glimpses into life with your son, Nima. Has becoming a mother changed your way of working and creating?
My number one priority is always my son. Having not had that priority before, it changes everything. Which was quite alarming for me, and I was very amazed and impressed that all moms have done this in the past, future, present. For me, it was a bit of a struggle trying to figure out that balance. Everything else — my work and routine — kind of shifts into however much time I have left.
A couple of years after arriving in New York, you left your office job and dove into being a fulltime artist. How did you navigate that transition?
Being an artist in New York is such a different, challenging thing. I've always had a studio practice, but it's a different rhythm here. The way I eased into it was I assisted for three other artists over like two years. It really helped me understand what it took to be an artist in New York and how a studio and production and scheduling and timing work — all the nuances no one teaches you, even in school. Once I was able to afford my own really cheap studio, I just remembered seeing how it takes time. There's no rushing into anything — it might never even happen. So due diligence and putting my head down was a big part of it. Second, having really vital relationships with other artists was very necessary to put myself into context of what it means to be an artist in New York. It's important to have people in your direct community support your work, and that sort of ripples out at some point.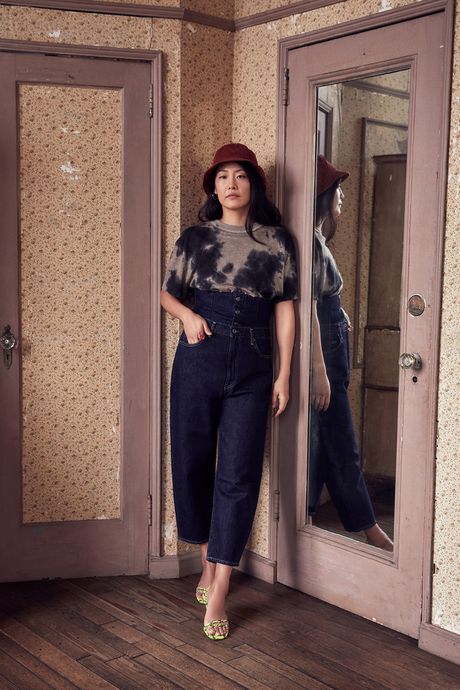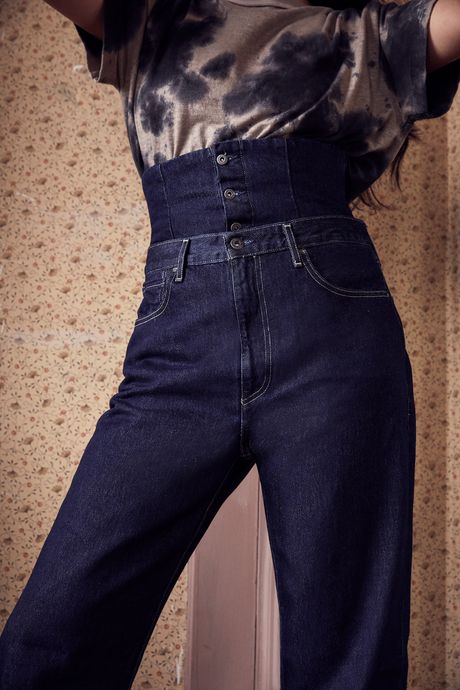 You've done very cool collaborations, and how you ended up in New York is a story of personal connections. How have you cultivated those kinds of fruitful relationships?Just being present physically in the downtown community was maybe the first step. I think it starts with a couple of friends or people you know and you have to just assimilate and be very open to meeting new people. I'm pretty outgoing and the first four or five years here, I invested a lot of time into finding my community and friends. I definitely struggled through trying to figure out what type of people do I want to be around or who can I meet that are interested in similar things. When you're here with no foundation, it's a little terrifying. My husband is a big part of me meeting people. But it's totally work, it's like being in a relationship — you have to put a lot of effort into making it into something. I don't like to go out and party and I don't drink — I've never really socialized that way, because for me that's very draining. So the relationships I love are often one-on-one and I invest a lot of time in building that intimacy.
You also spend a lot of time with the girls you work with through Wide Rainbow. How is that work meaningful for you?
I never studied to be an educator, but for me being an artist was always about sharing. Being stuck by yourself in your studio without an audience can be very frustrating. For me, it's necessary for a dialogue to happen, and I've always felt the responsibility of an artist to give back to their community. Being around kids is really inspiring and has always been somewhat of a passion of mine. I think art is mainly for children, you know? Why I'm still making things is to keep that spirit alive. It's such an essential part of growing up. Middle and high school are such tough times, especially for a girl. So any type of positive input in that process is so, so vital. The first time I did a workshop I walked away with a hundred times more energy, like, wow, that was so much more invigorating than being at my own opening. I could feel a shifting happening.
How do you think about fashion and personal style?
My parents are missionaries, and growing up in Nepal, we were pretty much given boxes of secondhand clothes donated to us. But I loved those boxes because I never knew what would be in them. Picking out what would fit me was always really fun, and that's how I still dress myself. I love thrifting and finding articles that are one of a kind — something just for me. Advice my husband gave me when I was finding it really difficult to find my ground as an artist here, was, "You should make art the way you dress yourself, which is very effortless." We dress ourselves every day and I definitely don't think about it, but Peter seems to think I look good all the time. So there's something to be said about that. Not thinking too hard about what I wear is a big part of my M.O.
I usually wear pants, which I thrift and get tailored to fit to my body, and just, like, a long-sleeved shirt and clogs. Nepal doesn't have a denim culture, but I've grown to love it more since moving to the U.S. It's really interesting to see how experimenting with different cuts and shapes makes it fun and effortless.
Nina Chanel Abney
Nina Chanel Abney is a visual artist. A traveling show of her works from the beginning of her career until 2016, Royal Flush, is up now at the Neuberger Museum in Purchase, New York. Neon, an exhibition of all new works, is at the Norton Museum in West Palm Beach.
What's your typical day-to-day like?
My days and weeks tend to be very spontaneous. I've established a daily routine of going to the gym, doing things around the house, and working in the studio, but I could be anywhere — an art exhibition, movie, play, concert, etc. Fortunately, the majority of my friends in New York are self-employed with pretty flexible schedules, so there's always an opportunity to hang out.
When I'm in the studio, I'm always playing music. My process is mostly intuitive, so most of the time I alternate between looking for source material on the internet and painting. I wear a vintage workwear jumpsuit, a beanie, and a mask of some sort. I typically work with spray paint, which can be very messy, so I like to be completely covered. Once I'm in a groove I can easily work for 8 hours or more, so it's important to wear comfortable shoes because I do a lot of standing.
How do art and fashion intersect for you?
Through color, form, and motif. For me, it's literal since I've created graphics to put on clothing. I like to think that my personal style can at times also be a reflection of the intersection of art and fashion. I think the art world crowd is extremely stylish. There's less formality, and expression is often met in the way people dress. A lot of artists' personal style is a reflection of their work, which equates to very innovative pairings.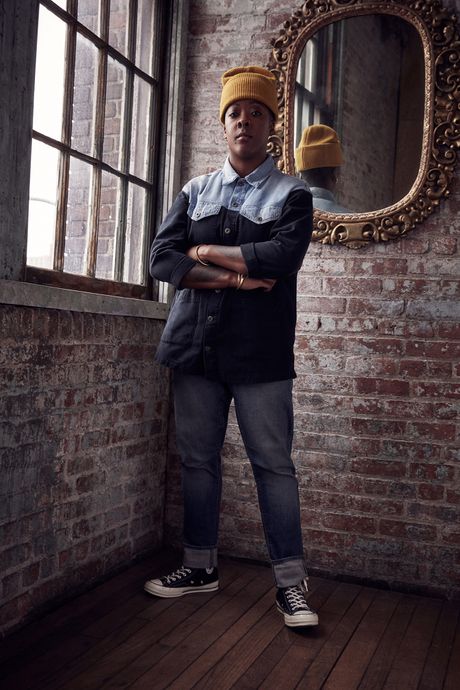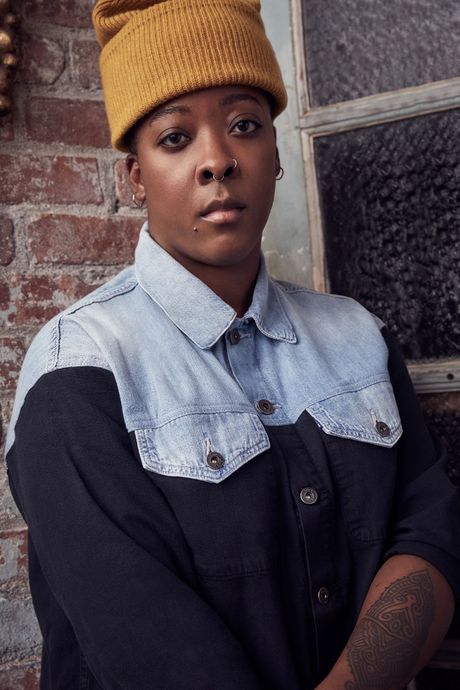 What is your own personal style like?
Wearing a hat has emerged as my singular style element that I've been able to reinvent over the years. Hats add mystery and depth to my silhouette and I think it's cool how they're trending right now — they add a level of cool and sophistication to any look. I typically go for a larger brim and styles that are more classic and simple. I mix it up between vintage and contemporary, usually opting for old stetson hats. For newer ones I search online or go to a couple of shops in Harlem.
A broken-in pair of Levi's and a denim jacket are wardrobe staples for me. In the last few years, I've found myself drawn to one particular item of clothing and then I immerse myself in it. A couple of years ago I wore a lot of overalls, years before it was blazers. Right now I'm at the tail end of a jumpsuit phase, introduced to me by my incredibly fashionable partner, who is really innovative and intuitive when it comes to dress and wardrobe trends.
Describe your relationship with color, which is a prominent element in your work.
I love to use color in my work as a tool to seduce the viewer, but also as a way to lead the viewer through a painting. I actually don't wear it much. If I do it's usually one item of clothing for a pop of color. I may wear all denim and bright red sneakers, or all gray and a neon orange beanie. In my wardrobe, color serves more as an accent.
How has being in the public eye affected your journey?
I've become a more public person because of the growth of my audience. There's more accessibility to contemporary art because the lens has widened and there are more channels to help people see visual art and so many more options on how to interpret work — there aren't just institutions validating and showing artwork exclusively anymore. Social media has broadened the definition of who is a public person. Because of it, a lot of people who may not have encountered my work are experiencing it for the first time.
There used to be a niche of people who kept up with art periodicals and exhibitions, but since that scope has broadened, my work and I have encountered more people. For many, there's that sense of "discovery." People outside of the contemporary arts and culture community may think I'm just getting started and have an incomplete picture of the narrative of my work.
This is paid content produced for an advertiser by New York Stories. The editorial staff of The Cut did not play a role in its creation.