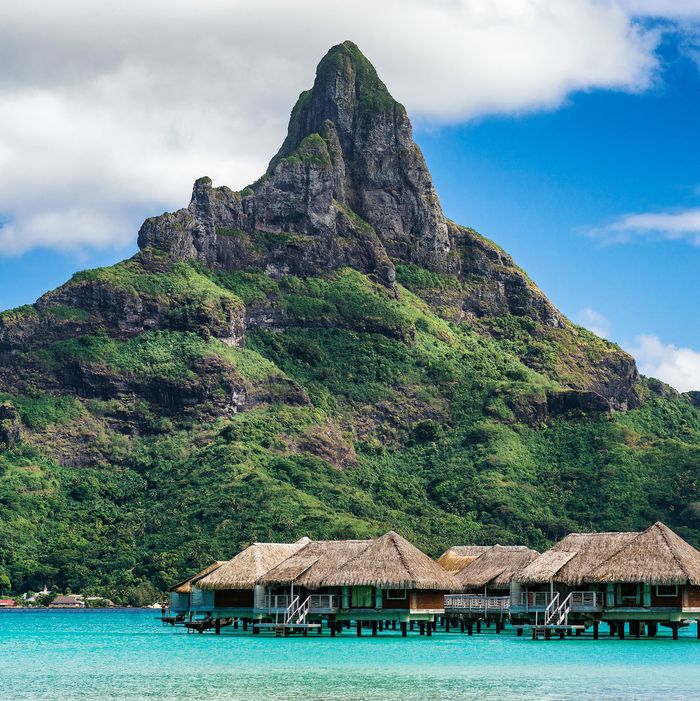 The InterContinental Bora Bora Resort & Thalasso Spa in Tahiti.
Photo: Romeo Balancourt
For the newlyweds who never want to leave the room — there are Tahitian villas once owned by Marlon Brando, secluded bungalows in Nicaragua, and a stilted loft in Argentina where you can actually sleep in the vineyard. Here are 12 of the best honeymoon suites in the world.
The Jungle Sanctuary in Ubud, Indonesia
The hotel: Four Seasons Resort Bali at Sayan
The room: Like the property itself — which you approach via a long footbridge fringed in wild foliage — the one-bedroom villas at this hotel in Bali's Ayung River Valley offer serenity right from the entrance, where you'll find a petite lily pond and private meditation area. Inside are teak furnishings, hand-loomed ikat fabrics, and a spalike bathroom; on the terrace, you have your own dining table, lounge chairs, plunge pool, and outdoor shower. To really splash out, book the 5,167-square-foot Sayan Villa: It has all the amenities of a regular villa, but it's tailor-made for honeymooners because it sits at the resort's highest — and most private —point.
Beyond the room: Join a chef-led guided tour of Ubud's farmers markets and then learn how to prepare the ingredients in a half-day class at Four Seasons' new Sokasi Cooking School. What you make is up to you: traditional Balinese fare based on family recipes or a plant-centric menu that's more in line with Ubud's current health-and-wellness obsession. The resort, which partially sits on the river bank, also offers a host of yoga classes (AntiGravity, Hot Stone, Full Moon, etc.); an unusual "Sacred Nap" experience in rice fields, led by resident wellness guru and former Buddhist nun Ibu Fera; and more than half a dozen chakra-aligning ceremonies, incorporating tuberose flower baths, Kundalini back massages, and balancing amethyst gel wraps. The concierge desk can even set you up with a private guide for a visit to a holy water temple, arrange for front-row seats at a Balinese dance and gamelan concert, or book you on a wet-and-wild rafting trip down the rushing Ayung River. Sayan Villa from $963, one-bedroom villas from $740.
The Moorish Retreat in Marrakech, Morocco
The hotel: Riad Kheirredine
The room: This five-star riad, one of the top-rated hotels in Marrakech, divides its suites into three categories — junior, classic, and imperial, ranging from 452 to 538 to 753 square feet (in the latter of which you get a fireplace and sun-dappled balcony). Design elements include tiled baths and carved vanities, Moroccan rugs and Moorish arched doorways, and elaborate stucco work and sumptuous drapery. Each suite comes with a little something extra, too: In the Lotus, it's a built-in reading nook overflowing with pillows; in the Vanilla, a consort's bathtub in burnished gold; and in the Musk and Sandal suites, canopied beds. Plus, the level of customer service is such that if you express even an inkling of desire for something (flowers for your love; a jar of Morocco's famous black soap, whipped up with olive oil), it'll magically appear.
Beyond the room: Reserve the riad's romantic marble hamam for rose-based clay masks and a private couples' massage; take in the views of the High Atlas mountains while sipping hot mint tea and nibbling on Moroccan pastries and fresh fruit on the riad's rooftop terrace; or make the tourist rounds to some of Marrakech's biggest draws, including the thronged Jemaa el-Fnaa market and the extravagant 19th-century Bahia Palace. Imperial suites from $386, classic suites from $273, junior suites from $210.
The Private Tower in Colorado Springs, Colorado
The hotel: Cloud Camp at The Broadmoor
The room: The Fire Tower Suite is the one you want at this five-year-old wilderness property. Reaching it, however, is not for the athletically challenged. To get from the Broadmoor campus to the main lodge at Cloud Camp, it's a 30-minute shuttle ride or a 3.2-mile hike up Cheyenne Mountain. (Staffers can also arrange a mule ride, if that sounds fun?) But you're not there yet. Couples booked into the Fire Tower must then climb an additional 145 steps to reach their final destination: a two-story, one-bedroom suite, built atop a historic fire tower at the tippy-top of a mountain (elevation: 9,200 feet). The 360-degree windowed views from up there showcase Pikes Peak and the surrounding forest. The interior is done up with cowhide chairs and Western memorabilia; there's also a telescope for stargazing; a pair of rocking chairs on the back porch for bird-watching or relaxing with a cup of coffee in the morning; and a private cedar hot tub for soaking your bones after that climb.
Beyond the room: Venture down to Cloud Camp's main lodge to socialize with your fellow guests, who may be assembling jigsaw puzzles in the library, gathering around a communal dining room table for four-course dinners, or roasting marshmallows over an open fire. Other resort activities include twice-daily guided hikes through Pike National Forest, archery, yoga, crafting, and cooking classes. Fire Tower Suite from $1,000.
The Budget-Friendly Beach Bungalow in Little Corn Island, Nicaragua
The hotel: Yemaya Island Hideaway & Spa
The room: The 16 hip bungalows here — on a 1.2-square-mile island with no motor vehicles and no mass tourism — are all 500 to 600 square feet, with king-size beds and sea views. So really you're just deciding if you want a plunge pool (you do) and how many meals a day you'd like to be included (past guests swear that the Yemaya kitchen cooks the best Caribbean and Creole food on the island; at the very least do their breakfast, with fresh-baked coconut bread with homemade preserves). Private porch swings and lounge chairs encourage you to spend lazy afternoons with a book in one hand and a fruity cocktail in the other. En-suite massages and patio breakfasts can also be arranged; the staff is accustomed to going above the call of duty for its honeymooners.
Beyond the room: Yemaya's Driftwood Beach Bar is your one-stop shop for both sundowner aperitifs and snorkeling gear; the best coral reef on Little Corn is located just off-shore. More adventurous types can grab kayaks from the beach bar and circumnavigate the island in about four hours. Other diversions include scuba diving, stand-up paddle boarding, kite surfing, fishing, guided meditation and yoga sessions, chocolate-making classes, and tours of the hotel garden, where staffers grow their own pineapples, plantains, and avocados. Oceanfront suites with plunge pools from $145; standard suites from $95.
The Oenophile Loft in Mendoza, Argentina
The hotel: Entre Cielos Wine Hotel + Spa
The room: Here's a new way to get to know a bottle's terroir: Sleep among the grapes. The Entre Cielos winery and resort in Argentina's Upper Mendoza Valley has 24 rooms, but you want the 452 square foot, stilted Vineyard Suite Loft — plopped right in the middle of its working vineyard. Sip a glass of plummy Gran Marantal on your private terrace while getting an up-close look at what's growing below: Entre Cielos cultivates Malbec, Sauvignon Blanc, and Chardonnay grapes and produces three award-winning wines. The ultra-modern interior of the Vineyard Loft is crisp and white, with a black lacquered chandelier, cowhide rug, and snugly fit queen-size bed. The loft's curved windows and glass doors further show off the region's jagged Andes mountains, while the outdoor bathtub invites late-night stargazing.
Beyond the room: If you can dream it, the hotel's "experience concierge" can make it happen: a meet-and-greet with a winemaker, a horseback ride through neighboring vineyards, two spots on a hot-air balloon flight, and, of course, a vinotherapy treatment at Entre Cielos' traditional hamam, the first of its kind in Latin America. The 155-minute Bacchus package includes a grape seed body exfoliation, grape extract facial, and wine bath. Vineyard Loft from $580.
The Terraced Pied-À-Terre in Paris, France
The hotel: Brach Hotel
The room: Housed in a 16th-arrondissement former postal-sorting center, this Philippe Starck–designed venture debuted in October: When you stay in one of the suites, which are located on the fifth and sixth floors, you have exclusive access to the hotel's rooftop vegetable garden (which grows everything from clementines to cabbage), plus round-the-clock butler service and use of a BMW i3 auto. The mini bars double as tightly edited concept shops, shilling candles and board games in addition to snacks and booze. Of special note is the 645-square-foot Henri Suite, whose pièce de résistance is its landscaped terrace with views of the Eiffel Tower, which you can ogle while sipping Bollinger Champagne from your private Norwegian bath.
Beyond the room: The Brach's red-blooded sports club was inspired by the boxing clubs of the 1930s, only this one has a Himalayan salt cave and a 70-foot swimming pool hosting aqua-pilates. If you'd rather watch sports than play them, catch a rugby match at the nearby Parc des Princes, home of the Paris Saint Germain football club, or look for a horse race at the Hippodome Longchamp in the sprawling Bois de Boulogne (a green space twice the size of Central Park , whose paths and lakes also make it ideal for cycling and rowing). Other pursuits include shopping for flowers and fruit at the twice-weekly Alma Market, touring the crystal displays at the Baccarat palace, and poking through the Yves Saint Laurent Museum, dedicated to the work of Paris' best-known couturier. Henri Suite from $3,284; other rooms from $466. 
The Overwater-Bungalow-to-Estate Hop in Tahiti
The hotels: InterContinental Bora Bora Resort & Thalasso Spa and The Brando
The room(s): Start your tour of the French Polynesian archipelago with a 50-minute jaunt from Tahiti to Bora Bora, where you can spend a few days shacked up in an overwater bungalow at the InterContinental Bora Bora Resort & Thalasso Spa. Select one-bedroom villas get you huge picture windows with views of majestic Mount Otemanu, king-size beds and neck-deep bathtubs, and access to the crystal-clear lagoon via a ladder off your back patio. From Bora Bora, jump back to Tahiti and hitch a 20-minute private charter to Tetiaroa, home of InterContinental sister resort The Brando. Once the exclusive domain of Tahitian nobility, the pristine atoll was purchased by Marlon Brando in 1967, who fell in love with it after filming scenes from Mutiny on the Bounty there. Today the private estate turned all-inclusive, LEED-platinum-certified eco-resort attracts tech moguls and A-listers like Barack Obama, Leonardo DiCaprio, and Lady Gaga. The Brando's 1,033-square-foot one-bedroom villas are shrouded in lush greenery; each one has its own deluxe media room, outdoor bathtub, expansive deck with private plunge pool, and direct access to the whitest of white-sand beaches.
Beyond the rooms: The Thalasso Spa in Bora Bora is the first seawater therapy spa in French Polynesia. Luxuriate in a Deep Sea Hydro Massage Bath after a daylong excursion with Moana Adventure Tours, whose amiable crew will have you swimming with black-tip sharks and stingrays. At the Brando, snorkel in the island's pristine coral garden with reef sharks and sea turtles; join a naturalist on a bird-watching excursion; explore the motu via va'a, a Polynesian outrigger canoe; or hop on a bicycle for a 90-minute green tour to learn more about the resort's sustainable seawater air-conditioning system, organic garden and composting center, and impressive research and conservation facilities. Then enjoy the easy seven and a half hour trip back — Air France flies direct between Pape'ete and L.A. One-bedroom bungalows at Bora Bora Resort from $1,400; one-bedroom villas at The Brando from $3,750, plus roundtrip air transfer ($511 per person).
The Bohemian Flat in Los Angeles, California
The hotel: The Golden Aiguille
The room: Mind you, the sweetest suites aren't always found in traditional hotels. The Plum Guide, a U.K.-based vacation rental and home-sharing platform, has made a big push into Los Angeles and New York, snapping up beguiling homes for its elite portfolio. Though you can book many a Malibu Barbie Dream House through the service, the Golden Aiguille has a magical Laurel Canyon energy: a two-bedroom, two-bath flat with peacock chairs and driftwood lamps, shag carpet and sheepskin rugs, macramé wall hangings and Instagram-ready succulents. There's even a handy deck of tarot cards and a custom-lit amethyst closet. The host showers her guests with breakfast goodies like ripe avocados, fig marmalade, Danish rye bread, and freshly roasted Guatemalan coffee beans from Sightglass. Perhaps you'll enjoy them out in Aiguille's rolling green backyard: The patio is kitted out with string lights, an outdoor fireplace, and a gurgling fountain. Add to that a yoga deck, herb garden, barbecue grill, hammock, and tree swing and, well, why even leave the property? You can cook together, downward dog together, and, even do laundry together. (There's a washer and dryer in the kitchen.)
Beyond the room: If you do decide to go out, the trendy neighborhood of Silver Lake sits at the bottom of the Golden Aiguille's steep and winding perch. Head downhill to the NOW Massage spa to get righted with healing crystals and CBD-infused peppermint balm; jog 2.2 miles around the scenic Silver Lake Reservoir Trail; and replenish in true La La Land fashion with cold-pressed celery punch spiked with Sex Dust at the Silver Lake outpost of Moon Juice. Golden Aiguille from $385.
The Hygge Hideaway in Norway
The hotel: Storfjord Hotel in Glomset
The room: When you make it to this secluded hillside bolthole on Norway's west coast, a 40-minute drive from Ålesund Airport, check in to the 947-square-foot Storfjord Suite — all cross-logged walls with a private balcony, sweeping fjord views, a king-size four-poster bed, a freestanding tub, cushy robes and Molton Brown toiletries, and an enormous crackling hearth. The Corner Suites, with their gas fireplaces, rain showers, private balconies, and forest views, are also a fine (less expensive) alternative. If you love your room so much you can't stand leaving for meals, the staff will gladly serve a candlelight dinner en-suite. Just don't forget to order the Storfjordbrygg, a locally brewed ale available exclusively through the hotel.
Beyond the room: Head back to Ålesund to explore its signature Art Nouveau architecture and duck into a few galleries (KHÅK Kunstahall, Rod Bianco Ålesund) or head for the hills. The spectacular landscapes of Hjørundfjord and Geirangerfjord can be explored by car, bicycle, kayak, private boat, or high-speed RIB. For a bird's eye view, the Storfjord Hotel will arrange a private helicopter tour; for a ground-up vantage point, book a dinner or traditional Norwegian baking class at organic, sustainable Nonsvik Farm. Whatever you get up to, each day should end with a good sweat in Storfjord's woodland sauna and a hot soak in the bubbling outdoor jacuzzi. Storfjord Suite from $1,453; Corner Suites from $986.
The Downtown Penthouse in Detroit, Michigan
The hotel: The Siren Hotel
The room: Open for about a year now, this swanky 106-room hotel inside Detroit's old Wurlitzer building — crushed red velvet couches, fringed lamp shades, curved marble bar tops — has two categories of suites: The grandest is the Penthouse, a lofted duplex with double-height windows overlooking Comerica Park and downtown Detroit. The bottom level has a living room and dining room enrobed in rich cranberry, gold, and midnight blues. The bathroom is just as colorful, fixed up with retro glass blocks and strawberry-pink terrazzo tiles. Retreat upstairs to find a queen-size bed fitted with Italian linens and hand-loomed blankets designed by graduate students from the nearby Cranbrook Academy of Art. Slightly smaller but still superb are the Parlor Suites: lofted duplex rooms with a living room downstairs and a king-size bed up top. Vintage flourishes abound, as some of the Siren's charms channel the Detroit of yore, but the overall design feels incontrovertibly now.
Beyond the room: Toast your nuptials with frosty gimlets under a glittering disco ball and Jayne Mansfield pink ceiling at Siren's Candy Bar, then settle in for a Great Lakes-inspired dinner at Albena, the hotel's eight-seat tasting counter helmed by James Beard Award-nominated chef Garrett Lipar. The hotel also has its own in-house roaster (Populace Coffee), floral design studio (Posie Atelier by Meg Bean), and two-chair barbershop (The Social Club Grooming Company), with other attractions (an all-day diner, a piano karaoke bar) in the pipeline. Penthouse from $499; parlor suite from $329.
The Tranquil Top Floor in Shoal Bay East, Anguilla
The hotel: Zemi Beach House Resort & Spa
The room: The 16-mile isle of Anguilla, still recovering from devastating back-to-back hurricanes in 2017, has its share of winsome multi-bedroom villas catering to families (such as the newly reopened Myron Goldfinger-designed Altamer). But for honeymooners, there's the 65-room boutique Zemi Beach House — and more specifically, its Celebration Suite. Claiming 700 square feet on the hotel's top floor, it has a king-size bed dressed in Frette linens, a lavish bathroom with a deep soaking tub and Malin + Goetz toiletries, and a private rooftop terrace and plunge pool with ocean views of Shoal Bay East. All rooms are geeked out with motion-sensing climate control and wireless Bluetooth sound systems, plus flat-screen TVs that slink away when you're not using them. Woven bed frames and natural furnishings fashioned from Brazilian ipe and petrified wood round out the contemporary island vibes.
Beyond the room: A muscle-melting massage at the hotel's Zemi Thai House Spa, constructed from a 300-year-old Thai rice house, is essential. Arrive an hour before your appointment to indulge in the Taino bathing ritual, which includes baking in a marble hamam, slathering your body in therapeutic clay on a designated "mud deck," and relaxing in a body-temp vitality pool. After dark, join Zemi's in-house "rhummelier" Princess in the Rhum Room for an educational tasting of premium aged spirits from Martinique, Guyana, and Guatemala. Or hit the town — and by town, we mean beach. Dad's, Elvis, Johnno's, and other beach bars line Sandy Ground, Anguilla's designated "liming" area. Here, the rum punch flows freely and you can dance the night away to live reggae. Celebration Suite from $895; other rooms from $495.
The James Bond Townhouse in London, England
The hotel: Blakes Hotel
The room: The hardest decision you'll make at this tony Kensington hotel is which of the five signature suites you want to reserve. Each one is an experiment in opulence, styled to the nines by Bond girl turned interior design whiz Anouska Hempel. The fairy-tale Corfu Suite is a hit with honeymooners: High ceilings, white floors, antique furnishings inlaid with lustrous mother of pearl, delicate white orchids, and a king-size, four-poster bed draped in white muslin lends the room an airy, almost celestial. For something a bit broodier and more in line with the hotel's elegant black facade, look no further than the debonair Library Suite, whose bookcases are stacked with antique tomes, or the theatrical Cardinal Suite, an explosion of cranberry and gold that could be mistaken for Pavarotti's closet. Though Blakes is housed in a series of converted Victorian townhouses, its open-plan suites are thoroughly up-to-date with Nespresso machines, Bang & Olufsen iPod docking stations, and more.
Beyond the room: Sip a chai tea martini or single malt scotch in the hotel's cozy tiled courtyard or venture outside the gates to learn why this hotel has one of the poshest addresses in London. From Blakes, you're within easy striking distance of Kensington Palace, whose storied state rooms are open to the public; the extraordinary contemporary art collections at the Tate Modern, the Victoria & Albert Museum, and Saatchi and Serpentine Galleries; plus upmarket retail haunts like Harrods, the design shops lining runway-ready Sloane and Bond Streets, and the festive, famous Portobello flea market. Signature suites from $644.