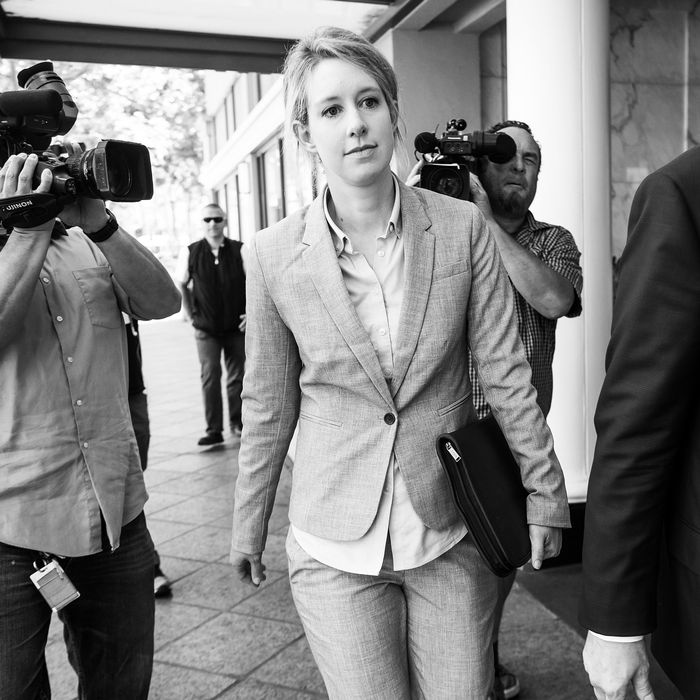 Elizabeth Holmes with statement neck.
Photo: David Paul Morris/Bloomberg via Getty Images
At a court appearance on Monday, disgraced Theranos CEO Elizabeth Holmes changed her trial date, and her look.
The hearing was her first since the March release of HBO documentary The Inventor, in which Holmes admits to having a cartoon-character-esque closet filled with black turtlenecks for every occasion. As if to demonstrate she's done some soul-searching, the 35-year-old accused fraudster showed up to the San Jose hearing dressed in a mild gray jacket over a blueish button-down instead. Her pants were also gray. Steve Jobs would never.
Holmes faces charges of wire fraud and conspiracy to admit fraud. According to investigators, Holmes and Theranos chief operating officer Ramesh Balwani lied to investors, doctors, and patients, claiming their company had the technology to revolutionize blood-testing (their fabled device, the Edison, required a drop of blood to run a dazzling array of medical tests). Before its demise, Theranos was valued at more than $9 billion.
At the hearing, the judge postponed Holmes's July 8 trial date so that additional documents could be reviewed, but a new date was not set, ABC7 News reports. A staggering 20 million pages of documents are estimated to be involved in the case. The government is also trying to get ahold of more documents from the Securities & Exchange Commission and the Centers for Medicare and Medicaid Services.
Defense attorneys also reportedly told the court that they're having a tough time getting billionaires to give depositions, seemingly a reference to the investors who had poured hundreds of millions of dollars into the company.
All parties to the case will return to court on July 1, while Holmes and her lawyer are expected to return on June 10 for procedural matters. We await her summer wardrobe.