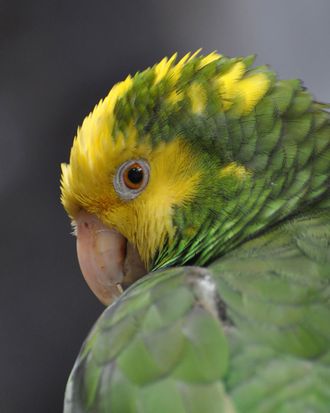 Photo: Joe Ravi/Wikicommons
If you're familiar with the Fast & Furious film franchise, you know that the most indestructible creature on earth, bar none, is Dwayne "the Rock" Johnson wearing a teeny tiny tank top. (Click here for a clip of him flexing a full plaster cast off of his arm and saying, "Daddy's gotta go to work.") What you might not know, however, is that the second most indestructible creature on earth is Freddy Krueger, a turquoise-fronted Amazon parrot from Brazil, who made his way back to his zoo in the southern city of Cascavel after having lived through kidnappings, a gunshot wound, and a snakebite.
Freddy was stolen from the zoo on April 16 by three armed individuals, who also grabbed another parrot and a cylinder of gas, Brazil's Folha de São Paulo newspaper reported.
His kidnapping was just the latest in a series of hardships Freddy has had to endure. Four years ago, he was brought to the zoo after being injured in a shoot-out between police and his drug-dealing owner. A bullet hit him in the upper beak, he was blinded, and the feathers that grew between his eyes were burned, leaving his face mangled and scarred, and earning him his horror-movie-inspired name.
Over the next few years, his life was finally quiet — until earlier this month, when a nonvenomous snake bit him on the leg, causing him to bleed profusely. Freddy was still recovering from this injury when he was snatched on the 16th.
But, like Dwayne "the Rock" Johnson's Agent Hobbs, bad guys and yet-to-be-fully-healed limbs will not hold Freddy back. Two days after he was kidnapped, the bird was found at the foot of a pine tree beside his cage. Though keepers aren't entirely sure how he got back, according to The Guardian, "drops of blood found near his former abode have fuelled speculation that the notoriously aggressive parrot bit his way out."
"He's a bit of a wild one," said the zoo's vet, Ilair Dettoni.
No one at the zoo has confirmed whether this is real footage from Freddy's return: