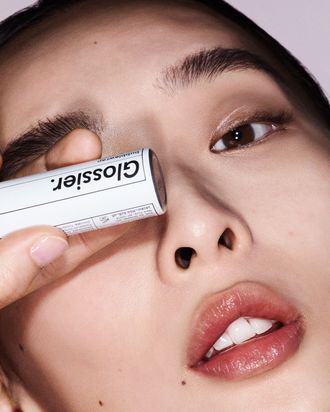 Photo: Courtesy of Glossier
If you've always dreamed of wearing the skin-care-product version of Glossier's signature pink bubble-wrap pouch on your face, today's your lucky day. The newly horned unicorn just dropped its newest skin-care product, Bubblewrap, a plumping cream that's designed to cushion your eyes and lips (the two most fragile areas on your face).
Just like the Instagram-famous bags softly cradle your precious skin-care products, this cream creates an extra layer of moisturizing cushioning for the delicate skin that's prone to tugging, rubbing, and dryness. It just does so via a thick white cream that breaks down into a "light as silk" texture.
In addition to promising to plump upon application, Bubblewrap also claims to slowly smooth your skin over time. This is all achieved through the formula's mix of hydrating hydrolyzed hyaluronic acid, moisturizing avocado and squalane oils, something smoothing called swertia chirata extract, which is the extract of a medicinal herb commonly found in the Himalayas, and some good ol' anti-oxidant-rich blueberry.
You can use Bubblewrap morning and night, post-cleansing and pre-moisturizing, by gently pressing the product around the eyes and onto the lips with your weak ring finger. If the promo images are any indication, this will be an excellent addition to skin-care routines of anyone looking to finally conquer their entire face with that damp, dewy, wet look we've all come to know and love, once and for all.
Photo: Courtesy of Glossier
If you buy something through our links, New York may earn an affiliate commission.