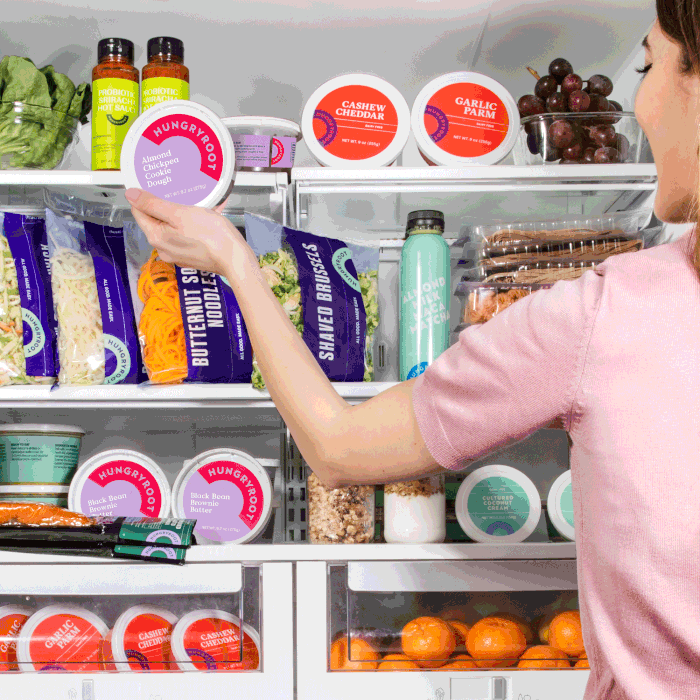 Photo: Courtesy of Hungryroot
Don't have 40 minutes to prep vegetables tonight or make pasta sauce from scratch? Although cooking healthy food at home is something obviously virtuous that we know we should be doing more, it can take lots of time, money, and dirty dishes, not to mention cutthroat grocery lines. On a busy day when you're already exhausted by the time you leave work, that can make cooking feel pretty much impossible.
Fortunately, one brand that's absolutely killing its mission to make healthy eating easier is Hungryroot. The New York–based company offers fresh, nutrient-packed foods that are easy to mix and match. (Think of the brand like a fairy godmother for your fridge, delivering all the right things when you need them.) Their "building-block" foods are simple to combine with one another or with whatever already happens to be in your kitchen. You can personalize home deliveries based on your tastes, diet, and allergies, or if you're based in NYC, you can stop by their shop at 909 Broadway in Flatiron (and sample their Black Bean Brownie Batter) through the end of this June.
Below, we've rounded up an easy-to-follow list of Hungryroot fridge and pantry staples for foolproof healthy eating throughout the week. No grocery-store drama or tedious food prep required.
Fresh-Cut Vegetables and Pre-Washed Greens
As anyone who's attempted to cut cauliflower into tiny pieces of "rice" can attest, prepping veggies is a total time suck. Hungryroot offers plenty of easy, already-prepped options that you can use as building blocks, like beet noodles, sweet potato ribbons, broccoli rice, and yes, cauliflower rice. The brand also has salad blends that are far from sad-desk-lunch territory, like Superblend Salad (Brussels sprouts, napa cabbage, kohlrabi, broccoli, carrots, and kale). Add your favorite dressing and a protein, and you're good.
Clean Protein
Whether you're vegan, vegetarian, or a dedicated meat-eater, you'll want a variety of protein to help you keep feeling like an energized human. Hungryroot focuses on clean, sustainably sourced proteins that are fully cooked, meaning less time thawing, baking, or grilling. From Cuban Spiced Black Beans to Braised Lemongrass Tofu Nuggets to Spinach Garlic Chicken Sausage, each one arrives already seasoned and ready to heat.
Pre-Prepped, Nutrient-Dense Grains
Similar to chopping veggies, soaking beans or boiling grains can majorly set you back before mealtime. Stock up on shortcut options like ready-to-eat quinoa and brown rice or quick-cooking pastas. Hungryroot makes linguini made from plantains, fusilli made from red lentils, and fresh, grain-free wraps made from coconut and turmeric to keep things simple, interesting, and nutrient-dense.
Healthy Toppings, Sauces, and Dips
It is, and has always been, all about the condiments. They can transform the most humble dishes into feasts (and bonus, they make you look more impressive to guests). Hungryroot has plenty of choices, like dairy-free Cashew Cheddar sauce, Kale Pesto, and fan-favorite Thai Peanut sauce. Each option is fresh, additive-free, and multifunctional: Use them as dips, drizzle them on salads or grain bowls, or mix them into pastas or stir-fries for extra flavor.
Ready-to-Eat Dishes
Some days there's absolutely no time, not even 15 or 20 minutes, to put together the simplest meal or snack. To avoid ordering in or buying something less-than-virtuous on the go, health-conscious grab-and-go foods can help. For breakfast, you can mix Grain-Free Granola with Cultured Coconut Cream and fruit, or for lunch and dinner you can heat up Thai Coconut Vegetable Curry, a Roasted Red Pepper Quinoa Cup, or Cucumber Corn Black Bean Salad.
Something Sweet
Treats don't have to be off-limits in a healthy diet, especially when you're opting for sweets made with ingredients like legumes or nut butter, and coconut sugar instead of refined sugar. To make it easy, Hungroot does the mixing for you, serving up desserts that are either ready-to-bake or ready-to-eat. The brand's cult-favorite Black Bean Brownie Batter and Almond Chickpea Cookie Dough just need to be portioned out on a baking sheet (though they're safe to eat raw if you're into that). Side note: a little dessert is the perfect way to treat yourself for being a healthy, responsible adult who's eaten healthy, responsible things for the past week. Good job! 
Feeling inspired to stock your fridge? Get 20 percent off your first two Hungryroot boxes with code THECUT.
This is paid content produced for an advertiser by New York Stories. The editorial staff of The Cut did not play a role in its creation.