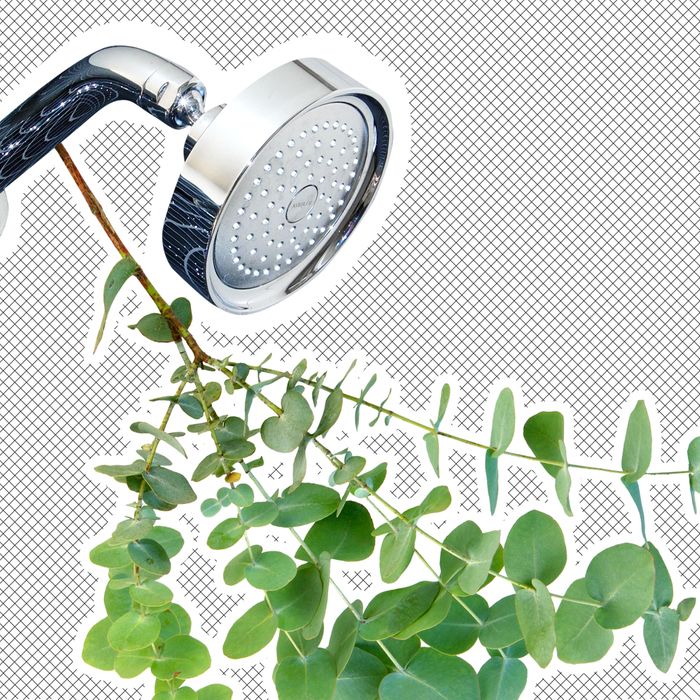 Photo-Illustration: Getty Images, alchem/Morguefile.com
My shower is straight-up average. There's nothing photogenic about it. The showerhead isn't rainfall. The grout needs to be deep-cleaned by preparing a white vinegar solution I have Googled but am too lazy to make. Two light bulbs need to be replaced, but I don't understand the lighting aisle at Home Depot. And my shower doors are not only sliding, but frosted — a word that sends a chill down the spine of anyone in the beauty industry.
But it turns out that all I needed to make it a lot cuter was a plant. Last week, a brand sent me a mailing and, with it, a generous cut of fragrant eucalyptus leaves. I was about to throw them out when I remembered the eucalyptus-festooned showers I keep seeing everywhere from Into the Gloss to facialist Joanna Czech's Instagram page. So I brought them home.
If you have interest in making your bathroom smell like as refreshing as a cold towel from Equinox, do this. First, procure some eucalyptus stems (you can go to Whole Foods for this; I've also heard Trader Joe's might have them). You don't need a bush, just a little sprouting. Take a wine bottle or a rolling pin and roll it over the eucalpytus leaves to release their scent. (Do this over a newspaper or cutting board, or else it will get sticky). Then take a rubber band, loop it over the shower head, and tie the eucalyptus to it. That's it.
The leaves make your shower look like you're in a poor man's version of Fern Gully, but the magic really comes when you turn on the shower. Your bathroom gets all hot and mingles with the eucalyptus to create a steamy, minty, pine-y, great-smelling haze.
Czech likes to put her eucalyptus in a vase in her bathroom, but my counter space is limited by an electric toothbrush and dried-out tubes of toothpaste. Chalk this up as one Pinterest hack that won't end up as a fail.