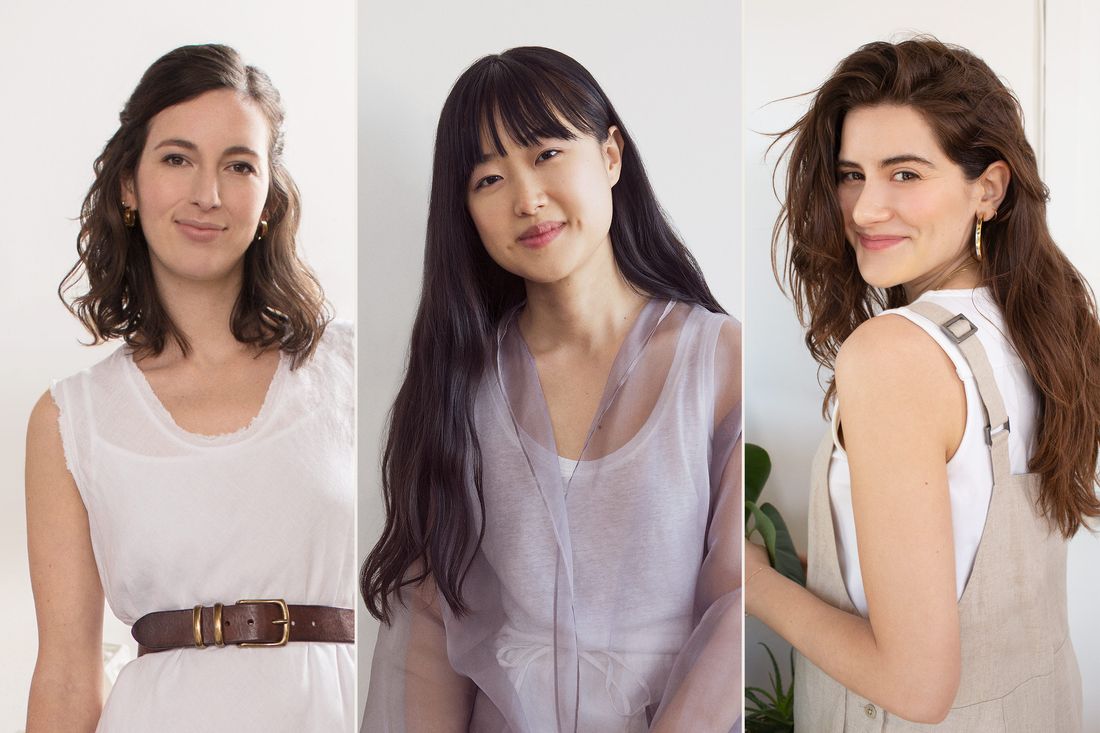 You've probably seen it bubbling up on social media: There's a new kind of influencer, and she's a world apart from the fashion peacocks who dominate street style slideshows. Her aesthetic is thoughtful and design-forward, but airy and effortless. Her career is usually artistic, and she's always traveling somewhere enviable. Her pared-down approach to fashion and décor makes scrolling through her feed a downright soothing experience. We call it the "art director" aesthetic, and once you've noticed it, you'll be tempted to remake your whole life in its low-key cool image — and with that, we can help.
To unlock the secrets behind this simple-yet-stunning style, we spoke with three women about their style philosophies — including the EILEEN FISHER pieces that power their wardrobes — and how they curate their particular brand of well-edited, unfussy chic. Turns out, mastering the subtle art of "less is more" comes from knowing exactly who you are, and what you want to express.
Helen Levi runs a small ceramics company in Red Hook, Brooklyn, with a big social following. Her whimsical, marbled stoneware is a go-to for hip restaurants and interior designers and is sold in the coolest shops — and Levi still makes and photographs every one by hand.
How have you adjusted as your ceramics business has taken off?
Social media is a bit of a façade — having a certain number of followers makes it seem like I have this huge company, and I really don't. I have two part-time assistants, but it's important for me to still have my hands in everything, to throw, to marble each piece. Sometimes people see a small business and assume you want to be the next the next mogul, but I'm happy with where we are right now. I like our having breathing room to try new things.
How do you approach style?
I'm the opposite of most people — my appearance could not matter less for my job so all week, I barely look in the mirror. I'm so in the zone of work I forget I have an aesthetic. Weekends are a nice rediscovery. On Saturday, I remember, "oh, it's nice to put on clothes I feel good about."
What pieces are you drawn to then?
Pieces that feel effortless, that look good without being uncomfortable or trying too hard. I love high-waisted jeans, chunky sweaters, a loose jumpsuit with a nipped waist. I'm not exactly an innovator when it comes to clothes.
You say that, but we're all trying to dress like a Brooklyn potter right now!
Then you'll definitely need some fleece-lined jeans and [ugly clogs].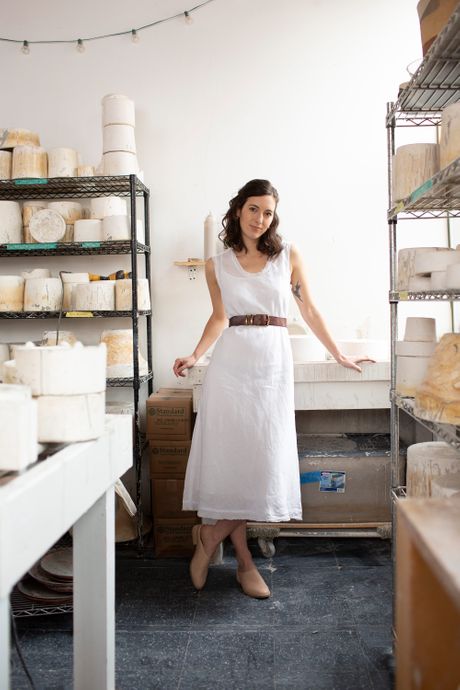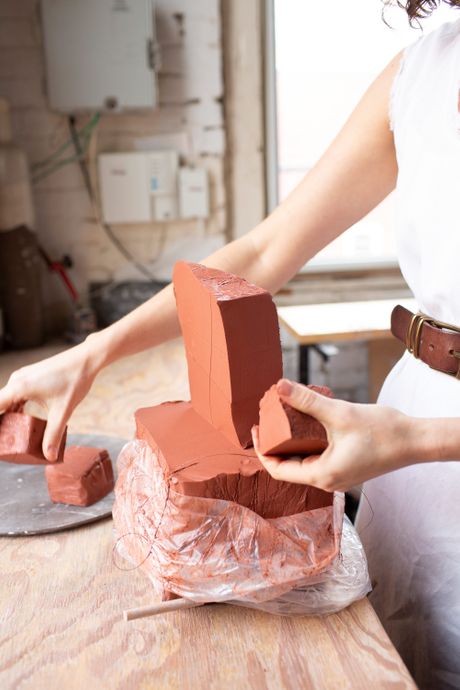 Do you consider yourself a minimalist?
I'm too messy to be minimalist! I work messy, I love collecting things and keeping objects with a history around. But I do love a simple, streamlined style.
How do you keep things streamlined in the good way?
Good design is the difference between simple and boring. Like this white tank dress — you look at it hanging and think, "Is this going to look like a nightgown?" But you pull it on and it feels great, it's cut right, it hangs nicely. When you see good design in fashion, graphic design, anywhere, you think, "oh, that's easy." But simple is really hard to do well. And when it's done well, you can feel it.
Your style has a timeless feel — how do you achieve that?
I'm making more intentional choices for the first time, like buying things that are a little more expensive — because I can, but also because I can picture myself owning things for a long time, which wasn't the case in my teens and 20s. Thinking "I could wear this for 10 or 15 years" is exciting to me, like it's exciting to realize my business is something that can sustain me long-term.
Casey
Zhang,
creative
consultant
Casey Zhang is a freelance creative consultant — meaning, she does a mix of art direction, photography, styling, and social media strategy that involves plenty of far-flung travel. She's best known for her warm, unpretentious version of minimalism, and for some of the best mirror selfies in the business.
What's your style philosophy?
I'm drawn to a simple way of life, especially living in a hectic city like New York. I try to keep things uncomplicated, efficient, and easy, but also thoughtful, fun, and nuanced — my aesthetic is a reflection of that approach to living. I don't follow a specific code with what I wear, but I look for pieces I resonate with from a design, emotional, or practical standpoint.
Were you always a minimalist?
If you saw photos of me from high school or college, you'd definitely say my aesthetic has changed! But over time, I've learned more about the things I don't like to wear. I stopped wearing heels because I know I'll end up feeling uncomfortable. Knowing what doesn't work makes it easier to focus in on the things I'll wear over and over again. I can also be very indecisive, so by eliminating the number of choices I have to make, I have more space to focus on other decisions.
What are those "over and over" pieces for you?
I'm drawn to simple pieces that have a quiet confidence and focus on subtle detailing. I usually find a silhouette I love, like a tank dress or a wide-leg pant, and wear it repeatedly until I get bored and find a slightly new shape or silhouette. One of my favorite pieces right now is this sheer, light purple jacket. I love the relaxed, oversized shape and lack of fastenings, combined with the elegant material. I wear a lot of white or off-white, so that hint of color is nice, too.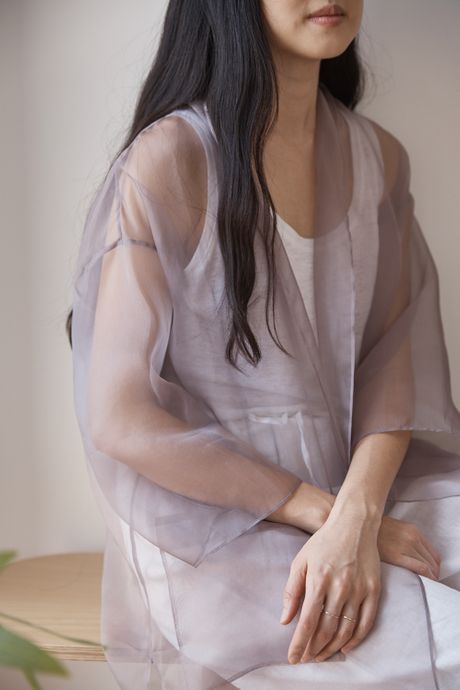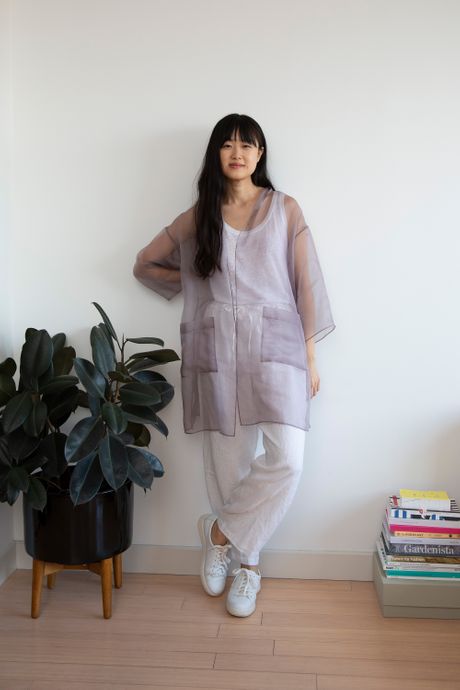 How do you achieve a pared-down look without being boring?
My style probably could come across as boring! But "less is more" can also be warm and approachable. Pure minimalism tends to strip the emotion out of things, reducing something to its most basic core, but I gravitate toward a more subtle version of it — pieces that are reduced and without decoration or flourishes, but that pay attention to interesting materiality, shape, texture, color, or even imperfections. There's beauty in paring something down to highlight a detail that might otherwise get lost.
So, what's the secret to that "effortless" vibe you give off?
How I dress has always been important to me and I'm specific about what I like, so I don't know if it's really effortless. But I like not spending lots of daily effort on getting dressed. Knowing what resonates with me physically and as an expression of my personality helped me find my uniform.
Lauren
Singer,
zero-waste
advocate
Lauren Singer began documenting her zero-waste lifestyle on Trash is for Tossers in 2012, as a way of aligning her daily life with her sustainable values. Now, her shop Package Free helps us all do the same — and Singer is undeniably the coolest face of the waste-reduction movement.
You don't look like what we think of when we think "environmental activist."
When I first began my activism in college, I felt like I needed to suppress my style to be accepted. Now, I don't believe you have to sacrifice any aspect of your style to live low-waste.
How do you live stylishly but ethically?
I do a lot of shopping secondhand, I reduce the beauty products I consume, or make my own, buy food in bulk and learned to cook at home. And while there's this idea that ethical shopping isn't stylish, the aesthetic at Package-Free Shop is leaps and bounds better! A wooden dish rack or bamboo toothbrush are exponentially nicer than plastic ones.
What's your style philosophy at home?
I gravitate toward natural materials. I decorate my apartment with sticks and bones, rocks and plants. Bringing those outside elements inside makes me feel good, and gives my home a warm, organic feel. I don't like cold things, both aesthetically and to the touch, so I'm more likely to decorate with wood than metal.
Does that extend to your wardrobe?
With clothing, I wear totally natural materials — I value the feeling of authenticity and comfort. Linen is a textile I'm always drawn to for home and clothing. Versatility is also big. I build my closet around pieces I can wear day and night, and across seasons. I love these overalls with a shell underneath, because they're high-quality basics that can stand the test of time and age, and lend themselves to different styles and occasions. When I shop I ask myself, could I wear this five days in a row with something different, and nobody would notice?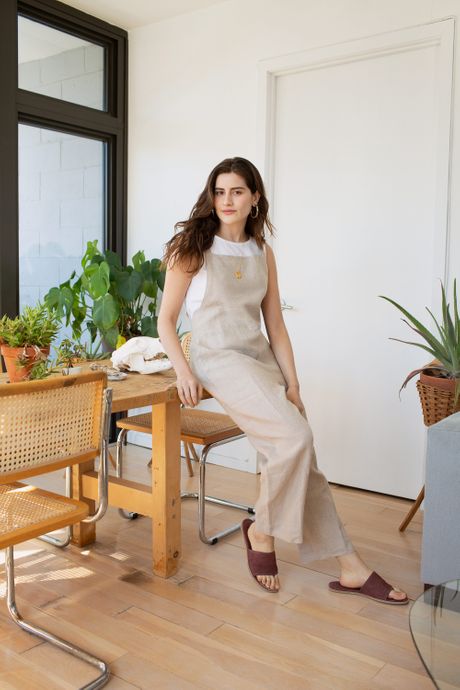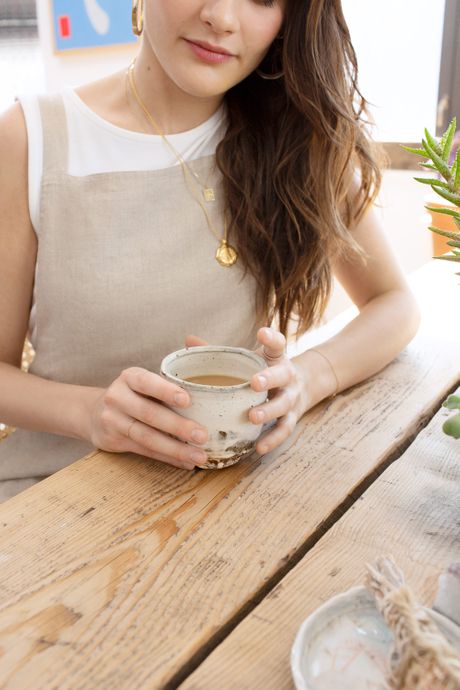 What's your advice for women who want to get more intentional about their style?Never try to reinvent yourself in a store. So many times I've found myself looking at a miniskirt, when I know that's not something I'll wear and feel good in. We get blinded when we're shopping and want to buy this other version of ourselves. But shopping should be about embracing the best version of yourself, not total reinvention.
Those "new me" purchases always go unworn.
Yes, and stylish people often wear a version of the same outfit over and over. There's power in knowing what works for you. So I pay attention to what I actually wear and feel good in, and invest in similar items.
I'm now imagining five perfect shirts in your closet.
I actually don't have a minimalist wardrobe! Owning 10 things is not realistic. I like to have options, to feel creative and mix things up. I have 100 hangers total — including all my jackets, summer and winter items. That feels sufficient, and when I feel the need for something new, I trade something in. It's an editing process that keeps me focused on who am I, and what do I love most right now?
This is paid content produced for an advertiser by New York Stories. The editorial staff of The Cut did not play a role in its creation.