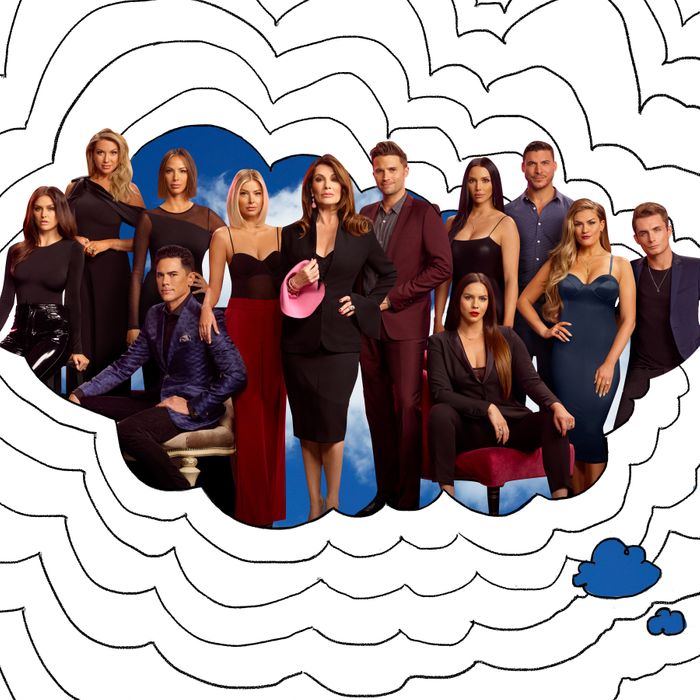 I Think About This a Lot is a series dedicated to private memes: images, videos, and other random trivia we are doomed to play forever on loop in our minds. In honor of the seventh season finale of Vanderpump Rules, we asked 13 writers the moments from the show they … think about a lot.
Tom Sandoval's asymmetrical bleached haircut
In the fifth season of Vanderpump Rules, the best show on television, Tom Sandoval wore his hair in what I can only describe as a Victoria Beckham–meets–Kate Gosselin asymmetrical bob, with bleached white streaks. It was terrible and strange, and embarrassing to think he might think it looked good on him. Or, at least, this is how I felt at first. But as the season rattled on, I found myself adapting to the bob (classic Stockholm syndrome), and even sometimes liking it. When season five started and it became clear Tom had shorn his locks, I missed them. This, I've come to realize, is emblematic of how I feel about every person on this show. Everyone I once hated, I now love. I don't think anyone has changed — rather, I think the show has reshaped my beliefs in morality, and human character. For instance: Tom Sandoval, who in early seasons seemed despicable (largely due to his toxic relationship with Kristen, another personal hero), has somehow rebranded himself in recent seasons as the most morally upstanding (or at least morally consistent) person on the show. What first seems strange and embarrassing eventually becomes endearing. I love these people, and every decision they make. Especially Tom's bob. —Katie Heaney, senior health writer, the Cut
The 95-year-old woman Faith was babysitting when she had sex with Jax
In the season six premiere, a SURver named Faith takes DJ James Kennedy aside to let him know that she had a dalliance with Jax Taylor that resulted in them having sex while she was caring for an ailing, 95-year-old woman. Faith only makes mention of this woman's presence once to James, mimicking her lying prone, mouth agape while she and Jax banged it out. As news of Faith and Jax's illicit affair rips through the Vanderpump Rules community, questions are asked, truths are revealed, Jax is repeatedly told to "Rawt in Hail!" by his girlfriend Brittany, and this poor 95-year-old woman gets completely lost in the shuffle, never to be spoken of again. This is fucking crazy to me, and I've honestly thought about this woman every day since this episode aired. I have so many questions that will never get answered: Who was she? How did Faith, a waitress/reality show starlet, come to be entrusted with this woman's fragile, end-of-life journey? Also, why didn't anyone ever address the fact that she was in the house, and potentially the same ROOM as Faith and Jax when they fucked? If I caught wind of gossip involving two people I knew having sex in the vicinity of an elderly hospice patient, I would never be able to shut up about it. But on Vanderpump Rules this juicy, character-revealing detail is shrugged off by pretty much everyone in favor of what they perceive to be bigger, more important drama: the future of Jax and Brittany's relationship. I don't know what's more disturbing: the fact that Jax and Faith had sex while this woman — whom Faith was supposed to be looking after — inched closer and closer to death, or the fact that no one so much as batted an eyelash over it. It's this type of plot twist and the subsequent fallout (or lack thereof) that makes Vanderpump Rules one of the most fascinating shows on television. —Lara Marie Schoenhals, host, Sexy Unique Podcast
Lisa Vanderpump telling Stassi "you're not important enough to hate … sit down"
There is one moment in Vanderpump Rules that I find myself returning to frequently. It occurs in the fourth season, which is the one where Stassi vanishes for a bit and then comes back and has to apologize to everyone for whatever it was she did — I don't remember because there are so many things it could have been, everyone in the show is constantly wronging everyone else, bless them for their service to the American public. In this particular scene, Stassi attempts to express contrition to Lisa Vanderpump; after several abortive attempts to genuinely apologize, which are punctuated by her indignantly noting that she is DOING HER BEST, she rises to leave and proclaims, "You hate me, Lisa! You hate me!"
Lisa, a terrifying and perfect being, cuts her off by saying, "You know what? You're not important enough to hate. Sit down."
I think about this often, whenever someone or something is tempting me with its odiousness and hoping for a response — for instance when there is a Bad Article on the timeline, or that time that a man who had been to Burning Man eight times started crying to me about his sex addiction at a rave. It is the closest I come to feeling Zen: I hold the phrase You're not important enough to hate; sit down in my mind, and I let a sense of peace and serenity wash over me. —Callie Beusman, news editor, the Cut
Ken getting mad on Lisa's behalf
Is Ken Vanderpump (I know his last name is Todd, okay?) … alive? It feels questionable sometimes — he has a penchant for dozing off during important moments, and the way he clutches Giggy makes me wonder sometimes if he has in fact died and been reanimated by a combo of black magick and Vanderpump Rosé. The thing about Ken, though, is that while he does not really care about any of the main cast's drama, he loves Lisa in a way truly beautiful to me, an aspiring swan owner. Never is this more apparent than in Season five, when he threatens to "knock" James Kennedy "spark out" after he raised his voice to Lisa in a way that displeases Ken It's heartwarming to see him roar to in defense of his beloved, and on a show populated almost exclusively by couples who hate each other, it is a shining example of true love and romance. —Angela Serratore, writer
Peter and Vail's date
Vail Bloom is one of my favorite Vanderpump characters, even though she appeared in only one season (season three). Vail came in as a proto-Lala, the new beautiful blond SUR girl, albeit one with a very strange pedigree — a Princeton grad with experience acting in soaps and possessing a kind of cokehead past to which she was constantly, vaguely, alluding to. She had so much potential for drama! Vail could happen! But sometimes, even the most determined efforts of a producer fail to pan out. Her ticket to relevance was a date with Ponytail Peter, SUR's manager, who was also vying for a spot in the main cast. It was the moment for both of them to prove their worth: a coffee-turned-wine date that, if it led to sex, could cement them in the SUR employee boning pantheon, perhaps even garner them a place in next season's slow-mo opener. Sadly, it was a total fiasco. Peter's opening gambit — "a bottle, really quick, of Malbec" — was met with shock. "Why are you trying to make this something it's not?" Vail mused. Peter then executed his best pick-up artist move, staring intently at her while she squirmed. "You are awk-ward" was her response. Peter couldn't even keep a straight face in the confessional interview while declaring that "it was hot" to be called out because "it means that she's paying attention to me." We still had about a minute left of this awful date when Peter declares that he is "Eskimo brothers" with Jax. Vail shoved some ceviche in her mouth and ran out. In the midst of this totally staged event, a real emotion emerged: the kind of cringe that makes you feel like your skin is being slowly peeled back. Vail, I miss you. —Reyhan Harmanci, executive editor, Topic
Kristen listening to Fleetwood Mac on her phone
In season six of Vanderpump Rules, the gang goes down to Playa Del Carmen to binge drink and fight. Jax, the many-nosed Sherlock Holmes of West Hollywood, wakes up one morning after a night of revelry, and determines that exes Kristen and James (who are both dating other people now) definitely boned the night before. His proof? Two forlorn pillows by a jacuzzi. Kristen and James both vehemently deny the allegations, and for what it's worth, I believe them. But the thing I find myself thinking about, again and again, is James' description of the evening — of him and Tom Schwartz talking by the jacuzzi, and Kristen, alone, listening to Fleetwood Mac on her phone. I think of this a lot, not only because Fleetwood Mac is a musical outlier on a show whose soundtrack could best be described as "the sound of faking an orgasm on a private jet," but because this scene makes me think of all the nights (three? twelve? more?) I have found myself, drunk and heartsore, listening to Fleetwood Mac, and considering rekindling things with an ex, or hooking up with someone I know I'll regret. I wonder whether Kristen was listening to "Dreams," or "Landslide," or maybe "Gold Dust Woman." I think maybe Kristen and I have more in common than it seems. Then I remember literally every other scene in the show and think, "Naaaah." —Madeleine Aggeler, staff writer, the Cut
Kristen's green dress
In the seventh episode of Vanderpump Rules's third season, a scene played out between Kristen Doute and Tom Sandoval that will haunt me until I have left this planet and my name is forgotten, even among my ravenous and sun-poisoned descendants. In search of the mail she'd not yet had forwarded to her new address, Kristen visits the home she used to share with Tom Sandoval. In advance of the meeting, Kristen curls her hair while her new boyfriend James Kennedy watches, confused (though he mustn't have been, really) at why she is dolling herself up so much for this task she seems to resent. She puts on a short green dress with a nonexistent neckline, showing major cleavage, wearing too-high heels, and trots over to Sandoval's. Oh, God. Oh, no, Kristen. We know exactly what she is attempting to do. Just remembering the scene, my heart fills with second-hand embarrassment so severe it feels like first-hand.
Kristen walks into the apartment, where Tom Schwartz is seated on the couch, and grabs a large plastic bag full of mail, explaining that this was odd as she filled out her change of address a week ago. Sandoval, somehow not taken by her attempt at seduction, points out that she hasn't lived there in six months. "She's just doing that, like, extremely cliché thing where it's like, 'look good around your ex,' but it's like, you just see right through that," he says in a talking head. Oh, it's too much. He and Kristen proceed fight about how she won't stop bothering his new girlfriend, Ariana, and Kristen accidentally ("accidentally") calls him "babe." I can't. I can't!!!!!!!!!!!!!!!
The scene is absolutely one of the cringiest in Vanderpump history and I hate it so much, oh my God, it's amazing. The dress was at least, at one point, on display in the Los Angeles attraction "The Museum of Broken Relationships," which is only right. It should be on display somewhere, and will almost certainly be on display on the wall of my bedroom in hell.  —Kelly Conaboy, writer-at-large, the Cut
Tom Schwartz throwing a drink on Katie
Like many viewers of the Greatest Show of Our Time, Vanderpump Rules, I've fallen prey to the theory that Tom Schwartz is the best man on the show. He's cute, tall, affable, aloof when he needs to be, and — with some coaching — sort of supportive of his wife, Katie Maloney-Schwartz. However, I always find time to remind myself that no matter how cute Tom is, he's a bad partner. In season two, Tom showed his true colors while in Mexico celebrating one of Stassi's birthdays. Outside of a club he and Katie are fighting over Scheana. Schwartz is upset that Katie thinks he should take her side in a fight no matter what (a continued theme), as Katie is crying and pleading for Schwartz to listen to her. Instead, Schwartz starts calling her everything but her name. He starts with saying she's "fucking stupid," and a "fucking bitch," then a "bully," he and finally tells her to "fuck off" just as he pours his drink over her head. Yes, Katie's season two hair color is a felony, but she did not deserve this! As often as I think about the moment, I look back on the actual footage because it couldn't have been as bad as I remember, right!?! IT IS. The escalation of his rage, and the ease at which he called his girlfriend a "bitch," is chilling, and a major red flag that we all miss about the TomTom co-co-co-owner. —Mariah Smith, writer
Jax failing to dump Laura Leigh
"We admit that we're powerless over … whatever," an older woman at a 12-step meeting says in a scene from season one of Vanderpump Rules, unintentionally describing how fans of this show feel. Here, we find Laura Leigh: a SURver and former meth addict with whom Jax Taylor rebounded in a bathroom-fucking fever dream after Stassi dumped his ass at the Grove. Laura Leigh has invited Jax to support her in her recovery so, naturally, Jax arrives late, spends the meeting visibly twitching and judging everyone, and proceeds to tell her, while still in the meeting room, that he needs space. "She told me usually after meetings she felt good!" Jax reasons, maybe being the only person on the planet to ever think that a 12-step meeting is ideal for a breakup. Of course, Jax backs down, gives her false hope, and breaks up with her days later via ghosting and unfriending her on Facebook. Laura Leigh: a queen gone too soon. —Crissy Milazzo, writer
Ariana getting mad at Kristen for not taking comedy seriously
My partner says that if you dislike somebody intently, it's often a sign that you see one of their worst qualities in yourself. This sentiment is annoying because sometimes I just want to complain about somebody being a dumb bitch without having to be self-reflective, and also because it's probably true. In the case of the Vanderpump Rules moment I think about the most, it definitely is. Ariana and Kristen's comedy fight from season four is embarrassing for everyone involved: Ariana, Kristen, the other cast members, the viewer, anybody who has ever enjoyed comedy in the history of time. It all starts when it's revealed that Kristen has taken up comedy and isn't very good at it (embarrassing). But it's Ariana's reaction that I find truly repellent. "Has she been taking sketch classes or did she just kind of decide to be funny? I take sketch comedy very seriously [Editor's note: I! Take! Sketch! Comedy! Very! Seriously! Ahhhhhhh!!!] so it offends me when people just think that they can just do it," she complains to anybody who'll listen, before turning her ire on Kristen directly. The thing is, as much as Ariana's reaction makes me want to be suffocated in a mountain of fried goat cheese balls, I completely understand it. Nothing enrages me more than when I feel like someone's trying to rip me off, whether it's in my work or my personal life, and, in that moment, nothing feels too petty for me to get mad about. I just don't have the cameras, producers, or a whole crew of enablers to make these scenes happen in public. —Gabriella Paiella, senior writer, the Cut
Ariana's cocktail book
My favorite subplots on Vanderpump Rules are all of the castmates terrible side hustles: T-shirt line! "Singing" careers! Beer cheese! But the best one is the yet-to-materialize-not-sure-if-it-will-actually-happen cocktail book from Ariana and Tom. I can't stop thinking about this book that is going to be written by two people who make mojitos and pour glasses of LVP's terrible bottled sangria.
We first encounter the project when Ariana is doing a photo shoot for the book inside of Sur — a timeline that makes zero sense. No one shoots a book until the recipes are done! But that doesn't stop from Tom walking in and throwing a temper tantrum because he isn't involved in the book. He continues to selfishly demand he become a part of the book even though he will soon open a full blown bar with Tom Schwartz and Lisa Vanderpump and most notably, not Ariana.
She eventually gives in, but that was two years ago and the book still doesn't exist. In an interview from 2018 , Ariana reveals the book will have 40-50 cocktail recipes, that they are about a third of the way done, and that it will help you make cocktails with the ketchup in your fridge (gross?). Another interview from Sandoval reveals that they are self-publishing (lol) and plan to sell it at Urban Outfitters, where all great cocktail tomes go to die. —Khushbu Shah, senior food editor, Thrillist
The cast's passport photos
Recently I was talking to a friend who's studying to be a public defender and she said, "I don't think it's always moral to judge people on their worst actions." If that's true, I will always judge the Vanderpump Rules cast based on the effort they put into their passport photos. It's not their worst moment, but it's the one that solidifies who they really are: ready to make anything into a spectacle, delightfully narcissistic, and completely detached from reality.
In season two, the gang was gearing up to go to Mexico and Schwartz, Sandoval, Kristen, and Stassi spend an inordinate amount of time prepping for their passport photo shoot. We see Kristen and Stassi debating whether or not to wear "jewels" (statement necklaces) or not, and Sandoval brings multiple makeup and hair products to get his look. It's the ultimate "make work" task — something you'd only think of doing if you had an exorbitant amount of time on your hands. But it pays off — upon seeing her photo, Stassi proclaims that it's the hottest picture of her ever and she doesn't want to retake it because she's not sure if she'll ever look that good again. I think about it a lot, but mostly when I have to take out my passport, complete with a photo of me on election day 2012, with my "I Voted" sticker in view. "Would it be better if I was handing this customs agent the hottest photo of me ever?" Most of the time I don't have time to finish the thought, because they've already closed my passport without complimenting me on my beauty. —Sarah Spellings, fashion writer, the Cut
Brittany finding out Jax cheated
The Vanderpump Rules moment that will forever play on a loop inside my mind is the night Brittany screams at Jax on the phone after learning that he cheated not once, not twice, but probably several times with Faith. And then my brain cuts to Jax losing all his cool and screaming "SHUT UP!" in the middle of the street, the true cherry on top of his guilty verdict.
So many wonderful things happen in this scene. There's sweet, Southern Brittany losing her shit — a rare occurrence — which makes the outburst that much more beautiful and poetic. There's Jax, in his sociopathic Jax glory, forgoing all logic by decrying, "What does it matter if I did it two or three times?" and continuing to establish himself as a reality television show cast member that can never be replicated. And then there's the gaggle of VPR women behind Brittany, casting spells and poking holes in Jax's voodoo doll's penis. (I don't know if they really did the latter, but I like to imagine they did.) —Alexia LaFata, SEO editor, New York Magazine