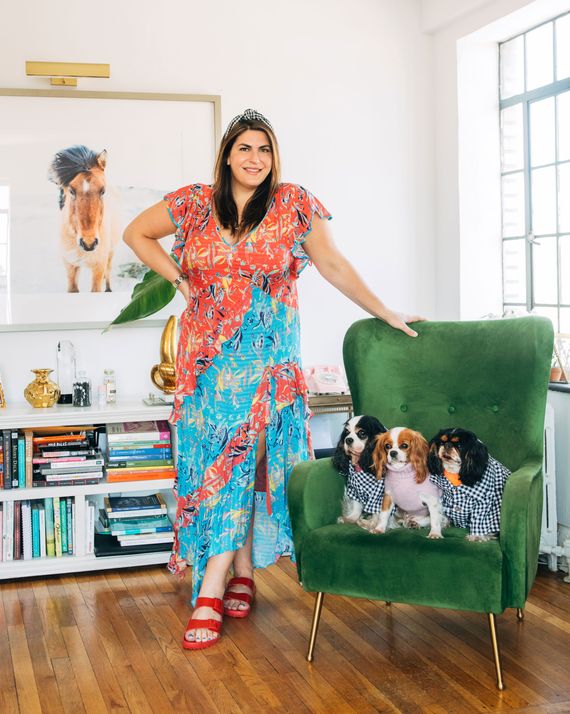 Katie Sturino is an entrepreneur in the year 2019, so of course she has multiple jobs. She's the founder of Megababe, a nontoxic beauty brand geared toward women who want to be comfortable in their own skin. (Their Thigh Rescue stick and Rosy Pits deodorant are particularly big hits.) She's also the brains behind a fashion blog, The 12ish Style, in which she features inclusive looks, usually on herself. She runs a successful personal Instagram. And she manages her dogs, who are social media sensations at the account @dogmeetsworld. (You might remember the dearly departed Toast, an early Instagram celebrity and another of Sturino's pets.)
Sturino grew up in Wisconsin and went to college in-state. An internship at Chanel in New York City one summer led her to a job at Dolce & Gabbana right out of college. In 2005, she founded her own public relations firm, Tinder PR, and in 2015 she launched The 12ish style, which quickly became a hit. The Cut caught up with her at home where she talked about comfort, why you'll never see her in black, and why she raids the men's shoe department at Barneys.
On her favorite shoes: For sneakers, I love Reebok's pump style. On dressier days I'll wear my Margaux heels — I have them in so many colors and they are super comfy. I'm also a huge Birkenstock fan. They've been my go-to for years! I can walk for miles in them and they feel supportive without detracting from my outfit.
On finding size 12-wide shoes: It's tough out there. Even when a brand decides to make something in a size 12, the width is usually still pretty narrow. It's impossible for me to shop designer shoes for women, so I hit up the men's department at Barneys quite often for brands like Gucci or Saint Laurent.
On what she wears to big meetings: It depends on my mood. The one thing I rarely do is wear all black — it's just weird for me. I'm currently very into my Veronica Beard blazer, which always makes me feel like my most professional self. No matter what, I'm very conscious of comfort with shoes because I'm always running around. Thank God sneakers are still cool!
On her many outfit needs: I change all day. I'll walk the dogs in one outfit and then swap into a different outfit for a morning meeting. And then I'll hit the gym, plus I always have evening events whether it's a dinner or party. My apartment looks like a sale bin in a store by 8 p.m.
Shop Katie's Favorites
On her average day: My mornings start the same every day, even on weekends. I wake up naturally around 6 a.m. I'll scroll through Instagram and answer DMs, meditate, walk the dogs, and get coffee. Then when I'm home I'll begin work right away or go to my first meeting. I love the idea of going to events, but I admit sometimes I RSVP yes to things that I do not go to in the end. Usually, I do want to go, but between my blog, the dogs' Instagram, and my brands, my days are full and the thought of doing something that isn't writing emails is hard.
On who she dresses for: I dress for women more than men, that's for sure. When I was single my friends sat me down and they were like "You are going to need to show some skin and stop dressing so editorially on dates." It was somewhat true, but I did end up marrying someone who loves my style, so there you go.
On her style evolution: I would say that my early 20s were spent in a preppy zone and it evolved into a "hip/trendy" for a while before taking a left turn toward eccentric aunt in Palm Beach. Now I would say it's a blend of all three, under the filter of Tory Sport.
Shop the Story
If you buy something through our links, New York may earn an affiliate commission.