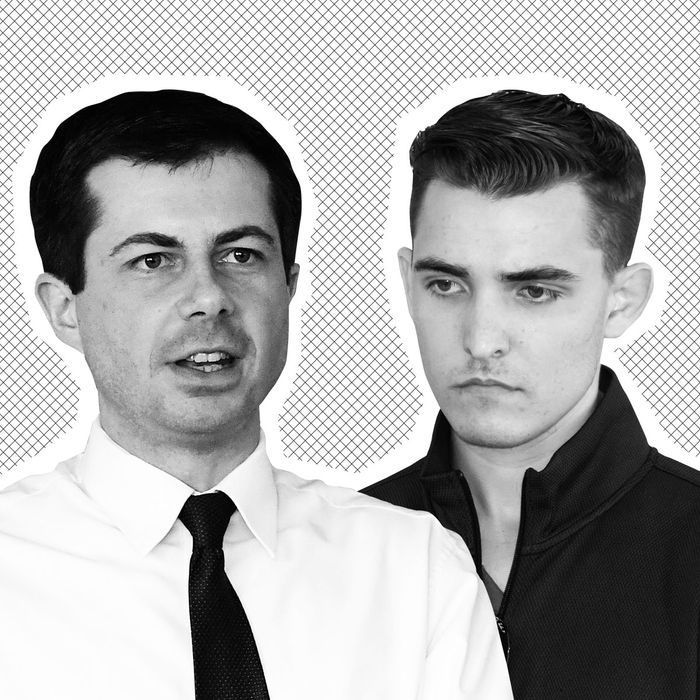 Pete Buttigieg and Jacob Wohl.
Photo: Getty Images/Shutterstock
Far-right activist and Hipster Coffee Shop Guy Jacob Wohl continues to cement his role as the Wile E. Coyote of politics. Just six months after he attempted to take down Special Counsel Robert Mueller with false sexual-misconduct allegations, Wohl and his co-conspirator, right-wing lobbying Jack Burkman, seem to have been at it again: According to the Daily Beast, the pair have been ineptly trying to spread false sexual-misconduct allegations against Democratic presidential candidate and South Bend, Indiana, mayor Pete Buttigieg.
The Daily Beast's report comes shortly after a vague Medium post began to circulate on Monday, in which a user called Hunter Kelly claimed that Buttigieg had sexually assaulted him in February. Both Kelly's Medium and Twitter accounts said they were created this month. When the Daily Beast reached out to Kelly using a cell-phone number listed in the student directory at his Michigan college, Kelly confirmed that Wohl and Burkman were trying to spread false allegations against the mayor.
"I was unaware this was happening. But yes it is true," he said.
He also told reporters that he did not control the new Medium or Twitter accounts in his name. (Both accounts have since been suspended.) Hours after the Daily Beast reached out to him, Kelly posted on his Facebook page, "I WAS NOT SEXUALLY ASSAULTED." Per his post:
It's important for everyone to know that I was not sexually assaulted and would never falsely accuse anyone. To keep it brief for now, I was approached by a political figure to come to DC to discuss political situations from the standpoint of a gay Republican. When I arrived they discussed Peter Buttigieg and started talking about how they would be working a campaign against him.
A second man, a Republican operative who asked not to be named for fear of possible repercussions, said Wohl and Burkman approached him last week, using fake names, and asked him to come forward with false allegations against Buttigieg. He says he met the two cartoon coyotes wearing Groucho Marx glasses — sorry, I mean men — at a Washington, D.C., restaurant. Though Burkman used the alias "Matt Teller," and Wohl said his name was "Bill," the source said he recognized Wohl from previous press coverage of him, and decided to surreptitiously record their conversation.
According to his account, Burkman and Wohl told him that coming forward would make him rich and famous, and that his false allegations would help encourage actual victims to speak out. The source declined. He later provided his recording to the Daily Beast, which verified with an voice recognition expert that the voice on the recording was Wohl.
After the Daily Beast reached out to Wohl and Burkman for comment, all web pages associated with the scheme disappeared.
"It's not going to throw us," Buttigieg said of the plan. "Politics can be ugly sometimes, but you have to face that when you're in presidential politics."
Wohl and Burkman did not respond to the Daily Beast's request for comment, and Wohl's Twitter account has been suspended, but you can see footage of his some of his past work below: