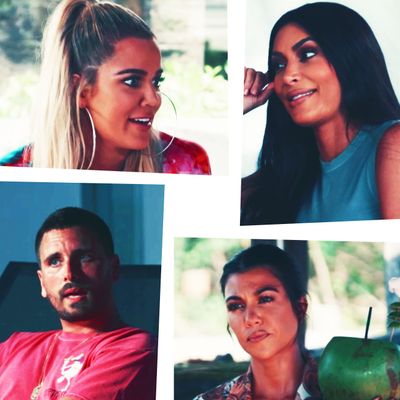 Photo: Courtesy of E! Entertainment
The Kardashian sisters, their kids, and their Scott, are still in Bali. What makes this installment different from last week's Bali episode is that this one was actually enjoyable. Narrowly escaping the Kardashian Vacation Episode curse, the final leg of the family's Bali trip, gave us new insight into the family, genuine moments, and some cultural confusion from the group.
On last night's episode or A-plot was the one and only pleasurable Kourtney/Scott story lines in the history of the show; our B-plot was Kim and Khloé's quest for deeper meaning; and our C-plot was a photo shoot. #LEGGO
Cold Open/Scene 1:
On a beach in Bali, Kourtney gets pushed on a swing by her oldest child, Mason Disick. Upset by Khloé's accusation from last week's episode, that Kourtney is not present in day to day life, Kourtney seeks advice from someone who cannot even be described as a "tween." Kourtney asks Mason how she can be better with people. Initially, Mason thinks his mom is talking about dating, and asks if she's seeking advice on "hitting on people." Kourtney tells Mason that she's simply seeking advice on how to be a better person to her children, children's father, and her sisters. Now understanding the assignment, Mason tells his mom that she could be less strict, stop cursing, and spend less time on Instagram. Kourtney takes this into account, and feels further pushed to better herself since even her own children have some pointers for her. This scene was filmed on October 23, 2018.
Scene 4:
Kim and Khloé's main goal in Bali was to connect with the great beyond, or afterlife, in order to gain insights into their daily life. Their first stop is with a Healer, Mas Joko. According to the sisters, he comes highly recommended, and people all over the world fly to Bali just for a session with this Guru. Khloé's up first, and she's asked to lie down on a pallet, relax, and close her eyes. She does and the healer begins to hit her feet, remove toxins from her knee via a tool that looks like a straw by sucking on one end of the tool while the other end was on Khloé's knee. He then spit out said toxins into a bowl. Khloé remains calm in the moment, but in her confessional she tells the audience this isn't the sort of healing session she was seeking. Kim's up next, and relaxes herself on to the pallet, but this time the Guru asks Kim to cut off a lock of her hair to rid herself of negative energy. Kim asks if the ritual would work with her fake hair. It won't, so Kim takes a pair of shears to her head, cutting off a small lock of her real hair from under her extensions. Like Khloé, Kim isn't satisfied. The sisters feel as though the healing was more like a "timeout." This scene was filmed on October 23, 2018.
Scene 5:
Next up, Kourtney and Scott spend time with the healer, opting for a joint session. This was Scott's idea, but Kourtney agreed because they both want to create a better connection and improve their relationship. The former couple's healing session is less physical and more verbal. They're told they are two old souls and were together in a past life. Back then, they came from separate kingdoms, but drama between the families resulted in tragedy. Now, he says they've been reincarnated in this life to be given a second chance at love. They're soulmates, he says, but it's their choice if they'd like to act on that romantically or not. Neither Kourtney nor Scott say they want their future to hold anything specific, but they agree that they just want to protect their relationship as it is now, and receive a general blessing for whatever is best for them. Scott and Kourtney are given two eggs to boil — it's unclear if this is the blessing, but Kourtney decides to eat hers, so some would say she was blessed no matter what. In his confessional, Scott confesses that he doesn't know what to think about Mas Joko's description of their situation because he's currently in a relationship and has no idea what the future will hold. This scene was filmed on October 23, 2018.
Scene 7:
The next morning, the sisters swap stories about their healing sessions. Kim tells of her haircut, and the healer pulling her toes so hard that she almost asked him to stop. Khloé tells them about the straw in the knee, which she thought was painful, and the healer's spit. Kourtney says that she liked what the healer had to say, but she has no idea what to think about being Scott's soul mate, and her sisters are outwardly jealous that Kourtney got to hear about her past and present life. She goes on about how she and Scott are in the best place they've ever been in, so, why mess with that by bringing romantic involvement back into their lives? But, Kourtney's confessional expresses a deeper longing for something to change. When asked by a producer if she believes in soul mates. Kourtney quietly and shyly says, "yes." This scene was filmed on or around October 24, 2018.
Scene 8:
Khloé and Kim are still on the hunt for a deeper spiritual reading, and are taken to another healer, Ratu, that, just based on appearance, they have more faith in. The sisters cite his beard, jewelry, and "man-bun," as indicators that he's the real deal. This session began with the healer burping to cleanse the space. Khloé was in the burp's direct path, but Kim, sitting behind her, seemed to be most affected. Barely holding back laughs, Kim looked to and from the cameras, with bewildered eyes — she really hates burping. Once cleansed, Kim and Khloé were sat next to one another, and clothes were draped over their heads. Covered, the sisters ask one another "what the fuck." They participate in all the ritual, but afterward, the sisters agree that they've still not found the type of healing they're looking for in Bali. They're also grateful to be done with this healing. For them, the experience was scary, and they make awkward jokes about how they thought they'd be beheaded when the cloths were placed on their heads. This scene was filmed on or around October 24, 2018.
Scene 10:
While her sisters are on their own search for meaning, Kourtney is leaning into Bali and following an unexplained "Pillars program" to open herself up to various parts of life. One of her tasks is to connect with nature. To do this, she takes Khloé, Kim and a few of their kids to a mud bath, where she's led by a group to help neutralize her bad traits. Kourtney commits to the experience more than we've seen her ever commit to adding inflection into a sentence. North is there — I guess she loves mud. Soon, more family members enter the pool, and Kourtney dances with a bird on her head. When Kim enters the mud, she really goes for it too — the sisterly affection and love between the two eldest Kardashian is one of the sweetest moments the shows ever had. They're joyful and sincerely. This scene was filmed on or around October 25, 2018.
Scene 12:
In the evening, Khloé and Scott have a chat about the success of their trip. Scott's happy that the family's finally having a "low-key" vacation. Khloé's happy that Scott and Kourtney are getting along well, and making co-parenting look easy — it took years for Kris and Robert Kardashian Sr. to get to a civilized place, she says. Scott's impressed with himself, Kourtney, and even his girlfriend, Sofia Richie (who finally allowed her name to be said on this show). Khloé agrees, and says that Sofia must be extremely secure and confident to watch her boyfriend spend so much quality time with his ex-girlfriend and mother of his children. For Scott, he thinks that Sofia is a better person than him, and she told him she never wants to come between him and his kids. Scott also recognizes that beyond a romantic relationship, he's fully immersed in Kourtney's extended family's lives. They'll never be disconnected, says Scott. He's also feeling remorseful for all of the years he wasn't even close to being in the running for Father of Year, and has vowed to make that up to Kourtney for the rest of her life. Still, when Scott thinks about the healer labeling them as "soul mates," he's a bit hesitant. He acknowledges that a soul mate doesn't have to be romantic, but he doesn't know if Kourtney feels this way. This scene was filmed on October 26, 2018.  
Scene 13:
After they've spoken to everyone else about what being each other's soul mate means, Kourtney and Scott finally decide to talk to each other. Sitting awkwardly far from each other, they chat about themselves. In all fairness, Scott may be keeping his distance in case Kourtney chucks her child sized coconut at him. They talk about how successful the trip's been, especially compared to the family's Costa Rica trip in 2017, when Scott brought along a fling, which Kourtney and her family found incredibly inappropriate. He explains that he acted that way because he couldn't process Kourtney's new relationship (at the time, with Younes Bendjima). Kourtney asks why he just didn't go on the trip, and Scott tells her that he wanted to be around her no matter the circumstance.
As for the soul mates label, Scott tells Kourtney that what the healer said is not anything they haven't heard before. Yes, you can take the idea of being soul mates however you'd like, but he knows that they love one another and will always be connected through their kids. Kourtney agrees, adds on that they're entering a more transparent phase in their relationship. After the chat, Scott asks Kourtney to show him some of the calming exercises she's picked up in Bali. Kourtney does them with a focused precision that hasn't been publicly utilized since she pulled Mason out of her birth canal. This scene was filmed on or around October 26, 2018.
Scene 15:
Still seeking help, Kim and Khloé realize that a Medium is really what they're looking for. So, they're introduced to, Jeno, a blind palm reader. Khloé's skeptical. She wonders how a blind woman will read someone's palm, but once she takes Kim's hand, all doubts fade away. The palm reader tells Kim that her paternal grandmother is with them, and she's referencing a ring. Stunned, Kim says that Kris recently gifted her a ring from that grandmother. After this, the Kardashian's late father, Robert, pulls up a seat at the great beyond table. He tells Kim that the baby boy she's having, is the vessel in which he's decided to reincarnate himself.
When it's Khloé's turn, the palm reader reads True's mom like she was all of Twitter in April 2018. She tells Khloé that the person in her life has hurt her, and since the initial trauma, she's been wrestling within about whether to continue on with the relationship or move on. She also tells Khloé that she currently doesn't trust the person she's with. Khloé sees all of this as "spot-on." Khloé is shocked because she hasn't told anyone about the internal struggles she's still having about Tristan, and because the palm reader knew Kim was having a baby boy when that information wasn't even public.
After their session, the sister's are finally satisfied. They're so excited, that they call Kris Jenner. Kim tells Kris what the palm reader said about her son being the reincarnation of Rob Sr., and Kris is now even more excited for the baby to arrive. Unlike the palm reader's connection to the great beyond, Kris's cellular connection with her girls is "poor," so they end their call. This scene was filmed on October 26, 2018.
Scene 16:
Still ecstatic that they finally got the deep reads they came to Bali searching for, Khloé and Kim go straight to Kourtney's room to tell her the news. She's not alone though. She's got Reign, Mason, and Scott all in a pull-out bed with her. The family seems to be watching TV as they wind down for the night. It's innocent, but Scott's arm placement is telling me that his and Sofia's relationship is not long for this world. Kim and Khloé tell a mildly interested Kourtney about their readings, and Kourtney asks if they asked the palm reader any follow up questions. Like, should Khloé break up with Tristan or not. The sisters both realize that they didn't, and Khloé blames that on her desire to be more in the moment this trip. Khloé and Kourtney decide that if Kim's new baby is the reincarnation of their father, then he should be baptized in Armenia, or Inglewood, since that's where they father was born. This scene was filmed on October 26, 2018.
Scene 19:
The highly anticipated Kardashian-Jenner Victoria's Secret Angel Halloween Instagram Photo Shoot, is shown just in time for the credits on this episode to roll. We're gifted with the same footage of the sisters strutting through Kim's bare hallways in elaborate lingerie. This scene was filmed on October 28, 2018.
As always, the pleasure is all mine, Dolls. We'll do this again soon. Sit tight and another #KUWTKE recap of Keeping Up With Mason's Harsh Truths will be here before you know it. #SOULMATES