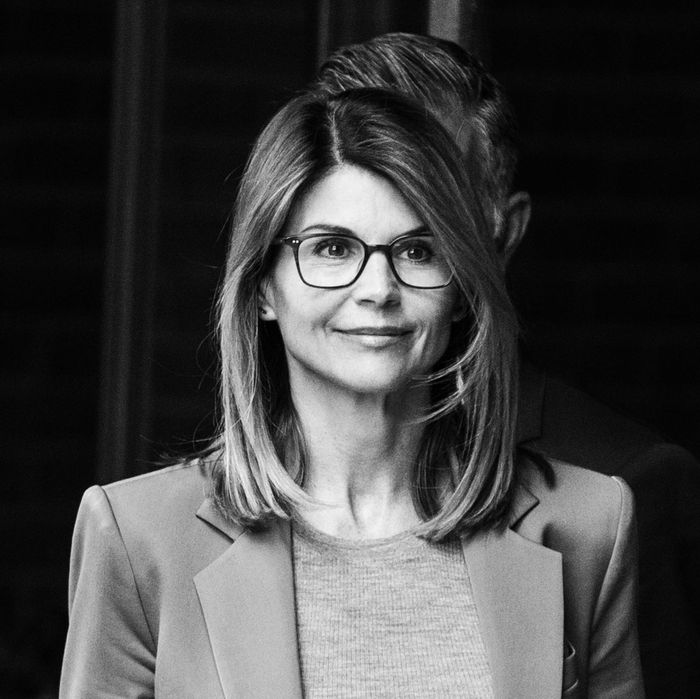 Lori Loughlin.
Photo: SCOTT EISEN/Bloomberg via Getty Images
Full House actress Lori Loughlin and her fashion-designer husband, Mossimo Giannulli, pleaded not guilty to charges stemming from the widespread college admissions scam. However, People reports the couple may consider changing their plea to guilty if it means protecting their daughters from any potential charges. Additionally, CNN reports Loughlin and Giannulli are among 17 defendants to ask prosecutors to hand over evidence in the case.
Loughlin and Giannulli were indicted earlier this month for conspiracy to commit money laundering, new charges that People reported at the time were filed after the couple refused to take a plea deal. Afterward, according to E! News, Loughlin was apparently "freaking out" as she started to realize the severity of the situation. Loughlin and Giannulli were initially charged last month with conspiracy to commit mail fraud and honest services mail fraud after allegedly paying fraudster William "Rick" Singer $500,000 to get their two daughters – Isabella Rose and Olivia Jade – into the University of Southern California. Actress Felicity Huffman and 13 other defendants agreed to plead guilty for their participation in the scheme.
In a Monday motion, the defendants noted that they haven't seen the evidence in the case yet. "Litigating substantive motions in a piecemeal fashion and before Defendants have an opportunity to become familiar with the government's evidence could substantially prejudice the Defendants' ability to make proper legal arguments to contest the allegations," the motion states, per CNN.
The DailyMail.com reported last week that one of the couple's daughters was under criminal investigation in the case. The Wall Street Journal also reported that some students received "target letters" from investigators. According to People, Loughlin and Giannulli are reportedly worried that the prosecution could charge one or both of their daughters. A source said, "Lori will not do anything to put her daughters in harm's way. She is like a mama bear when it comes to the girls, and she will do whatever she has to do to protect them from prosecution, especially malicious prosecution."
This post has been updated throughout.