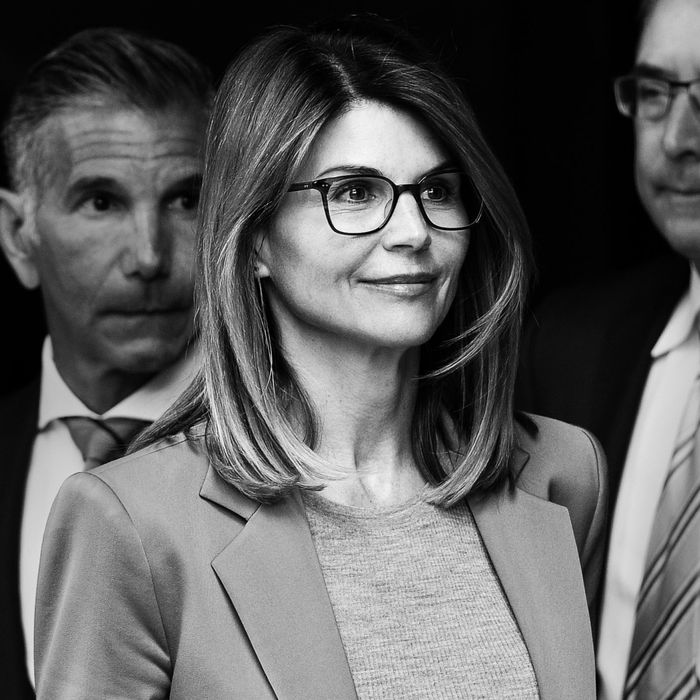 Lorie Loughlin.
Photo: JOSEPH PREZIOSO/AFP/Getty Images
Full House actress Lori Loughlin has officially pleaded not guilty to charges of conspiracy to commit fraud and conspiracy to commit money laundering in the widespread college admissions scam, CNN reports. Both charges are punishable by up to 20 years in prison.
Loughlin, her husband, Mossimo Giannulli, and 15 other wealthy parents implicated in the scheme all submitted not-guilty pleas to federal court in Boston on Monday. It is unclear whether Loughlin signed autographs beforehand, as she did during one previous court appearance.
The Full House actress and her husband are alleged to have paid $500,000 to the scheme's ringleader, William "Rick" Singer, in order to help get their two daughters, Olivia Jade and Isabella Rose, into the University of Southern California as crew recruits, even though neither rowed.
According to CNN, evidence against the couple includes emails, bank records, recorded phone calls, a cooperating witness, and "action pictures" Giannulli sent Singer of his daughters on rowing machines.
Felicity Huffman, another actress who was swept up in the scandal, and 12 other other parents, agreed earlier this month to plead guilty to a charge of conspiracy to commit fraud, in exchange for "low end" prison sentences —from 12 to 18 months — and a deal to not have additional charges brought against them in this case. Loughlin, Giannulli, and the other 15 parents who did not plead guilty received an additional count of conspiracy to commit money laundering, and therefore face greater potential jail time.
Last week, a source told People that Loughlin and Giannulli believed their $500,000 payment was legal, adding, "Calling in favors, donating money to the alumni association, hiring consultants. Those are all things that parents do."