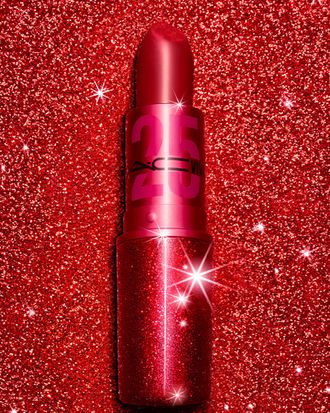 Twenty-fifth birthdays are usually tinted by a quarter-life-crisis-colored filter, but M.A.C's Viva Glam, the brand's charitable campaign, is turning 25 and celebrating the impressive milestone with a lot of sparkles. As it should!
Viva Glam was created back in 1994 at the height of the HIV epidemic to make a difference in the lives of people living with and affected by HIV/AIDS. To date, Viva Glam has raised $500 million for 1,800 organizations that help 19 million people across 92 countries.
You may recall some of the line's previous work with people like RiRi, Elton, Taraji, Sia, Miley, and Ariana. These are just a handful of the 28 total spokespeople who have collaborated with the charity model to launch really good lip colors, with 100 percent of the profits going directly to the funding of HIV/AIDS programs around the world.
The new 25th anniversary campaign features model Winnie Harlow paying tribute to RuPaul, the first-ever VIVA GLAM spokesperson, in an impressive re-creation that is the kind of #TBT we all aspire to one day create.
The celebratory Viva Glam lipstick is a fun remix, too. Instead of launching a new shade, the brand is bringing back the OG one that started it all: VIVA GLAM I, a brownish blue-red, that's been outfitted in new limited-edition collector's packaging.
No go forth to maccosmetics.com to get on the waiting list and do some good.