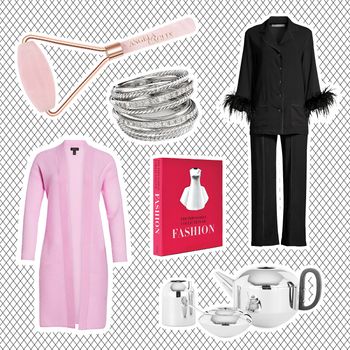 Photo: Courtesy of the Retailers
Odds are, if you clicked on this article in the first place, you know that your mom deserves the world. And since you can't gift her the actual world, she deserves something as superlative as she is. Whether she prefers silk scarves or sparkly David Yurman at Saks Fifth Avenue jewelry, there's something best-of for her. Below are our favorite picks for every special mom out there.
This classic piece is inspired by Helen of Troy's grace and beauty. If your mom has the elegance to move a thousand ships, then this is for her.
For
the
Mom
Who
Makes
You
Feel
Warm
and
Cozy
This'll match her cashmere socks, glass of wine, and giant candle.
This scarf says, "I'm trendy, but I'm a class act." Plus, look at that shade of green.
For
the
Ultimate
Entertainer
Pajamas for when she's throwing a party but doesn't want to put on jeans. She'll wonder why she didn't think of the idea sooner.
For
the
Woman
Who's
a
Bling
Connoisseur
This ring works especially well if you're buying for your wife, the mother of your kids.
For
the
Mom
Who
Taught
You
to
Self-Care
Skincare can be a dicey gift for anybody, but a jade roller is more "I know you like to take care of yourself" than "here's a gift for the bags under your eyes."
For
the
Mom
With
the
Enviable
Green
Thumb
A delicate bud vase that could pass for a sculpture is perfect for showcasing her award-winning roses.
For
the
Mom
Whose
Closet
You
Love
to
Raid
Or the mom who needs to dress up her coffee table.
For
the
Supreme
Butterfly
If she spends her spring more often in black tie than out of it, then she'll need an evening-appropriate bracelet to accompany it. This will go with anything.
For
Your
Favorite
to
Gossip
With
Over
Wine
A gorgeous decanter is the ultimate accessory for her sommelier sensibility.
She's so good at making a pot of tea, she could pass for British royalty.
For
the
Woman
With
the
Best
Nose
The beauty of this label's perfumes is that they're best layered with others. If she's creative, discerning, and elegant, then this is the fragrance for her.
For
the
Ultimate
Jet-Setter
This super-stylish bag will have her posting #OOTDs.
For
the
Mom
Who
Draws
the
Best
Bath
Pair this bathrobe with some face masks or a great book.
For
the
One
Who's
Hardest
to
Give
To
You can't go wrong with a colorful, soft throw blanket.
It works best if she's not too subtle about how your furry sibling is her favorite child.
This is paid content produced for an advertiser by New York Stories. The editorial staff of The Cut did not play a role in its creation.