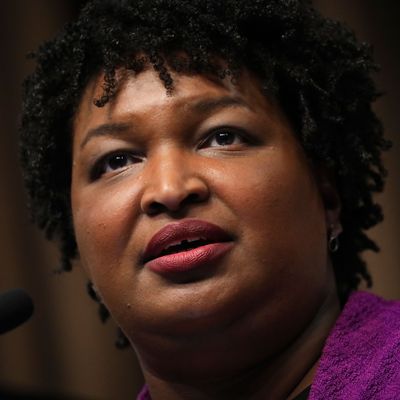 Georgia's Stacey Abrams, who came breathtakingly close in 2018 to becoming America's first African-American woman to serve as a governor.
Photo: Drew Angerer/Getty Images
In a video announcement and a brief interview with the Atlanta Journal-Constitution, 2018 Georgia gubernatorial candidate and national political comet Stacey Abrams has decided not to run for the Senate in 2020 against incumbent Republican David Perdue.
She did not rule out a late entry into the 2020 presidential campaign, or any other future course of action.
Abrams made it clear that she just didn't really want to be a senator, telling the AJC's Greg Bluestein that "it's not the role I want to play in the next phase."
[M]y responsibility is not simply to run because the job is available. I need to run because I want to do the job….




 [Y[ou have to think about what it's like in the worst day of that job. Where I know my strengths lie, for me, is establishing systems and protocols, finding solutions, and trying to push for results. The Senate is a great institution but, for me, it's not the role that best suits those needs.
This decision didn't surprise anyone who has paid attention to Abrams's carefully developed long-term plans for her career. As New York's Rebecca Traister explained last month in a profile of her, Abrams has always been focused on becoming governor of Georgia – and maybe, just maybe, president.
[M]ost of her ideas about how to fix broken systems have been geared toward running her state. "Most of the seismic shifts in social policy occur on the state level," she says. "The erosion of the social safety net started with Tommy Thompson in Wisconsin; he was the architect of welfare reform. Mass incarceration started with Ronald Reagan in California. 'Stand your ground' started with Jeb Bush in Florida. Jim Crow never had a single federal law. It was all state law."




It's not that "president" wasn't on her spreadsheet. In fact, she rather bravely admitted that it was to a Cosmopolitan reporter in 2017.
The odds are high, then, that she'll seek a rematch with Republican Brian Kemp in 2022, unless she decides it's not too late to enter the crowded 2020 presidential field or entertain offers to serve as someone's running mate. Joe Biden's backers circulated rumors of an early Biden-Abrams ticket earlier this year, until Abrams quashed the talk as premature. Aside from the excitement her gubernatorial candidacy created, Abrams's impressive performance in delivering the Democratic response to Trump's 2019 State of the Union address solidified her standing as a national star. And she's only 45.
No matter what she does, Abrams is sure to keep focused on her signature issue of voting rights, which the Republican Party running her state and our nation will continue to infringe as a matter of reactionary principle and political self-interest. And she will continue to be a symbol of a new and different Democratic Party in the South, one built on changing demographics and progressive coalition-building.
Her absence from the Senate race opens the door to other Democrats, notably former Columbus mayor Teresa Tomlinson, who's already formed an exploratory committee while making it clear she'd defer to an Abrams run. The arithmetic for a Democratic reconquest of the Senate in 2020 dictates a major effort in Georgia even without the party's biggest star at the top of the ballot. Abrams's 2018 performance means that a Senate win there next year may still be a reach, but it's no longer a fantasy.