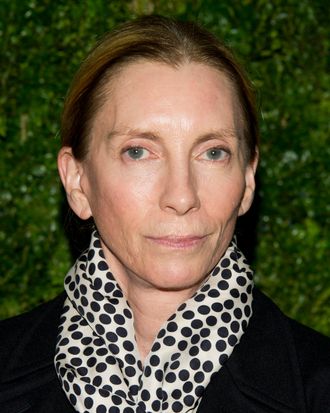 Tonne Goodman.
Photo: Charles Sykes/Invision/AP/REX/Shutterstock
As an editor at Vogue and Harper's Bazaar, Tonne Goodman made Americana look upscale. Her celebrity cover shoots and fashion-forward spreads incorporated elements of all-American style from sharp suits to Von Dutch hats. (They're all chronicled in her new book, Point of View.) Goodman is famous for wearing the same thing almost every day — white jeans, dark top, a silk scarf, and loafers — so we didn't ask her about clothes. But below, she talks to the Cut about the best pajamas, the secret to hosting a good party, and the one thing she'll never wear.
How do you thank someone for a gift?
With a handwritten note on my Smythson stationery.
What would you never wear?
Fur.
What's your dream vacation?
A revisit to the Amalfi coast with Mario.
What's a good book on your coffee table right now?
May I Come In? by Wendy Goodman.
Last show you binge-watched?
Killing Eve.
Secret to hosting a good party?
The welcome.
What is a trend that you like right now?
Freedom of choice — but it's not a trend, it's a birthright.
One you don't understand?
Anything that's a "trend."
Favorite museum/gallery?
MoMA, since I was young, going there often with my mother.
Shoe you wear most often?
Suede loafers with a high vamp.
What's your favorite space in your house/office/studio?
The corner of the living room by the windows, for reading the papers every day.
What's your favorite…
Pajamas?
Brooks Brothers.
Candle? 
Not sure, Diptyque perhaps.
Scent?
Freshly cut grass.
Restaurant?
Bar Pitti, where I go with my son, and Cafe Cluny, where I go with my daughter.
Socks?
I never wear socks. Just don't like the feel of them — claustrophobic …
T-shirt?
Long-sleeved.
What are three photos that define your style?
White jeans, striped shirt, quintessential elegance.
Classing tailoring, for any situation.
All American, with attitude.
Shop the Story
Available in sizes XS–XL.
If you buy something through our links, New York may earn an affiliate commission.