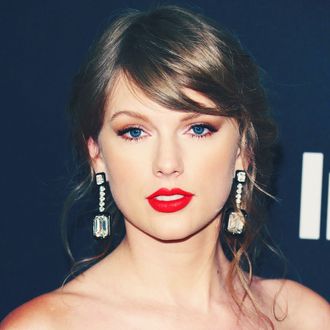 Taylor Swift.
Photo: Jean-Baptiste Lacroix/AFP/Getty Images
The past few weeks have brought humankind a great mystery: Taylor Swift was cryptically posting vague things in a dreamy pastel aesthetic on Instagram, as well as a countdown for April 26, 2019, on her accounts and website. What could it mean?
Well, on Thursday, Swift confirmed via an Instagram story that a new butterfly mural she commissioned in Nashville includes clues about …. "the song and the new music."
Song AND new music. Wow.
Swift has done this before. In August 2017, her Instagram was wiped clean, and suddenly, cryptic snake videos began to pop up. As it turns out, these mysterious short films were all part of a buildup to the release of her single "Look What You Made Me Do" from her album Reputation.
Over these past few weeks, it's seemed that Swift has been up to her old tricks in using social media to drop clues about a new release. There have been pictures of fancy heart jewelry, colorfully painted finger nails, and people wearing pantsuits — all in dreamy pastels and with the caption, "4.26."
On Thursday, Swift confirmed that a butterfly mural that popped up in Nashville – one that many sleuths suspected to have something to do with her – did, in fact, contain clues. In addition to the Instagram story, Swift also took to her feed to post a picture of herself in front of the butterfly mural – which has hearts, rainbows and the word "ME!" on it – and said that she will be participating in a live interview with ABC's Robin Roberts later that evening.
Swift also teased the interview in a Good Morning America tweet:
The anticipation…
This post has been updated throughout.