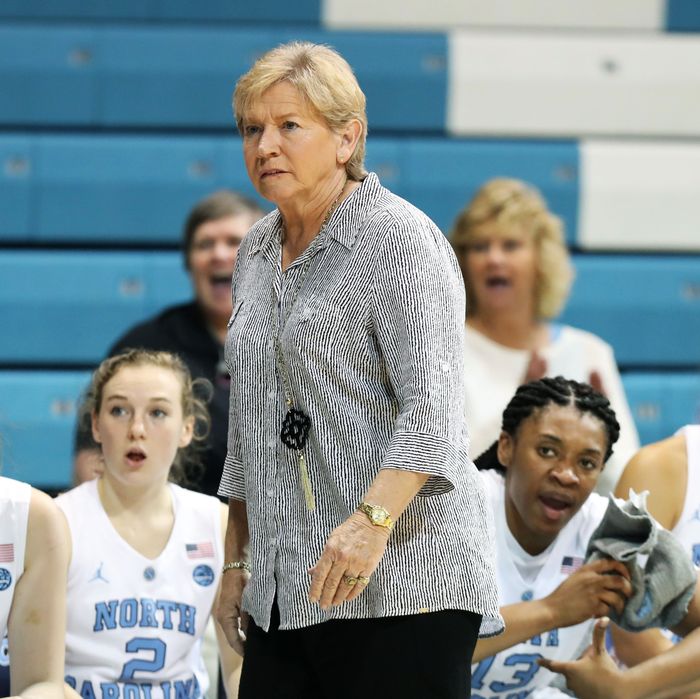 UNC head coach Sylvia Hatchell.
Photo: Icon Sportswire/Getty Images
On Monday, the University of North Carolina announced that the entire coaching staff of its women's basketball program, including Hall of Fame coach Sylvia Hatchell, had been placed on administrative leave pending a review of "issues raised by student athletes and others." At the time, the exact reasons behind the review had not been publicly disclosed — but now, the Washington Post reports Hatchell has been accused of making racially insensitive comments and forcing students to play while injured.
The Post spoke with seven people, including six parents of current players. According to the report, the allegations against Hatchell were raised by a larger group of parents during a meeting with university administrators last week. The parents reportedly addressed three instances in which the players felt pressured by Hatchell and a team doctor to play through injuries.
Hatchell was also accused during the meeting of telling her team that they would get "hanged from trees with nooses" if they didn't improve, and of trying to get players players to participate in a "war chant" to "honor" an assistant coach with Native American ancestry. The Post notes that four of the team's 14 students have applied to transfer, and that two others are planning on doing the same if Hatchell remains in her position.
Hatchell's attorney, Wade Smith, told the Post on Thursday that Hatchell doesn't recall asking students to play through injuries and that the comments attributed to her were incorrect:
"She said, 'They're going to take a rope and string us up, and hang us out to dry,'" Smith said. "There is not a racist bone in her body … A very high percentage of the people who have played for her and who love her are African-American women. She is a terrific coach, and a truly world-class human being."
Hatchell has served as UNC's women's basketball coach since 1986. She is the winningest women's basketball coach in Atlantic Conference history, according to NBC News. Deadspin notes that her job was up in the air as the NCAA conducted a multiyear probe into academic fraud at UNC, but the NCAA wasn't able to conclude that UNC violated any academic rules, and no sanctions were imposed. And so, in 2016, Hatchell's contract was extended through 2020.
The coach said in a statement earlier this week that she will comply with the review, NBC News reports: "I've had the privilege of coaching more than 200 young women during my 44 years in basketball. My goal has always been to help them become the very best people they can be, on the basketball court and in life. I love each and every one of the players I've coached and would do anything to encourage and support them. They are like family to me. I love them all."
This post has been updated.