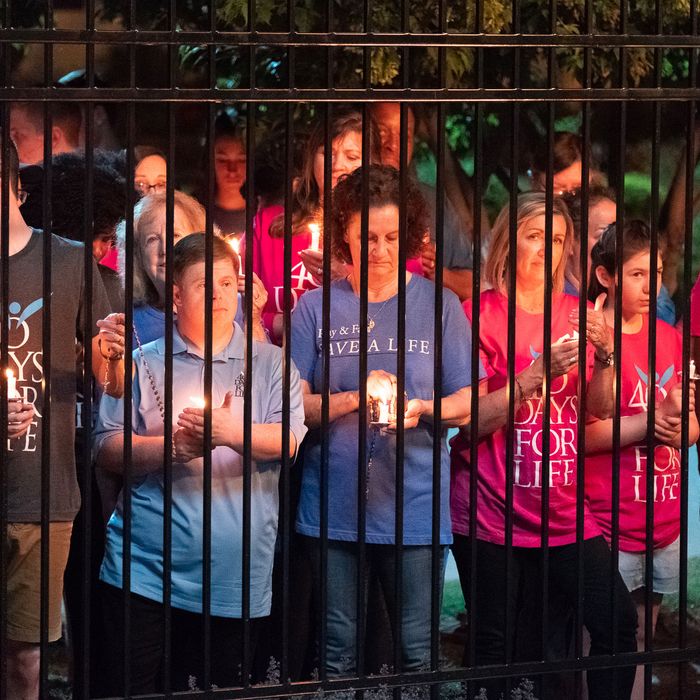 Photo: Michael Kubeisy/Unplanned/Pure Flix
Calla Hales has been getting the cards, handwritten and preprinted alike, for years. "We can help you QUIT." "We will help you legally, financially, and emotionally. We know you didn't grow up wanting to work in an abortion clinic." The 29-year-old director of four abortion clinics in North Carolina and Georgia once ripped them all up and mailed them back to their sender.
Lately, though, Hales says she's seen an uptick. The cards now include information on how to see the anti-abortion movie Unplanned for free, and protesters have started standing outside Hales's clinic in Charlotte with signs that simply read, "See Unplanned."
"Since Unplanned has come out, I've heard more, 'You can still be like Abby, you can still walk away,'" Hales told me.
"Abby" is Abby Johnson, whose memoir is the basis for Unplanned. Johnson herself was a 29-year-old director at a clinic providing abortions — a Planned Parenthood in Texas — when she walked into the embrace of the protesters who regularly posted up outside her workplace. In an account that has since been disputed by multiple journalists as well as her former employer, she claimed an ultrasound-assisted abortion and pressure to ramp up procedures had driven her away, and she eventually founded an organization, And Then There Were None, to replicate her own flip.
Among anti-abortion activists, Johnson, like the crisis pregnancy centers at which she regularly speaks, presents a softer, kinder, notably female face. "We're not protesters," Johnson told me in an interview this week. "We simply offer help."
Hales, who says Johnson has been on the sidewalk outside her Charlotte clinic, sees no such distinction. "While Abby thinks it's not savvy to align herself with the more aggressive harassment," she says, "she's not taking responsibility for the harassment her words encourage."
As Preferred Women's Health Centers' director, Hales manages a team of about 100 people, and when she isn't traveling between the clinics, she's crisscrossing the country for advocacy work. But a good chunk of her time is spent on security — including threats against her personally. "I was attacked," she says, referring to a 2015 rape by an abortion opponent she described in an interview with Cosmopolitan. "I receive threatening voicemails, letters in the mail, emails, harassment on social media." One letter said she deserved to be filled with a dose of lead. She is in weekly communication with the police, who are often outside the clinic monitoring the situation. She says 18,000 protesters visited her Charlotte clinic last year, a number she attributes to a crowd counter she used during a local anti-abortion group's massive 40-week protests.
The anti-abortion movement loves a conversion narrative, going all the way back to Jane Roe herself: Norma McCorvey, the plaintiff in the landmark case that struck down abortion bans nationwide, who later denounced Roe v. Wade. There there's Bernard Nathanson, a NARAL co-founder who publicly changed sides in the early '80s and went on to narrate the anti-abortion film The Silent Scream. The Chicago-based Pro-Life Action League first gathered some former clinic staff for a conference in 1987. Its more recent permutation broadens to feature a "former IVF practitioner" (anti-abortion activists who grant embryos personhood oppose IVF) and former abortion provider Anthony Levatino, who has a cameo in Unplanned as a callous doctor.
Even if you take the numbers provided by groups like Johnson's at face value (she told NPR last year they're in touch with 300 former clinic staffers; about a dozen have gone public), they represent a tiny minority of people who are involved in providing abortion. But just like the fraction of women who express regret about having an abortion (over 95 percent say relief outweighs all other factors), converts resonate for obvious optical reasons.
Unplanned is slicker, with higher production values than earlier outings. It delights in showing blood and gore and flouting medical facts, like when it suggests a 13-week fetus can feel pain. (Not if you ask the American College of Obstetricians and Gynecologists.) "This movie is ridiculous," said a Guardian film critic. But with the help of high-profile endorsements like Mike Pence's and church and student groups filling seats, it's also a hit, grossing $17 million to date.
Johnson claims that the movie has already led to an uptick of abortion workers peeling away.  "I'm not sure what the exact count is right now, but I think we're at two dozen right now just since the film came out," she said.
That at least some workers at clinics have followed in Johnson's footsteps is not something Hales disputes: "I know of three separate employees who we had fired who have gone to the antis," she says, two years ago and within a six-month span. Hales says they were fired for performance issues, not their politics, which the clinic tries to screen for lest abortion opponents infiltrate; her understanding is that anti-abortion activists paid them the equivalent of three paychecks.
"One went," says Hales, referring to the former employees who told anti-abortion activists they'd recanted, "and realized they were getting money, and told their friends who had gotten fired." She adds, "There's a sense of irritation that someone would do such a thing. But I also understand that people are desperate. They still have families to support. I have not heard or seen anything about them since."
Johnson says that in order to receive support — legal, financial, job leads, even therapy — her organization requires proof that an employee has resigned rather than been terminated. "We don't really have people who reach out to us because they just want a paycheck. Generally they are coming to us because they've had a change of heart," she says. But Hales's account would give those Charlotte employees something in common with Johnson herself.
Nine years ago, reporters undermined key parts of Johnson's story, most crucially her claim that she quit because of a crisis of conscience after witnessing an ultrasound-assisted abortion. In fact, Salon reported that Johnson feared she was about to be fired by Planned Parenthood, which had placed her on a "performance improvement plan," and Texas Monthly reported that on the night Johnson quit, she posed on Facebook, "They have the nerve to tell me that my job performance is 'slipping.' WHAT???!!! That is crazy. Anyone that knows me knows how committed I was to that job. They obviously do not value me at all. So, I'm out and I feel really great about it!" Johnson told the magazine that the post was a cover story as she made her plans to quit.
Not long after that, a former close friend and fellow Planned Parenthood employee, Laura Kaminzcak, told the Texas Observer, "She called me two weeks before this whole thing broke, and she told me she was thinking about going to the coalition. She had been having serious money problems — she'd been talking about bankruptcy — and she told me that [a local anti-abortion activist] had promised her $3,000 speaking gigs if she came over." It is undeniable that Johnson's new career as apostate abortionist has been an enormous success, selling books, garnering Fox News appearances and praise, speaking on the Christian circuit, running her own nonprofit.
When I asked Johnson this week about that reporting, she pointed me to a piece she recently wrote in the Federalist, which defends her description of the ultrasound abortion but does not discuss the claim that she was on the verge of being fired from Planned Parenthood. (Disclosure: I have given paid speeches about my book at Planned Parenthood affiliate events.) The reporter who wrote the original Texas Monthly story, Nate Blakeslee, has a full rundown here.
Stephanie Fraim, the CEO of Planned Parenthood of Southwest and Central Florida, says entreaties from Johnson's crew outside the clinic can actually bring clinic staffers closer together. "We all chat over the water cooler about which job they're going to find for you," she says. That's not to say that she doesn't take the pressure seriously. Fraim says she has a training during orientation for new employees that prepares them for what she calls the Thanksgiving-dinner conversation, the one where family members might call someone a baby killer for working there.
"I always say no one accidentally works for Planned Parenthood," says Fraim. Hales also sees it that way. "You don't seek this job out if you didn't know about it already," she says.
That limits the pool of would-be Abby Johnsons, no matter how much she seeks to differentiate her work from the angry hordes. "The feeling is," says Hales, "why the hell would I ever defect to you when you're mean to me and harass me every day?"