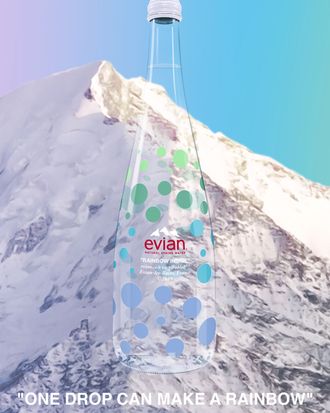 Back in the day, Lindsay Lohan once said, "Water is so boring." But model Doutzen Kroes was ahead of her time with the insightful thought that, in fact, "drinking water works." Now in 2019, it's more fashionable than ever thanks to hydration influencers like the Fiji Water Girl and Jaden Smith. Want clear skin? Start sipping. Sitting front row at a fashion show? You better not be caught without a gallon jug of the stuff. Still use a cell phone? How embarrassing! You better replace it with a box of water.
And today, Virgil Abloh is the latest to hop on the water influencer train in an attempt to properly hydrate hypebeasts everywhere. The Off-White mastermind teamed up with Evian to create a limited-edition glass bottle with a rainbow-inspired design that's being launched in the United States for the first time ever at the Evian Drip Drop event. So if you're not drinking out of a bottle that says "evian c/o virgil abloh" on it, do you even have clout?
Get your hands on this exclusive water bottle until supplies last at the Evian Drip Drop event open to the public at 393 Broadway on May 9 from 12–4 p.m.