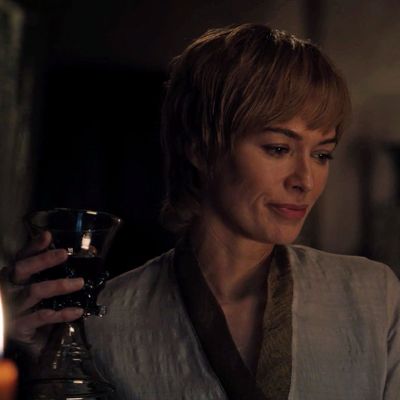 Below, an exclusive look at exactly what Cersei Lannister was up to on the day of the Battle of Winterfell.
1:10 p.m.: Wakes up; drinks glass of lemon water (for metabolism, and hangover).
1:30 p.m.: Has one of last remaining loyal servants bring breakfast up to chambers. Today it's overnight oats, freshly cut papaya, and black tea.
1:46 p.m.: Examines nail beds.
2 p.m.: Checks Instagram. Why is everyone in the North posting such dark blurry stories? Visibility is terrible up there.
2:10 p.m.: Marie Kondos the throne room.
4:30 p.m.: Starts reading Normal People because everyone's talking about Sally Rooney. Stops ten pages in, can't relate to any of the characters.
4:46 p.m.: Tweets picture of the cover anyway, caption: "Sally Rooney <3"
4:50 p.m.: Tries Baby Foot for the first time. Wants to be sandal-ready when winter is over.
5:30 p.m.: Google searches "where to buy elephants in Westeros?"
5:45 p.m.: Weekly haircut to maintain integrity of bowl-shape.
6 p.m.: Enjoys liquid dinner with Qyburn.
7:30 p.m.: Checks Jaime's Instagram again. Still nothing.
9 p.m.: Finally sits down to watch The Sopranos.
9:50 p.m.: Says to guards "So what? No fucking ziti now?" and laughs.
11 p.m.: Continues watching Sopranos. Finally, some relatable characters.
12:30 a.m.: Euron texts "u up?" Thinks about responding, then deletes.
1 a.m.: Texts Jaime "u up?"
1:15 a.m.: Instagrams grainy pic of that Rumi quote:
"Out beyond ideas of wrongdoing

And rightdoing there is a field

I'll meet you there."
Tags Jaime.
1:30 a.m.: Half-hearted sex with Euron.
2 a.m.: Checks news. Winterfell Times website is down? Reads trend piece in Westeros Vogue about leather gowns.
3 a.m.: Passes out briefly while Googling, "how much wine is okay to drink while pregnant with brother's child?"
4:15 a.m.: Woken by Westeros News Alert that just says, "We're fucked."
4:30 a.m.: Falls back into a deep and dreamless sleep.