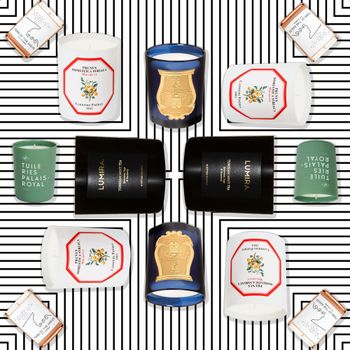 Photo: Courtesy of the Retailers
The warm part of spring has finally arrived, or is at least more imminent than it was before. Although the technical "spring" season has been upon us for a few weeks, and although we put our winter coats away about a month ago and, in stubbornness, refused to take them out again, it is finally time for our frigid bodies to thaw. Trees have leaves again. Birds are singing. Our animal companions are lying in a sunbeam while the breeze carries the scent of our springtime candle throughout our home. Ahhh. We have waited for this, and it is here.
But — oh no — what scented candle do we choose? Oh no! Please don't fret. We've gathered a few good options for you and presented them below. Enjoy the candles, and have a good warm spring.
Keap, "Green Market"
I love Keap. They offer environmentally sustainable candles at (relatively) affordable prices, and they smell as if they are more expensive than they are. Oh man, they smell so good. Whenever someone asks me what candle to buy I tell them to buy one from Keap, both because they're great and because if I tell them to buy a candle from Keap I don't have to tell them to buy a candle that costs $100, which would be my second option. My favorite Keap candle is "Wood Cabin," which I tend to think of as a winter scent but, actually, who says you can't go to a wood cabin in the summer? You can. You can get that one, too.
But we're here to discuss "Green Market." Keap describe the scent of the "Green Market" candle like this: "Garden Mint, Cucumber + Freshly Cut Stems." Ahh. The candle is alive with cucumber and freshness and smells, indeed, quite green. I love it!
Laboratory Perfumes, "Samphire"
A friend of mine has this candle and described it as "too cologne-y," which I understand. It's slightly cologne-y, but in a way that I love. Laboratory describes it as: "A pinch of spicy juniper berries, citrus oil, and an intoxicating trio of lavender, rosemary, and basil, join verbena to layered over white amber and oak moss." I would describe it as, "if spring went on a date with summer and decided to wear a spritz of what you might think of as a somewhat masculine cologne."
Le Labo, "Verveine 32"
We've already talked about this candle on the Cut and guess what, here we are talking about it again, in a roundup format. This candle is a delicate blend of verbena and eucalyptus and some florals and some woods, and it's a little milky, and it's interesting, and it's peaceful. Good for a morning when you've gotten up early enough to have a little personal time before you have to go to work, and it's warm, and you just did laundry so you have clean clothes to wear, and for a moment you just get to breathe.
The Sphinx & The Priestess, "As Above, So Below"
Photo: Mindy Best/2016 All Rights Reserved
"The ultimate antidote for realigning your purpose, the AS ABOVE / SO BELOW Cosmic Reboot Candle helps kick-start your personal transformation," writes The Sphinx & The Priestess. "By eliminating blocks and delving into the deep, dark shadow work, this powerful candle activates change and invites new positive energy." I will admit this is not the typical sort of scented candle that we discuss.
But — it does have a scent. It's sort of bright and zesty and peppery. The scent doesn't really carry when you light it, admittedly, but who can worry about scent when you're manifesting purpose for a new season? Please go forth and bring about positive energy with this candle, we are all desperate for it.
Cire Trudon, "Salta"
YES!!!!!!!!!! Ugh, I love Cire Trudon. Truly there is no one better, please don't tell Keap. Here is the little Cire Trudon write-up that serves as a description of this candle: "Considered by the Chinese as one of the three holy fruits with peach and lemon, the grapefruit was a symbol of prosperity and fertility … Blended with verbena and hyacinth, the grapefruit fragrance is aromatic."
The candle smells like extremely alive grapefruit; it is bright and refreshing and great. If "extremely alive grapefruit" sounds like something up your ally (or maybe your mom's? it is almost Mother's Day — you can't get her nothing) consider spending all of your money on this candle.
Astier de Villatte, "Porte Des Lilas"
Astier de Villatte candles always feel extremely decadent to me, more so even than Cire Trudon, I think because of their larger-than-you'd-think vessels. You light the candle and it feels like — ah, we could stay in this restaurant all night, wine-soaked, a mix of heavy and light conversation, eating pasta or whatever, listening to, you know, an accordion or something, but it's nice. Not that you would want to light this candle with pasta, but you know. Maybe if it were sort of a lemony pasta, or like it has asparagus. Anyway —
This is the little scent story for this candle: "At the exit of the celebrated 20s metro station, the stairs bring the delighted voyager to alleys neatly bordered by pretty little houses, with mauve lilacs overflowing their garden fences. One is enraptured by the delicious and verdant fragrances, mixed here and there with puffs of rose and jasmine." Damn, I love it.
The candle is floral but not funeral home, light but substantial. Lilac but jasmine. It smells like you chose a good candle, when you were choosing which candle to get.
Diptyque, "Lys"
AHHHHHHHH! Oh my God. This candle smells extremely like lilies.
Here is how Diptyque describes it: "A huge bouquet of fresh-cut lilies [EDITOR'S NOTE: YES!!!!!!!!!!] like a shower of white petals. The lilies have waited till dawn to open their corollas. The green fragrance of the sap and leaves, and the delicate spicy accents of the heady flowers fill the air." YES!!!!! Diptyque has truly turned the volume of lilies to "eleven" with this candle, to quote Spinal Tap, or I guess more like to just reference it.
Do you want to blindfold someone and trick them into thinking they've walked into what can only conceivably be a single, enormous, apartment-sized lily? Do buy this candle.
D.S. & Durga, "Tomb of the Eagles"
D.S. & Durga candles, though made in Brooklyn, always remind me of what would be in a stylish and minimalist Los Angeles apartment. Possibly because I knew a person in Los Angeles who had one once. Anyway.
"In the far north, where Orkney eagles carried Stoneage souls beyond the jagged cliffs, clover, sea pinks, sweet cicely, the sonorous sea." That's D.S. & Durga's description of this candle. According to them it has top notes of clover and cold sea, heart notes of sea pinks and sweet cicely, and base notes of island moss, bones, and grass. According to me it smells like warm, creamy sea, which maybe doesn't sound great, but please trust me that it is. It's interesting and relaxed and very cool.
Kerzon, "Tuileries Palais-Royal"
Oh my God, this candle rules, I love it so much. My friend and I came across this brand, Kerzon, a few years ago at sort of a … French knickknack store in the city. We went absolutely crazy for this candle but couldn't replace it because the store sort of stopped having them in stock and, at that point, they were not available online. But guess what: now they are!
The candle smells exactly like Hyacinth. Sometimes you want an interesting candle that smells like a blend of whatever, but sometimes you just want a candle that smells exactly like a bunch of fresh Hyacinth, and that is what this candle is. Hyacinth.
LAFCO, "Terracotta"
Now, here is a nice candle. It's interesting, but not odd … it's sort of interesting in its lack of oddness. It smells, in my opinion, like what you want a home to smell like. Nice. Regular. Fresh. Warm. Homey. Comforting. Normal. Hello. Welcome home. Did you have a nice day at work? I didn't, but let's not talk about it. Do you want to watch TV? Yes, let's catch up on our shows.
The scent notes are: bergamot, geranium, terracotta, lemon, grapefruit, jasmine, and patchouli. The vessel is extremely normal looking, in a nice way. Light it in your kitchen on a nice, regular day.
Lumira, "Tunisian Mint Tea"
I love Lumira's description for this candle, so I'm just going to allow you to read it in full:
There's a certain ritual involved in drinking tea in North Africa: steeping the leaves, preparing the fresh mint, garnishing the drink with pine nuts. The aromatic scent of this candle inspires a new ritual of its own, one that begins with the delicate aroma of spearmint and that grows richer and warmer with Chinese ginger, crushed cloves and lemon zest. Like a rare moment of pause in bustling Tunisian bazaar, it evokes a serenity that inspires contemplation.
The candle is so damn good, pardon my language. It's mint, but interesting and a little spicy. It's refreshing for spring, and it will likely be even more refreshing during the hot days of summer. Imaging welcoming guests into your home, their skin still warm from the sun — "it smells great in here," says one. "Is that … mint?" says another. Uh, yeah it's mint. Genius …
Nest, "Rose Noir & Oud"
If you're not willing to submit to a fully bright, floral scent, but you still want to move away from your heavily woodsy winter candles, this would be a good option, and I respect your problem even though some other might not. "This scent features Rose de Mai and smoky oud combined with hints of incense, black leather, and patchouli," says Nest, and it's true. It's warm and oud-y while offering a peek at the florals of spring. Good for a chilly morning leading into a warm day.
Carriere Freres, "Mirabelle"
If you're ready to embrace the delicate sweetness of spring, this "Mirabelle" candle is possibly for you. Carriere Freres is Cire Trudon's botanical-focused (and more affordable) brand — the candles re-create one impactful, real scent rather than a blend. This candle's scent is, yes, mirabelle, which is a fruit, in case you've never heard of it. Here is its Wikipedia entry.
"Its perfume is like its texture: sugary yet delicate," Carriere Freres says of the mirabelle fruit. The mirabelle candle is similar. Sweet, sugary, and somewhat plum-like, and also maybe a little … citrusy.
The end. Have a good (scented) spring!