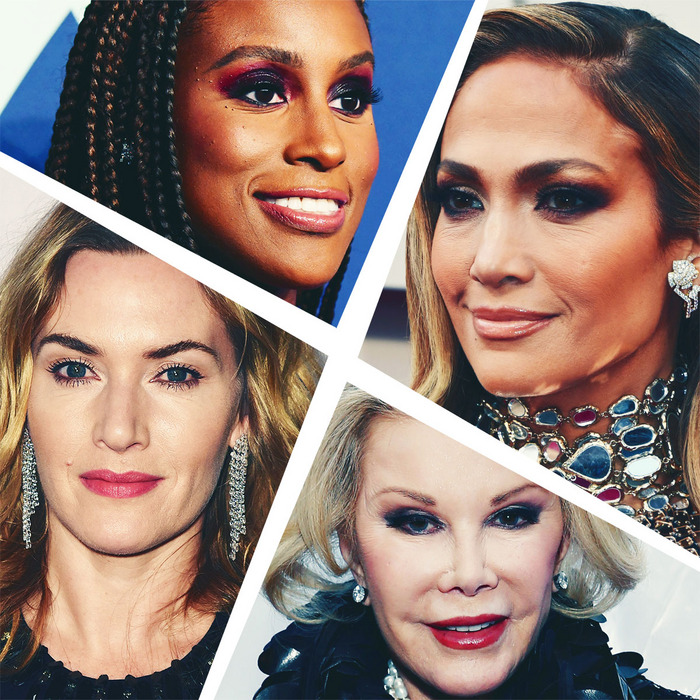 Most celebrities have a unique "making it" story, though there are a few constants — namely, how newfound fame and a sudden surge of attention shook up their lives. For some, it was landing a dream role or getting their first paycheck; for others, a single moment when they got really good at their craft. Below, 25 famous women — including Kate Winslet, Constance Wu, and Issa Rae — discuss specific moments when they knew their lives had changed completely.
1. Mariah Carey
"When I first heard my song on the radio, it flipped me out. I couldn't believe it. I lived through that experience; I wouldn't trade it." —V Magazine, Spring 2018
2. Martha Stewart
"When I published the first issue of Martha Stewart Living." —her Reddit AMA
3. Ali Wong
"Becoming a Halloween costume is still the most unexpected and exciting thing that has happened since Baby Cobra. I still can't believe it." —The Cut, March 2017
4. Lisa Kudrow
"Oprah told me. The six of us were on her show right after our first season [of Friends], and she's like, 'This is big.' We were like, 'What?' Not that she even had us on her show. That wasn't my first clue!" —People, March 2010
5. Joan Rivers
On The Tonight Show with Johnny Carson: "I had been rejected by Carson seven or eight times over a year and a half. One night this other comic went on and bombed, and Bill Cosby, who was already a big star by that time, said: 'You may as well put Joan Rivers on, she can't be any worse than that guy.' So I got my chance, did my set, and after it Carson said, on air: 'You're going to be a star,' and that was it, the next day my life changed." —Time Out London, May 2009
6. Brie Larson
On doing pre-Oscars publicity for Room with other nominated actresses: "It was crazy. It was pretty much, like, Helen Mirren, Cate Blanchett, Saoirse Ronan, and me. Then Jennifer Lawrence came in for a little bit, and Kate Winslet, Carey Mulligan … But it was kind of all that group, with all of these different press things that we had to do. You're having meals together, and doing these roundtables — I felt like I was hallucinating. Most of those people I'd never met before, so it was like the moment when you're not at the kid's table anymore: Wow, not only am I sitting with these legends, but Kate Winslet saw me and ran across the room and grabbed me and with such a beautiful intensity said, 'I am so fucking excited for you!' I love her." —Elle, February 2016
7. Issa Rae
On Michelle Obama watching Insecure: "She had just finished watching the finale, and she was like, 'That fakeout — how could you do that? I thought you and Lawrence were going to live happily ever after.' I was like, 'You really watch it?' She was like, 'Yes. Sasha and Malia put me on to it.' It was like talking to my auntie." —Glamour, October 2018
8. Kate Winslet
"[Titanic] was a huge moment of course in my life. It was a big turning-point moment. And my life did change really overnight. And I remember people saying to me before the film came out, 'How are you going to cope? Your life is going to be … how are you going to not change?' And I would feel almost defensive and angry and think, 'Well of course I'm not going to change. I'm not going to change, what are you talking about? My life's not going to change.' And it truly did, overnight. I remember one day being able to go and buy a newspaper and a pint of milk, no problem, and the next day I actually couldn't get out of the house because of paparazzi. And that was a huge shock. And nothing really prepares you for that. No one really can tell you about what to expect because it's so sort of unknowable. And so weird." —Belfast Telegraph, December 2015
9. Lupita Nyong'o
On 12 Years a Slave: "Different people would say, 'This is your moment, this is your moment.' That was kind of perplexing. What does that mean? What does that mean in actual practice? I had to really sit with myself and figure out what I wanted my life to look like. There was the expectation that, when your career explodes, the world is at your feet, you can have anything you want — that's the Cinderella version of it. Then there are the real questions — What do I have an appetite for now? What does success look like to me? Now that I've achieved all this, what does failure look like? I really needed to define those three things, not on the world's terms but for myself. For me, success equals longevity, success equals the luxury of choice. Even when I was in school, they were always preparing us for whatever came our way. We were not honing our skills at choosing what we wanted to act in, we were honing our skills at making a meal out of whatever little got thrown at us. So, if you were playing cop number three you could still find the joy, the life, humanity in that, because it is expected that it is a long road to roles of substance in the industry. They're not really training you for instant success and choice. That's what the accolades that came with 12 Years gave me — they afforded me a choice." —AnOther, Spring/Summer 2019
10. Cardi B
"Sometimes I ask myself, Like, am I enough? Am I there yet? But when you do these types of [Super Bowl] commercials, it is like they certify you to the world and to yourself." —Billboard, February 2019
11. Gigi Hadid
"I wanted to be a volleyball player, [but] I decided to go to college in New York because I wanted to model. If I had decided to play volleyball, I probably would have gone to a UC in California or somewhere with a Division I volleyball team, but in New York, sports aren't big at universities so I had to give that up. Obviously people weren't paying attention to me at that point in my career, and I was doing everything that everyone does, all the crazy-long castings, and go-sees in weird places in dungeons in the middle of London where you don't know where you are. I've done all of it. There was one point where my agent called me and he said, 'Carine Roitfeld wants to meet you.' And I said, 'Are you sure she said the right name?' Because, like, I have boobs and a butt and whatever … and that's when I got my CR cover and then shot the Tom Ford campaign later that month, and that's where it started for me." —W magazine, October 2016
12. Karlie Kloss
"It didn't explode for me until I was 15 and came to New York to walk for Calvin [Klein]. Those runway shows can really catapult you. They put you in front of designers and top editors. And on the Internet … I had a lot of luck. I was the right girl at the right time. But I was also a sponge. I didn't talk a lot. I just listened and kept my eyes open and tried to soak up everything I could." —The New York Times, September 2015
13. Awkwafina
"We were shooting this glamorous scene [for Ocean's 8] and I looked up and saw the office I got fired from. I thought: Oh my God, everything has come full circle. I left that job in pursuit of Awkwafina. And here I was shooting a scene with Rihanna. Getting fired from that job really hurt my feelings. Now I could just look up and say, 'Fuck y'all.'" —The Guardian, June 2018
14. Dita von Teese
"I feel like my defining moment of when I was like, 'Oh, this is like a real job now,' that was when I was on the cover of Playboy. That was a whole pictorial, ten pages, of what I do onstage, and it shined a light on what I was doing. It was the moment where it snowballed, where I got all this attention. I remember people saying to me, 'Oh, you should be an actress now,' and I was like, 'Actually, that's not why I did this. I want to be the greatest burlesque star since Gypsy Rose Lee. I want to be the most famous pinup girl since Bettie Page.'" —New York, January 2016
15. Rita Moreno
On receiving her first fan letter: "I have to tell you that when I got my very first fan letter, I wrote back a ten-page letter telling her all the wonderful things I felt, and how thrilling it was, and all that kind of stuff. Because there was nobody to tell it to! That's in a box somewhere. Somebody needs to find that letter. I'd love to read it." —Elle, February 2019
16. Anne Hathaway
"I kind of got my big break with The Princess Diaries and during the press rounds for that everyone asked me: 'Did you always want to be a princess growing up?' And the truth was, no, I wanted to be Catwoman. And I think a lot of women feel that way. And the fact that I am actually her [in The Dark Knight Rises] is such a dream come true. It's such a pinch-me moment." —Collider, May 2012
17. Helen Mirren
"I was doing Shakespeare — Henry VI, Part Two. I was playing Queen Margaret, and she has a very long speech, and I suddenly realized I had the vocal ability to control the language. And it was an amazing feeling, because, you know, when you do Shakespeare, it's often as though you're on a horse that you can't control; it's like running away with you and you don't know how to control it. But suddenly I felt I could control this big powerful horse. After seven years." – New York, January 2016
18. Renee Fleming, opera singer
"I think a big turning point for me was Desdemona in 1995 with Plácido Domingo. I'd sung it the year before, but this was opening night. If you're prepared and you know that the role is in your voice and that you have mastered it to at least a degree of comfort that enables you to get onstage and do your best, that's all you can hope for, and then the chips fall because people make up their own mind after that, but it's really just that sense of the satisfaction of knowing that you did everything that you could." – New York, January 2016
19. Maggie Rogers
"I realistically talked about Pharrell Williams every day for about a year and a half. And so, I went through different stages of that. Like, 'I've worked for ten years. Why can't just talk about my work?' And now it's like, I understand it. I've just decided, like, I'm not going to let that stress me out and I'm way happier because of it. … Realistically, [Heard It in a Past Life] is the introduction to me that I never got to make." —NPR, January 2019
20. Gloria Estefan
"I still remember the very first check that I got. It was for $250 as a songwriter — to me writing is the biggest deal. It still blows my mind to think that I'm going to write something and people across the world that I may never meet are going to hear it. The check was for "Tu Amor Conmigo." It ended up on a B-side of a single that we had in 1976 … I gave the check to my mom and she framed it." —New York, January 2016
21. Zadie Smith
"I've been so terrified you know because White Teeth is such a naïve book. I didn't have any expectations of it, didn't worry about the critics, I just wrote, and it was happy, lalalalala, and then there was a book, and that's not going to be true anymore. So the question is am I going to write some horrible difficult second novel that everybody hates? I hope not. But the stuff I'm reading at the moment, and some of the other writers I've been lucky enough to talk to, and get advice from, I know I'm OK … I can't show you any proof, but I just kind of feel it." —The Guardian, December 2000
22. Sloane Crosley
"I suppose it began when I was in Seattle on book tour, combing the New York Times best-seller list for a book I was publicizing, and I saw my own name followed by the title of my first book, I Was Told There'd Be Cake. It didn't even register at first. We see our own names every day, even if it's only on our mail. But then the yelping started, followed by the jumping up and down. When I got back to New York, everyone in the office asked me if I would be quitting my job.
That was April of 2008, and someone asked me that question every single day for the next two years. But I wasn't ready to go (or making nearly enough money — Cake was a paperback original, and I got a little over $20k for it). Publishing houses make fact sheets for marketing meetings with almost every piece of information you could hope to know about an upcoming title. I would walk into a meeting and see my book and corresponding sales numbers listed under the "comparison titles" section. This is flattering in theory, but imagine everyone you work with being handed a printout with your salary on it. Once there was a fact sheet for Meghan Daum's Life Would Be Perfect If I Lived in That House with my name on it three times: as a blurber, as a comp title, and as the would-be publicist. Another time, just before my second essay collection came out, I pitched a newspaper editor a collection of short stories I was publicizing. He told me point blank, "I have room for one, yours or his." I told him I'd have to call him back and never did. Much as I adored my job, I didn't sign up for this Sophie's Choice Lite crap." —New York, January 2016
23. Jennifer Lopez
"I was driving a Honda hatchback that Keenen Ivory Wayans had given me when I moved out here when I was a Fly Girl [dancer on In Living Color]. And I had been driving it to every audition. And when I got, I think it was a regular series, I bought a car — a Mercedes. And it was a huge deal, though I was signing the lease to the car and breaking up with my boyfriend the same week. We were in the dealership and I was crying." —Hollywood Reporter, May 2016
24. Jennifer Lawrence
"I read the Hunger Games books when it was Oscar season, so for the first time I was in these dresses which didn't look like me and didn't feel like me. I felt like a walking rag doll. I remember sitting there in hair and makeup, listening to the things that they were talking about, and most of the things I didn't even know. My dad called them the pit crew — they did hair and makeup and nails all at the same time. So I read that and I was like, I know exactly how that feels. And then, in the second book, people's relationships to you suddenly change. You're aware of people staring at you … But it's dealing with the repercussions of having no more anonymity. You lose privacy. And then, the third book, I teared up when I read it, because she finally realizes she can do good with it. Children are in the hospital, and just going and meeting them can lift their spirits and give them hope. As much as this is a curse, as stupid as it sounds, to make as much money as I am by doing something that I love, it's hard not to regret it when you're being chased by 15 strangers. All you want to do is rent a house, but then you have to rent one with a gate, and you're like, What have I done? This is so stupid." —Vanity Fair, February 2013
25. Constance Wu
"About a couple of years before I got Fresh Off the Boat, I was really broke. I was in tens of thousands of dollars in debt: credit card. Car. Personal. Student loans. I paid for my college all myself. I didn't have a boyfriend. I was really alone and lonely. I was new in the city, and I didn't have a community of friends in L.A. [Tears up.] I was like, Are you okay if your life stays like this, where you're waiting tables, struggling to make ends meet? Are you still okay doing this when you're 45? I decided that I was. That's when my work improved because it wasn't results-oriented. It wasn't like, I heard that this director likes crazy characters, so I'm going to try to make it crazy. I was like, What do you, Constance Wu, envision for the character? What is the special thing you can bring even if it keeps you from getting the part? This is your chance to do it. Let's do it. … That's when I started booking work." —Vulture, June 2016