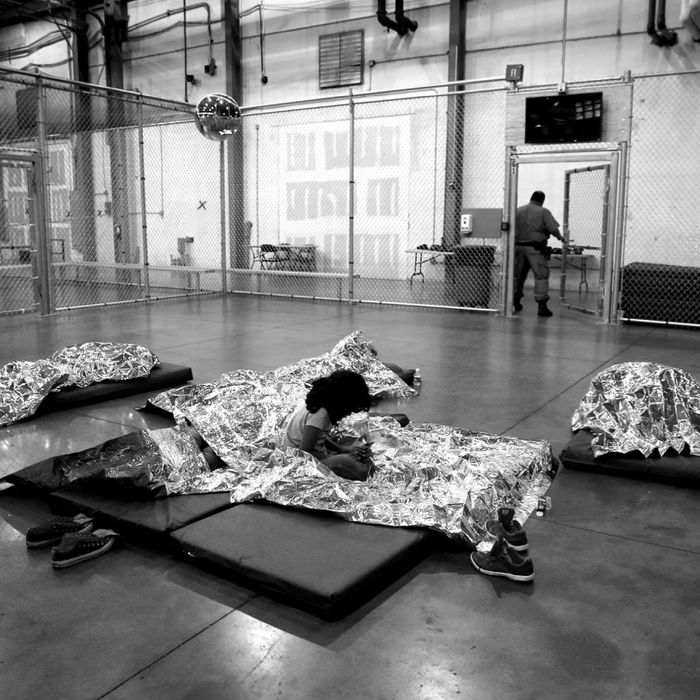 A detention center in Texas.
Photo: John Moore/Getty Images
A 16-year-old boy being held in custody by the Office of Refugee Resettlement (ORR) died on April 30, according to BuzzFeed News. The boy, who was reportedly unaccompanied, was identified by on May 7. According to CNN, his name was Juan de León Gutiérrez, and he left Guatemala to earn money for his family.
León Gutiérrez was transferred to the custody of the ORR on April 20, after first being detained by Immigration and Customs Enforcement. According to The Monitor, he was being held at a shelter managed by Southwest Key Programs in Brownsville, Texas. The company was investigated by the Justice Department in December for a possible misuse of federal money.
According to BuzzFeed News, when he was first transferred to the facility, León Gutiérrez showed no sign of illness. But on April 21, Evelyn Stauffer, ORR Administration for Children and Families spokesperson, told BuzzFeed News, he became "noticeably ill," with a fever, chills, and a headache. He was taken to the hospital, then sent back to the shelter.
"The minor's health did not improve after being transferred back to the shelter, so on the morning of April 22, 2019, the minor was taken to another hospital emergency department via ambulance," Stauffer said. "Later that day, the minor was transferred to a children's hospital in Texas and was treated for several days in the hospital's intensive-care unit."
According to CNN, after a drought in Guatemala left his family without food, León Gutiérrez set out to earn $13 so that he could buy his family salt and corn.
"Juan was good, Juan was humble, he was a good son," his mother, Tránsito Gutiérrez, told CNN. The family regularly skipped meals — sometimes only drinking coffee for the day. "Even though we sow the plants, nothing grows because of the drought. Even the water is drying up. There are days when water comes through the tap, and days when it doesn't. Our pitchers and mugs are empty."
León Gutiérrez's father, Tanerjo de León, said he warned his son not to make the trip. But his son went ahead, traveling with a coyote through Mexico. He died two weeks after crossing the U.S. border.
"I told him to stay because it was very dangerous, but he decided to leave," León said. "He left anticipating a harsh summer."
León Gutiérrez is the third migrant child who has died in U.S. government custody in the last six months. Seven-year-old Jakelin Caal and 8-year-old Felipe Alonzo-Gomez both died in December after falling ill while they were detained by U.S. Customs and Border Protection.
According to Stauffer, León Gutiérrez cause of death is still under investigation by the ORR.