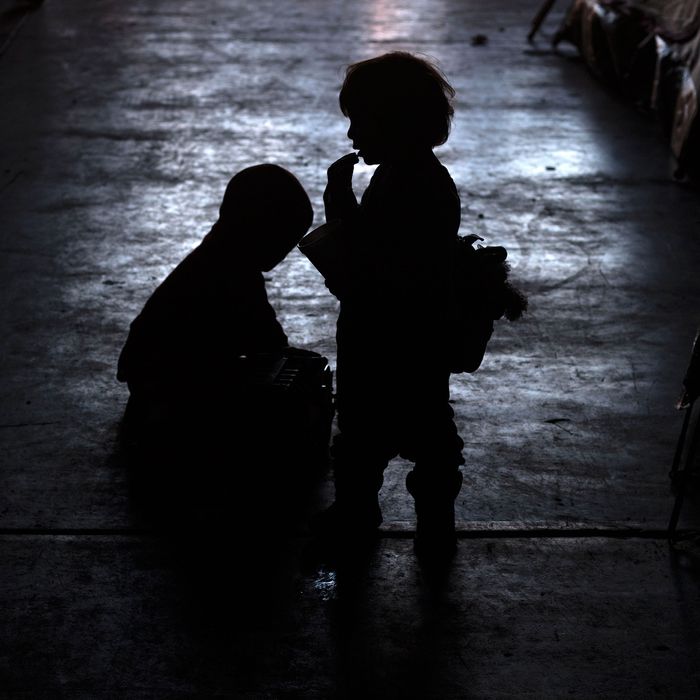 Photo: Guillermo Arias/AFP/Getty Images
An unidentified 2-year-old migrant boy from Guatemala who was taken into federal custody at at the United States' southern border died Tuesday night in an El Paso hospital.
The Washington Post reports that it confirmed the death with two sources, one anonymous and the other from the Guatemalan consulate. A representative from the consulate told the Post that the boy appeared to have come down with pneumonia after three days in custody. When exactly the boy became sick remains unclear, and so far El Paso's medical examiners have declined to comment on the death.
A Customs and Border Protection official told the Post that the CBP arrested the boy and his mother on April 3, that on April 6 she told agents that her son was ill, and that he was taken to Providence Children's Hospital the following day.
The boy is the fourth migrant child from Guatemala to have died after being apprehended at the U.S.–Mexico border and subsequently hospitalized. In December, Felipe Gomez Alonzo, 8, died of complications from influenza and Jakelin Caal, 7, died of a bacterial infection. In April, Juan de León Gutiérrez, 16, died after being hospitalized for a brain infection.
Politicians and immigrant-rights organizations have called for more government accountability. Presidential hopeful Beto O'Rourke tweeted, "End the suffering, the trauma, the death at our border. Treat immigrants and asylum seekers like human beings. Focus on the wellbeing of these kids above any other concerns." Bernie Sanders also tweeted about the boy, saying "This is shameful … our job is to provide protection and due process to those fleeing violence and persecution — not to threaten the safety of families and children at the border and tear families apart."
Nearly 165,000 Guatemalans were apprehended at the U.S. border between October 2018 and April 2019, according to CBP data, a record high number. Climate change has been a major driving force behind this recent spike in migration.
The consulate representative said in a statement, "We have reiterated the message that trips to the United States, in the condition in which the Guatemalan families are undertaking them, is highly dangerous. We've seen four cases in a row of children who have lost their lives in this way."