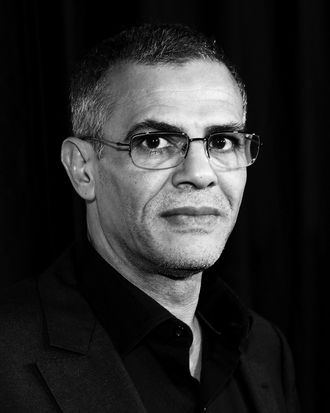 Abdellatif Kechiche.
Photo: Imeh Akpanudosen/Getty Images
A polarizing French director has been accused of pressuring actors into having unsimulated sex on the set of his most recent film, IndieWire reports.
Abdellatif Kechiche's latest film, the 3.5-hour-long Mektoub, My Love: Intermezzo made headlines when it premiered at Cannes last week — audiences were reportedly so disgusted with it that they walked out of the screening. The film quickly attracted criticism for being "contemptible male gazing garbage" and for constantly objectifying its young female cast, but by far the most controversial part was a 13-minute-long, unsimulated cunnilingus scene. Days later, an anonymous source who was close to the production came forward to say that Kechiche — best known for his film Blue Is the Warmest Color — had been coercive with actors Romeo De Latour and Ophélie Bau during that scene.
Per a rough translation of Midi Libre, the French newspaper the source spoke to, Kechiche had wanted the scene to be non-simulated, which the actors objected to. But "by the way of insistence, and over time and with alcohol being regularly consumed, he managed to get what he wanted." (When contacted by Jezebel for comment, Kechiche's talent agency declined the request.)
Since making his directorial debut in 2000, Kechiche has faced a fair number of disturbing allegations regarding his handling of sex scenes. Following the 2013 premiere of Blue Is the Warmest Color, which had a divisive 10-minute lesbian sex scene between Léa Seydoux and Adèle Exarchopoulos, the former told the Daily Beast that filming the scene was "kind of humiliating sometimes." Together the actresses concluded that filming with Kechiche was an experience so "horrible" they would never do it again. Additionally, last November, Kechiche was accused of sexual assault by an unnamed actress. He has denied the allegations.