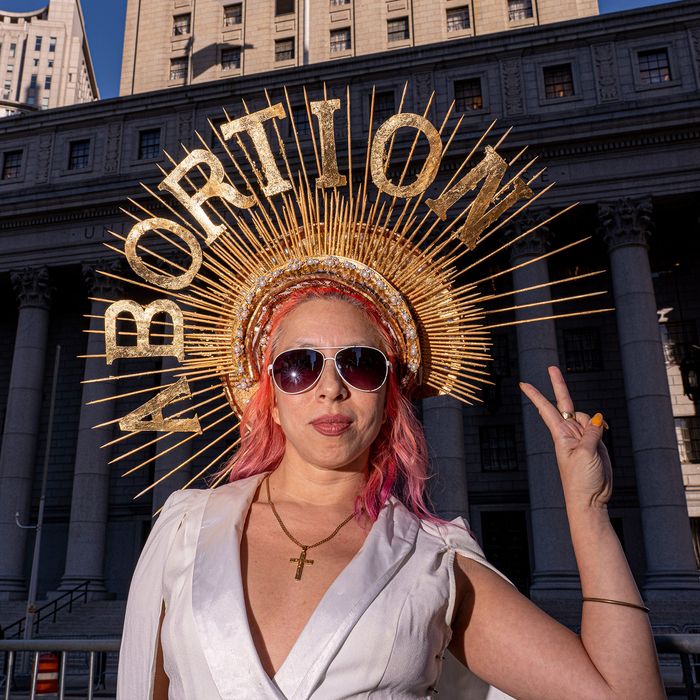 By the time New York's Stop the Bans protest was set to start on Tuesday evening, hundreds of people had gathered in Foley Square. It was striking to see the range of ages in protesters, who were there to stand in solidarity against a wave of extreme anti-abortion laws being passed throughout the country: teenagers furiously FaceTiming their friends, asking to meet up; a young mother and her toddler son wheeling a peaceful infant in a stroller; a septuagenarian woman slowly making her way around the square, a sign that read "TRUST MIDWIVES" hanging around her neck. Across the crowd, one woman held a banner aloft. "I survived an illegal abortion in Birmingham, Alabama, in 1969," it read. "Never again."
The rally was one of over 400 throughout the country, quickly assembled by a coalition of reproductive-rights organizations after Alabama became the fourth state in three months to sign an unconstitutional abortion ban into law. The main event, which took place that afternoon in Washington, D.C., drew several presidential candidates, including Senators Kirsten Gillibrand and Cory Booker; in New York, a roster of notable local speakers exhorted the crowd to resist oppression in all forms. Most spoke in inspirational, general ways: "We will never allow abortions to be criminalized again," exclaimed Gloria Allred. "Roe v. Wade is there to protect women … You must be there to protect Roe v. Wade!"
The people on the ground were more focused on specifics. Everyone was filled with rage over the recent attacks on their rights, but it felt as though no one was seeking momentary catharsis; after years of bringing the same sorts of signs to protests, many seemed conscious of the fact that simply speaking out wasn't enough. "I feel like we're still screaming at the top of our lungs in order to be heard. Just because we can be everywhere doesn't mean that we are being seen. It's really, really frustrating," said Chaney Trotter, who had come with the fundraising group Women to the Front. She was dressed entirely in crimson, wielding an oversize coat hanger she'd constructed out of plastic. "It's infuriating that even with the force that we've become, we're still not being heard by those very small groups of people that have power."
Walking through the throngs of people, I found myself rapidly accumulating information on how to organize going forward: socialist feminist literature, invitations to other reproductive-justice events, a document titled "Points of Attention for the Revolution" that called for "an actual overthrow" of the electoral system. Trotter and I were interrupted mid-conversation by an organizer who wanted to know whether we'd sign a petition demanding that New York become the first city to directly fund abortion care for anyone who needs it. After flipping to the final page, she realized she had already gathered so many signatures that there wasn't any space left.
"I think that Roe will be reversed. I think it's going to be really fucking horrible, but I think they underestimate the anger of having rights taken away from people," Trotter said. "That's my optimism. I think it might get worse before it gets better, but I hope it will get better." Then she politely excused herself, saying she had a meeting for her women's-organizing group to get to.
"I feel angry every time there's a new attack," said Deja Fox, a 19-year-old activist wearing a T-shirt printed with the phrase "Hoes 4 healthcare" in a florid, feminine font. "It never gets numb for me. I'm still angry, still. But I think you have to turn your anger active."
"I think the only way that I'd get out of the reproductive-justice field is if there weren't more things to fight for, but unfortunately I feel like that won't happen," Emily Odesser, another activist who is turning 19 in two days, chimed in.
"There will probably be things to fight for for the rest of our lives," said Fox. She paused briefly, then added, in a slow, deliberate tone: "2036" — the first year she'll be eligible to run for president.
"She marks off the calendar every day," Odesser said.
Walking out of the protest shortly after sunset — past a pregnant woman standing with her friends; a group in handmaid costumes mingling by a fountain; people still filing into the square in twos and threes, though the event had already officially ended — my suspicions matched those of many others present. I was as certain as ever that things were going to get much worse before they got better. But I also felt, somehow, reassured by a pragmatic sort of hope: In ignoring our voices, those in power also overlook the motivating force of our anger.