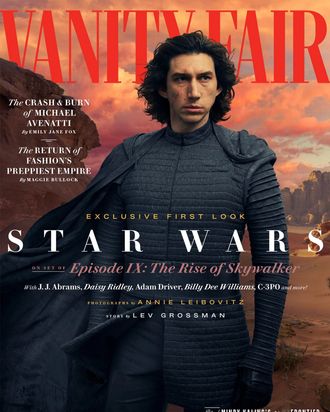 Adam Driver on the cover of
Vanity Fair
.
Photo: Courtesy of Vanity Fair
Adam Driver is many things: a former Marine, a Juilliard-trained actor, and a husband, to name just a few. But perhaps most important, he is a very, very big boy — and now, Driver is again letting his largeness shine. This time, on the cover of Vanity Fair.
In an exquisite photograph taken by Annie Leibovitz for the magazine's new Star Wars Episode IX: The Rise of Skywalker first look issue, Driver wears the attire of his character Kylo Ren (child of the characters played by Harrison Ford and the late Carrie Fisher – Han Solo and Princess Leia, of course).
The blackish-gray ribbed attire — a long, almost priestlike coat dress with a cape and pants underneath — hugs nearly every inch of Driver's huge body, looking almost the way things would if you covered Michelangelo's David with Saran Wrap. The actor may be 6'2", but here, he looks a conservative 9 feet tall. His beautiful black hair flies in the space breeze like the mane of a stallion with access to an equine stylist. And he stares, intensely, at something off in the distance — which I choose to believe could be a dream made real.
Leibovitz's stunning behind-the-scenes picture portfolio of the film — which you can view here — also includes an image of Driver fighting actress Daisy Ridley with lightsabers. Oh, the desire to be run over with his car, his lightsaber poking out the open window …
Thank you again, Adam Driver, for continuing to be the biggest boy.