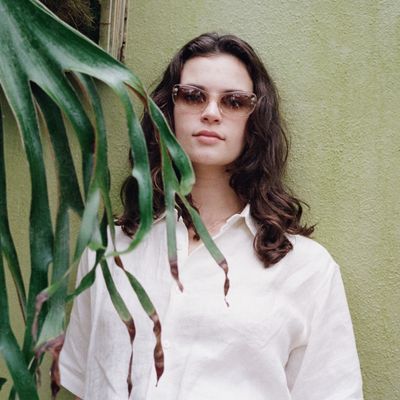 What if your sunglasses had their own personalities? What would they say or do? Well, if that's a weird question that crossed your mind during a sleepless night, there's an answer. Ahnah, a new eyewear brand from Chris Gentile of Brooklyn-based store Pilgrim Surf & Supply, decided to give each of their sunglasses a character description, rather than a product description. For example, Ary "has a thing against canned beans" (how contrary!)
Personified eyewear aside, the collection was made with timeless style, performance, and the environment in mind. Spins on classic styles like those weirdly cool grandma glasses worn by Estelle Getty on Golden Girls get a modern twist. Every pair is made in the U.S., and the acetate frames are made from wood pulp and cotton fibers that come from sustainably sourced raw materials. With 13 pairs all priced at $290, there's a style for everyone. Meet some of our favorite characters below, and shop them all here.
"And then there's Chel. Never too late or too early, too cheap or too spendy when it comes to Champagne as far as Chel's concerned. This is one of the many reasons you're happy to find out you're both sitting at Table 9 at the same wedding reception."
"Gil and good luck go hand in hand, so you can walk out the door in the morning knowing that today is your day (again)."
"Bigger personality. Bigger heart. (Bigger head). Even more love to give."
"Just cruising through life, Hermeto operates like every moment is being captured on a Super 8 camera with great natural light. Except for when they're waiting in line at the DMV … that's when it gets real."
"Teatro's at it again; stacked the deck, not to win but to laugh at how long it took you to figure it out. Such a wildcard … "
"Elis has a subtle but pronounced laugh like a comic book character."
If you buy something through our links, New York may earn an affiliate commission.