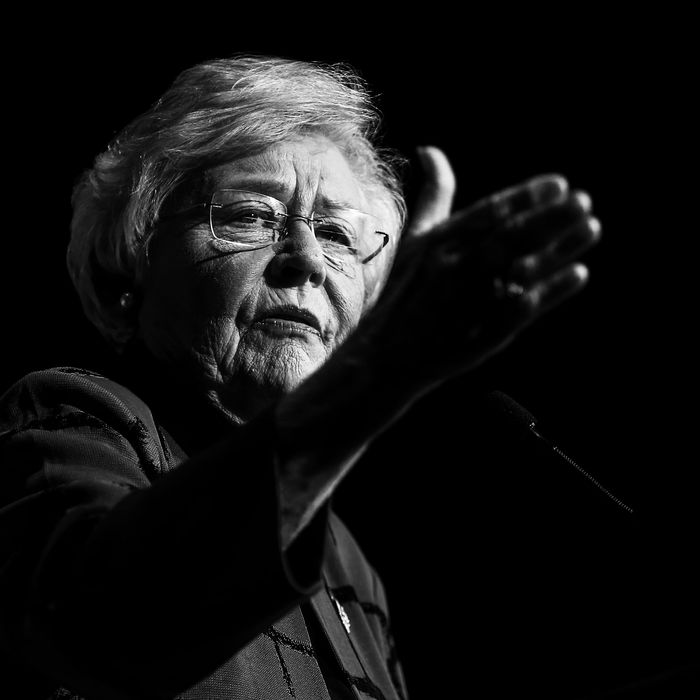 Alabama governor Kay Ivey.
Photo: Butch Dill/AP/REX/Shutterstock
In just the past few months, a growing number of states across the country have passed anti-abortion bills unprecedented in their extremity — the latest being Alabama, which passed a near-full ban on the procedure late last night. Now, the bill heads to Republican governor Kay Ivey, who will ultimately decide whether to make abortion a felony in her state.
While Ivey has not yet publicly vocalized how she intends to vote on the extreme bill, the Republican governor hasn't been shy about making her thoughts on reproductive rights explicitly clear. Below, here's what to know about the politician with the nation's most restrictive abortion ban in her hands.
She's vehemently anti-abortion.
In August 2015, when Ivey was Alabama's lieutenant governor, she and Representative Terri Collins — who sponsored Alabama's extreme anti-abortion bill — called for the "immediate defunding of Planned Parenthood by Congress" and the passage of the Pain-Capable Unborn Child Protection Act. (The bill, which has passed the House multiple times but never the Senate, would make most abortions after 20 weeks of pregnancy illegal.)
Since becoming sworn in as governor in April 2017, following the resignation of Robert Bentley, Ivey's stance predictably has not changed. In January 2018, when the Trump administration established regulations that made it easier for religious doctors to discriminate against women seeking abortions, and for states to cut Medicaid funding to organizations like Planned Parenthood, Ivey celebrated the news as "a big win for states to ensure that tax dollars are not used to fund abortion or abortion-related services." And, just last August, Ivey renewed what she calls her "steadfast commitment to protect the lives of the unborn" after the 11th Circuit Court of Appeals affirmed a lower court's decision to strike down a bill banning "dismemberment abortions."
She has the endorsement of anti-abortion groups.
During Ivey's gubernatorial campaign to be elected to a full term, she gained the endorsement of National Right to Life, Alabama Citizens for Life, and Susan B. Anthony List, all of which she gladly received.
"As governor, I will always defend unborn life, starting at conception, and advocate for those who are unable to advocate for themselves," Ivey said in response to Susan B. Anthony List's glowing endorsement letter, which referred to Ivey as a "longtime friend."
She supported Roy Moore and Brett Kavanaugh.
In November 2017, after numerous women had come forward with allegations of sexual harassment and abuse against then-Republican Senate candidate Roy Moore, Ivey said she had "no reason to disbelieve" the women, and that "there's never an excuse for or rationale for sexual misconduct or sexual abuse." And yet, she said she still planned to vote for Moore because she wanted a Republican to help shape the Supreme Court and other federal courts.
"I believe in the Republican Party, what we stand for, and most important, we need to have a Republican in the United States Senate to vote on things like the Supreme Court justices, other appointments the Senate has to confirm, and make major decisions," she told reporters before Moore lost the special election to Doug Jones in December. Then, following the the Senate Judiciary Committee hearing on Christine Blasey Ford's assault allegation against then-Supreme Court nominee Brett Kavanaugh, Ivey said in October 2018 that she believed Kavanaugh "should be confirmed."
The more conservative justices, of course, the bigger the threat to abortion rights. The lawmakers and anti-abortion advocates behind Alabama's bill and the numerous six-week bans across the country (none of which have yet been enacted — it is currently still legal to get an abortion in those states) don't even attempt to conceal their true intention: to directly attack Roe v. Wade, which they hope to see overturned by the Supreme Court. Following the Alabama senate's vote, Eric Johnston, founder of the Alabama Pro-Life Coalition, told the New York Times that because Alabama's bill is the harshest, he hopes it ends up in front of the Court so that justices have the opportunity to fully overturn Roe. "Why not go all the way?" he remarked.
It's likely that she'll sign Alabama's extreme anti-abortion law.
Again, while Ivey has yet to speak publicly about how she intends to vote, AP reports that the bill's sponsor expects the governor to sign the bill into law.