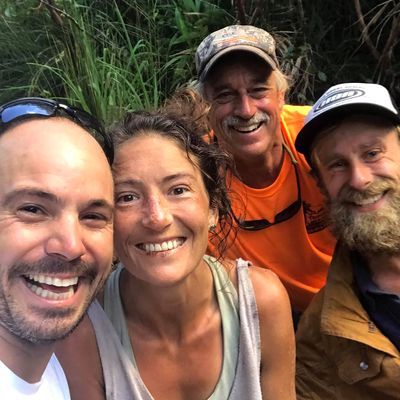 Hiker Amanda Eller, second from left.
Photo: Javier Cantellops/AFP/Getty Images
A yoga instructor and physical therapist ventured off on May 8 for what was supposed to be an easy three-mile hike. Instead, she ended up getting lost alone in a Hawaiian jungle and was rescued 17 days later, dehydrated and with a broken leg, knee injury, and swollen foot — right by a waterfall and a 20-foot cliff.
Although that may sound like the plot of a survival movie that I'd definitely watch repeatedly on Netflix, it's actually the real-life tale of Amanda Eller, 35, who was rescued on May 24 after her harrowing ordeal. And now, in a Tuesday press conference, Eller said that the experience was "spiritual."
As People reports, Eller's disappearance was initially quite perplexing. The Maryland native didn't return home after leaving for what the outlet described as a "routine" hike, and a spokesperson for the family later said that foul play was suspected. Initially, it was thought that a person seen hiking on a trail at Makawao Forest Reserve (at around 8 a.m. the day Eller went missing) was the missing woman. But then, it was determined that Eller sent her mom a Mother's Day package from a post office the morning of her disappearance, meaning she didn't arrive at the park until around 10:35 a.m. that day.
It turns out, Eller became "disoriented" during the hike, apparently due to not having her phone with her. She subsequently veered off path so severely that she ended up lost for 16 days and 17 nights. Eller was apparently able to walk for the first five to eight days of her disappearance, before sustaining her injuries, and she mostly lived off of berries and guava. She also reportedly lost her shoes and socks during a flash flood while sleeping in a cave.
Per People, helicopters flew over Eller several times while she was in the forest — but their views were obscured by a canopy of trees and foliage. Eventually, however, she was spotted next to the waterfall. In a Tuesday press conference, Eller said that a "voice" guided her away from her car the day she went missing. "My heart was telling me, 'Walk down this path, go left,' Great. 'Go right.' It was so strong," she stated, according to CNN. "I'm like, great, this is so strong that obviously when I turn around and go back to my car it will be just as strong when I go back, but it wasn't."
Eller also denied consuming any drugs, alcohol or caffeine before her fateful hike: "I get high off of life, and I get high off of people and heart." And as for all the speculation about her disappearance, she stated, "Everybody can have their little theories."
This post has been updated.