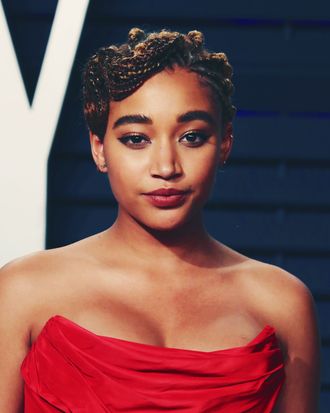 Amandla Stenberg.
Photo: Matt Baron/REX/Shutterstock
Fenty Beauty introduced a lot of new things this month, and it isn't done quite yet. Rihanna's beauty brand just announced that actress and activist Amandla Stenberg is officially joining the #FentyFamily as the brand's exclusive beauty ambassador. This makes Stenberg Fenty Beauty's first celebrity face that isn't Rihanna's face.
"I wanted to become a part of the Fenty Family because it's one of the few beauty brands that make me feel like myself! Fenty Beauty's whole ethos makes me feel empowered and excited to let different facets of myself shine," Stenberg said in a release. Stenberg also teased " … more to come" on her Instagram account, probably alluding to the "social media content and campaign imagery around the world in 2019," a release promises we'll soon see Stenberg in.
In addition to her roles in The Hunger Games and The Hate U Give, Stenberg is known for appearing on the cover Time magazine last year as a "Next Generation Leader"; for her ability to speak thoughtfully on the topics of cultural appropriation, sexual identity, intersectional feminism, and biracial identity; and for wearing the coolest hairstyles I saw in the summer of 2018.
This combo makes her an excellent choice for Fenty Beauty, which Rihanna launched in 2017 "to help everyone feel beautiful and recognized, no matter their race, ethnicity, culture or personal style."