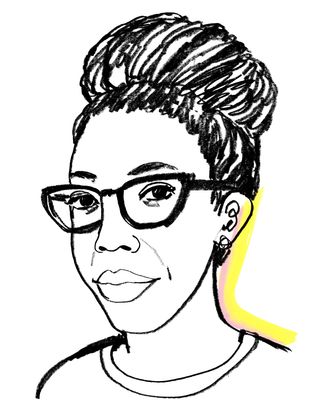 Illustration: Lauren Tamaki
A self-professed late bloomer, Amy Sherald's life completely changed when she was chosen to paint Michelle Obama's portrait. She became the first black woman to paint an official portrait of the First Lady — an extremely popular painting that took her from working as a relatively unknown artist, making ends meet however she could, to being famous and in high demand. She's now exclusively represented by Hauser & Wirth, and her first solo show with the gallery will open in New York City in September. She lives in New Jersey with her partner, Kevin Pemberton. From a conversation on The Cut on Tuesdays podcast, here's how she gets it done.
On a typical workday:
The alarm goes off at 5:45 with the intention of being at the gym at 6:05. Snooze is hit three times. I wake up at 7:15, and the gym doesn't happen. But we're trying to get on a routine, me and my partner. I make him breakfast, walk him to the PATH station, and then I come back, take my dog out, take a shower, and then go to the studio.
I have my studio production manager, and then Alexander, my manager. He's basically my boss. He tells me what to do every day. Somehow I usually don't get there until 11, or he'll call and say, "You're on your way?" I'll say I'll be there by 11, but I get there at like 11:45, put on my headphones, and try to get to work. I like to end work at 6 so I can have at least three hours of my day to myself and be home when [Kevin] gets home and make dinner. Then we catch up on This Is Us or something like that. [My workday used to] be 11 to 11, when I didn't have anybody I was in love with. I was just working because I was lonely and didn't have anything else to do besides get home, get in my bed, and get on Instagram! That was my boyfriend at the time.
On her work uniform:
Normally, I have on a gray sweatshirt that I wear with some mom jeans, and I like to have on cute sneakers when I go to the studio. Something simple and cute so that if I throw on a nice jacket, and I need to leave the studio and go do something, I don't feel like I'm showing up looking like, as my mom says, Boo Boo the Fool. My winter uniform was pleather leggings, Lowland Stuart Weitzmans, and a black cashmere capelet with a black turtleneck underneath. It's comfortable, warm, and I don't get tired of it. I always feel like I look sophisticated. It's my hit-the-street uniform.
On preparing for her next show:
I'm getting ready for the biggest show of my life thus far with my new gallery, Hauser & Wirth in New York. I'm making one very large painting, which is the equivalent of making four paintings, so it will probably take me four months to create. With a successful career, you have to hire some assistants to help, otherwise I can imagine that you would have to snort a lot of cocaine and drink a lot of coffee to just, like, get through life. Every single show I've had for the past three years, the paintings left my studio wet, and I was literally following them to the truck with a paintbrush like, "One more thing!"
On meditating every day:
I try to do this 20-minute meditation on the Insight Timer app by this guy named Mooji. He's this black, British-Jamaican guy, and I do that meditation. He has this one part where he's like, "Imagine that you're a movie screen. And the screen is on fire. But the screen is not burning." So it's like everything that's happening around me is happening but it's not affecting who I am as a person. I feel like I'm being pulled in a million different ways now, and it just reminds me that I have control over it. I don't have to internalize it. For some reason, it works. It just slowly dissipates if you just let it sit there with you, but you don't freak out about it or become overwhelmed by it. That's one thing I try to do every day.
On acupuncture and fertility:
I've always done acupuncture, but now I'm doing it for fertility. I never thought I wanted children and actually had to give up on the idea of having children when I was 30. When I was diagnosed with heart failure, they told me, "You can't have any kids because if you get pregnant, you're going to die because your heart function is so low." I hadn't met anybody that I wanted to be with, so as time progressed — 35, 36, 37 — it was like, Okay, I guess this is just something that's just not gonna happen. I settled into [the idea of] being a single person with several young boyfriends when I was like 55 or something!
Then I met Kevin, and all of a sudden I'm like, I wanna have a baby with this man, but I'm 44. We go to the fertility clinic, and I had like two follicles left — I had never even thought about my follicles before. I met other women who are 45 or 46 who had zero follicles and had a baby. When I connected with them, we all had this conversation, and they all had to do acupuncture and Chinese herbs. I decided we were going to give it a shot. That's why I'm doing acupuncture, but it's also just essential, I think, to my practice because I know when I do go, everything in my life is better. It's like the equivalent of smoking a joint for me. It just kind of decompresses me and then everything is aligned. It makes life better.
On the moment she was asked to paint Michelle Obama's portrait:
I'm usually so inappropriately stoic but honestly, I thought, My mom finally has bragging rights now. My mom was born in 1930, so when I told her that I wanted to be an artist, she had no clue what that meant. My friends that I grew up with, they're all physician's assistants, and one friend opened up a sleep clinic. We're 37, 38, and they're like, "What's Amy doing?" "Well, she's a waitress." So my mom was essentially ashamed! But now she has bragging rights and is really excited about it, and feels like it's something that she accomplished as well. She was the first person I called.
On becoming famous, and what's changed:
The one thing I've had to do since everything has gotten crazy is just let go of my Virgo-ness, which means that everything has to be in order and happen in order, because it's like a shit show. And you just have to let it be a shit show. Before, I would eat dinner, and have time to cook dinner and wash my dishes. Now if I cook dinner, then I'm crashing right afterward. It's just, there's no time for anything. I get it now. I was listening to the news last year, and they were talking about how wealthy people spend their money. They say they don't buy things, they pay for things to give them more time, because they don't have time. I totally get that now. And all of a sudden, I have a gala life now. Being honored at a gala, for me, is just all kinds of super weird. I want to say no but then I'm scared of offending people. This month [December 2018] I have … one, two, three, four.
On advice she'd give to her younger self:
Don't waste your time on all these wack-ass dudes. Quit obsessing over being in love and falling in love and just live your life. I think I spent half of my life pining for a boyfriend until I was like 34, and then I was like, I don't need a man. Then you start really just getting into you and who you are and what you're doing. I think that's important along with the whole self-worth thing and not taking anybody's shit and and not being a pleaser. I just learned how to say no like three years ago. It feels good. I love it now because I've always been so diplomatic and been like, "I'm so sorry. I'm so sorry." Now I just don't care. It's not that I don't care, but I understand essentially that you would be saying no to me, so why can't I say no to you?
Whenever I give talks young women will ask, "How do you make work when you're feeling like you're not enough or you have low self-esteem? What's something that you can do?" And I'm like, "You just have to realize that only you can make the work that you make, and that your life is your life." You can't look at anybody else's life. I always say, "I have low self-esteem right now as I'm speaking to you." It never goes away. You just learn how to deal with it. You just have to work through it.
*This interview has been edited and condensed.