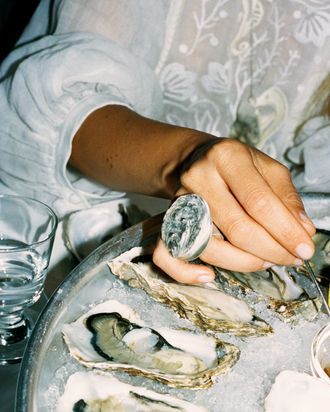 A ring by Mia Larsson, photographed with the designer's muse.
Photo: Courtesy of & Other Stories
There's farm-to-table dining, and then there's what Mia Larsson, a jewelry designer from Stockholm, does. I guess it's … farm-to-table, then table-to-ear/neck/finger? For years, Larsson has made a living by going to restaurants and taking their unwanted oyster shells, sprucing them up, and selling them as jewelry. And now, she's collaborated with & Other Stories on a sustainable collection of one-of-a-kind pieces.
It's a fresh (no pun intended) idea, and one that makes sense considering that seashells and pearls are used often in jewelry and accessories. The idea of taking waste and turning it into something beautiful appeals to environmentalists and fashionistas alike. Plus, it's fun to imagine the stylish Larsson taking sacks of oyster shells on her bike, transporting them from restaurant to studio. "I was kind of a dumpster diver and went to [restaurants to get shells] because I wanted the compostable organic material," she said. "My love grew for this material." Now, friends will give her their own discarded oysters they eat at parties.
The resulting jewelry has an artistic appeal. The shell retains much of its shape and color, with bits of metal acting as a conduit between food and jewelry. The pieces are often large and abstract-looking — a far cry from what you may think of when you think "shell jewelry." & Other Stories hasn't had quite the public push toward sustainability that its sister brand H&M has, but this is a promising step. All the pieces were made in Mia's studio, and are now available on the & Other Stories website. See some favorites below.
Photo: Courtesy of & Other Stories
Photo: Courtesy of & Other Stories
If you buy something through our links, New York may earn an affiliate commission.