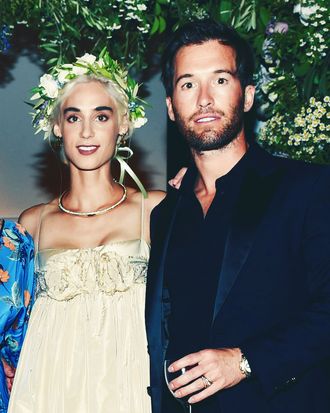 Andi Potamkin and William Blackmore.
Photo: REX/Shutterstock
Love is in the air, until it's not. Andi Potamkin, an heiress to the Potamkin Auto Group, and William Jordan Blackmore, a hairstylist to clients like Marc Jacobs, are in an alleged dispute over their wedding in Utah that involved private jets, Elizabeth Olsen, and a dress code for guests. But, plot twist, they never really got legally married. Blackmore has filed a suit against Potamkin, saying that she duped him into believing that they were wed in the eyes of the law. However, in Potamkin's lawyers are saying that Blackmore knew they weren't married, as proven in an email exchange from 2017.
Potamkin cut off their relationship last December, and the language in the settlement agreement tipped off Blackmore that maybe they weren't married. It called their wedding a "symbolic ceremony … that did not constitute a legally binding marriage." Blackmore filed a suit in Brooklyn suing Potamkin and alleging that, "the truth was that Andi never wanted to marry Jordan; she just wanted a lavish wedding experience, a public-relations stunt, and the attention that came with it."
Blackmore alleges that Potamkin and her father, Alan, orchestrated a sham because he was worried that Blackmore wouldn't sign a prenup (Blackmore did sign the prenup per the suit and Potamkin's attorney). Per the suit, Alan and Andi "fraudulently induced Jordan unwittingly to participate in a wedding that was a sham." Andi allegedly asked their yoga instructor friend to officiate, but asked that she not be ordained because they would be actually married in New York. Blackmore claims he was not clued into the fact that their officiant had been asked to not be ordained. He's seeking $2 million in damages.
Andi told the New York Post, that the lawsuit "includes tons of untrue and irrelevant information about my family, included for no purpose other than to attempt to publicly embarrass us." She also said she and Blackmore "consciously uncoupled." Potamkin's lawyer told the Cut that both parties had filed to recognize the wedding in Utah, and "While it is unfortunate that the marriage has ended, the failure of a marriage does not justify Mr. Blackmore's use of the legal process as a manifestation of his disappointment."
In Andi's rebuttal, which was filed on Wednesday and made available to the Cut, her attorneys provided an email from February 2017. In the email, Blackmore acknowledged that he knew they were not legally married yet, but expected that to change within months (they were married in late 2015). Andi's filing also denied many of the accusations in Blackmore's complaint.
Their wedding was covered extensively on the Coveteur in a six-part series that chronicled the private plane the couple flew to Utah on, Andi's getting ready process, the ceremony, the party, and the casino night/rehearsal dinner. Per The Fashion Law, the invites requested that guests wear "eucalyptus, desert rose, and dune ecru" and change their clothes "frequently."
The post has been updated to include the statement from Potamkin's lawyer, the email exchange from Blackmore, and reflect that both parties signed a prenuptial agreement. We have also removed language calling the wedding a "scam."