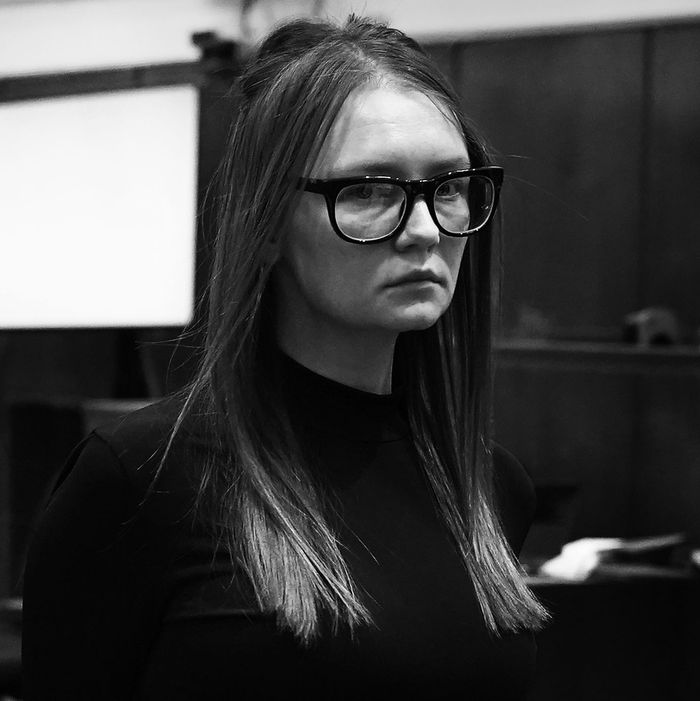 Anna "Delvey" Sorokin.
Photo: TIMOTHY A. CLARY/AFP/Getty Images
"Soho Grifter" and courtroom style icon Anna Sorokin — better known to her associates and scam-ees as Anna Delvey — was sentenced to 4 to 12 years in prison on Thursday, for conning various hotels, banks, and a private jet company out of hundreds of thousands of dollars. She was also fined $24,000 and ordered to pay a roughly $199,000 in restitution, according to the New York Times.
Sorokin, who has been an inmate on Rikers Island since October 2017, was found guilty last month of charges including grand larceny and theft of services, and of stealing more than $200,000. However, she was not found guilty of the most serious charge brought against her: an allegation that she had faked records in an attempt to secure a $25 million loan. She was also found not guilty of stealing the $60,000 one of her friends/victims paid to cover their extravagant trip to Morocco together.
"I apologize for the mistakes I made," Sorokin said at the sentencing in a Manhattan courtroom.
Sorokin was reportedly born in Russia, and then moved to New York in 2014 after a stint in Paris, where she convinced the city's elite that she was a wealthy German heiress named Anna Delvey. She ran up massive bills at luxury hotels that she never paid, worked on securing massive loans from banks, and talked friends into spending thousands of dollars on her. She was first arrested in July 2017, when she couldn't pay her lunch bill at le Parker Meridien hotel.
This is not the last we will be hearing of Sorokin's story, though. Back in June 2018, Netflix and Shondaland acquired the rights to Jessica Pressler's May 2018 New York feature on Sorokin, with Shonda Rimes herself attached to write, and Lena Dunham told the Cut she is working on a show about Sorokin with HBO.