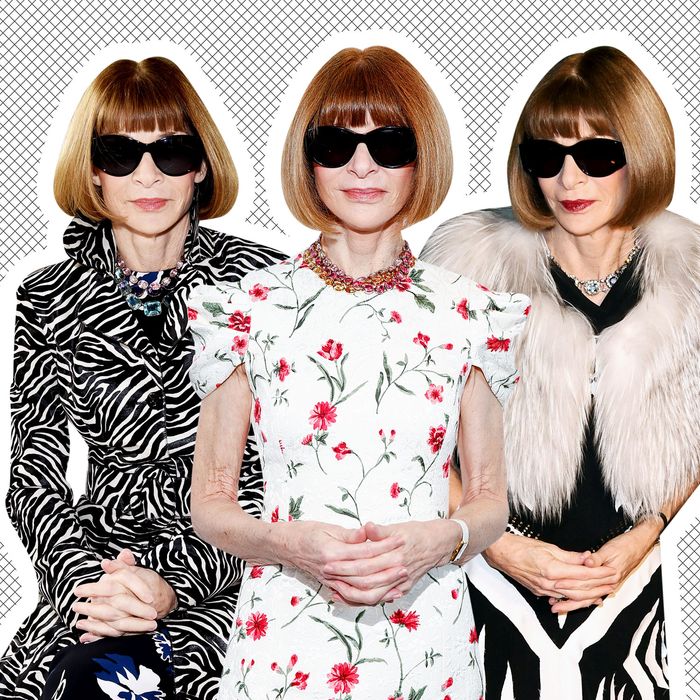 Anna Wintour.
Photo: Getty Images
In a matter of hours, hundreds of celebrities will descend on the Metropolitan Museum of Art dressed in their best interpretation of camp — what Susan Sontag called "the good taste of bad taste." But while Lady Gaga and Cardi B and Billy Porter will all surely look incredible, they're already usurped by a living camp icon: Anna Wintour herself.
It's not taste that makes Anna camp; her aesthetic is nothing if not excruciatingly tasteful. No, what makes Anna camp is the way her public image can be reduced to a few simple signifiers: the Starbucks cup, the three layered crystal necklaces, the impenetrable glasses, the small, neat bob.
Camp involves taking very frivolous things very seriously. It's all about being theatrical, but there's a catch: If you wink at the camera, you ruin it. The clearest example of camp, to me, is Mommie Dearest, the Faye Dunaway movie about the troubled movie star Joan Crawford. Everyone involved in it believed they were making a serious biopic, but if you watch it today, everything about it is so over-the-top that it's funny.
But Mommie Dearest is a film, not a person. Being camp as a person — as opposed to being a person who makes camp things, like Ryan Murphy — is tricky, because you must always behave with utmost seriousness. This requires turning yourself into a kind of a cartoon. "What Camp taste responds to is 'instant character,'" explains Sontag in her essay trying to define exactly what "camp" means. "Character is understood as a state of continual incandescence — a person being one, very intense thing." Being one very intense thing is also a good way to become famous in the fashion world. There's Karl Lagerfeld, the eccentric designer. Tyra Banks, the reality-show supermodel. And Anna Wintour, the editrix.
My favorite image of Anna is from when she did the Ice Bucket Challenge back in 2014. She's among members of her family who are all wearing white T-shirts, but she's in a floral dress and sunglasses. It's hard to imagine her doing anything naturally, like going home, taking off her sunglasses, and turning on Netflix. It's easier to imagine her sleeping standing up in a cryogenic pod on loan from Choupette.
This stands in stark contrast to current celebrity culture. We're used to our celebrities being people in front of our eyes, 24/7. Their images might be tightly controlled, but they're at least trying to seem like three-dimensional people who change over time. We see Taylor Swift in pajamas, Lady Gaga in her kitchen ranting about men, Cardi B talking taxes. Wintour, on the other hand, isn't so much a person in the public eye.
Even the jokes and jabs about Anna, either orchestrated by herself or otherwise, revolve around the image she's carefully crafted. She won't confirm or deny her ice-queen tendencies. The September Issue documentary shows Wintour telling a reporter who asked if she was really an ice queen that it was "really cold this week, that's all I'll say." You don't know her — she's not relatable or One Of Us. And, God, do we lap it up.
Sontag says you're best able to appreciate something as camp if you're not the intended audience: "We are better able to enjoy a fantasy as fantasy when it is not our own." Which might explain the fascination that Anna holds even for people who don't care about clothes. She's become the most famous fashion editor of all time, and pushed the Met Gala to the status of the Oscars, through being one, very intense thing. To be on-theme tonight, all she has to do is show up to the Met Gala dressed as herself.