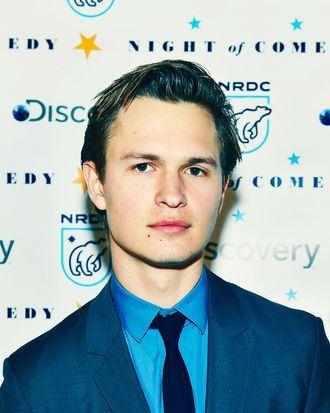 Ansel Elgort.
Photo: Roy Rochlin/Getty Images for the NRDC
"A hero is someone who has given his or her life to something bigger than oneself," or so says a quote I found on Google just now when trying to find a saying powerful enough for the act I'm about to describe. Because on Tuesday night, acclaimed DJ and infant driver Ansel Elgort bravely did what few people have the courage to: He posted 17 extremely similar selfies taken at slightly different angles on Instagram.
Yes, within the span of mere minutes, the no-longer-blond Elgort purged his camera roll of 17 shirtless selfies. I'll give you a moment to catch your breath.
There was no caption on the trove of self-taken images — during which he posed next to a door handle and/or a cabinet of some kind, in front of a hardwood floor, and in front of a mirror — because art does not need a caption. (The Mona Lisa does not have a hashtag, after all!) And for reference, his last post before the litany of shirtless selfies was back on April 20 — a carousel of images from a Brazil trip that featured a pic of him DJing, of course, as the lead.
While not all of us take shirtless selfies, it is a truth universally acknowledged that we all take numerous pictures at different angles when trying to take a casual "lol just hanging out" pic. But most of us meekly keep each of those images on our camera roll — even if, tragically, we look good in all of them. So perhaps Elgort's bravery will inspire others to follow in his footsteps and just post all the attractive pictures of ourselves we have?