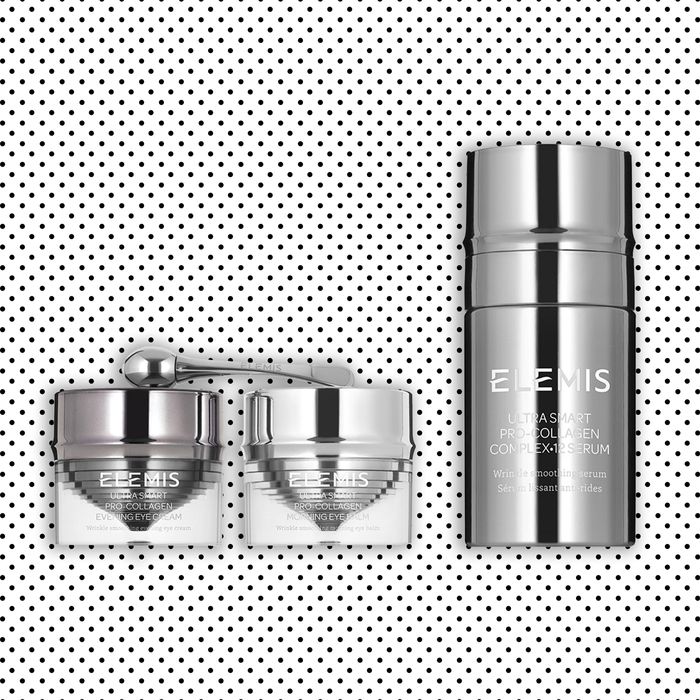 Photo: Courtesy of Elemis
There's a common anxiety with skincare purchases, and it usually hits right before you click the final checkout button. Is it really worth it? As someone who's dabbled in all types of anti-aging skincare — and been metaphorically and sometimes literally burned by misguided purchases — I've felt that feeling many times. Even the most skincare-obsessed among us often stumble through the search for products that will a) actually "do something" and b) feel worth the investment. (And ironically, all the skincare forums and social accounts trying to tell you which products are must-haves can add to the confusion.)
Searching for new anti-aging products that would meet the worth-it standard, I spent a month testing out the latest releases from the British skincare brand Elemis: their brand new wrinkle-smoothing serum and a new day/night eye treatment duo, both from the Ultra Smart Pro-Collagen Collection. The products are pricey, but the brand claims they can help smooth and liven up your skin in just 28 days. Here's how they worked out.
So what do these products do?
Elemis' Complex 12 Serum features, appropriately, 12 types of algae and "drone peptide technology" to help target signs of aging like fine lines, wrinkles, and loss of firmness. (The brand's been relying on marine and plant actives for other serums, but this one's the most concentrated.) The Eye Treatment Duo features two products in a set: a cooling morning eye balm to help fight puffiness, dark circles, and lines, and an evening eye cream with time-release ingredients to help hydrate and plump up the eye contour. As part of a routine, the serum and eye duo are designed to leave skin looking revived in four weeks, according to independent clinical and user trials.
How do you use them?
It's super-easy to slip these products into your routine, and they get bonus points for lacking any medicinal smell or overpowering fragrance. (Why should I have to smell my own face?) During the four weeks, I used a pump or two of serum after washing and toning my skin, morning and night. (One pump felt like enough for my face and neck, but I doubled up on days when I'd stayed up later or felt a little dehydrated.) The serum texture is unlike any other serum I've felt: It's rich and creamy, and feels less clinical than other anti-aging serums I've tried, which often leave my skin feeling like it wants more hydration.
The eye duo feels like a little treat, and it goes a long way. I applied a pea-sized amount of the balm (in the morning) or the cream (in the evening) with the set's metal rollerball tool like Elemis recommends. It's a mini-massage that takes about a minute, where you'll circle product around your entire eye, plus in figure-eights between your eyebrows and along your outer eye area. (GIF instructions here.) After that, I finished up with whatever moisturizer or facial oil I felt like my skin wanted. Quick, easy, good to go.
Do they actually work?
This is branded content, so you might or might not fully believe me here, but this is my take. I've noticed more of a difference in my skin during a few weeks of using these products than I've noticed after months of experimenting with high-tech products, treatments, and facials of the moment.
Right away, I saw a difference in my undereye area: less visible lines (even when I stayed up too late watching my favorite show), and less of the dark circles I could never seem to fully cover with concealer. Thanks to the serum, I noticed my cheeks and forehead looking smoother and fresher, and I felt comfortable using less and less makeup over the month. During the fourth week, both a makeup artist and a facialist said they noticed "how well I must take care of my skin." I'll take it!
All in all, the products come at a splurge price point, but I noticed results and plan on keeping up with the routine. Besides, a little goes a long way here. Skincare's notoriously a trial-and-error game, and when you find your own worth-it products, you stick with them.
Try the Ultra Smart Pro-Collagen Collection at elemis.com.
This is paid content produced for an advertiser by New York Stories. The editorial staff of The Cut did not play a role in its creation.